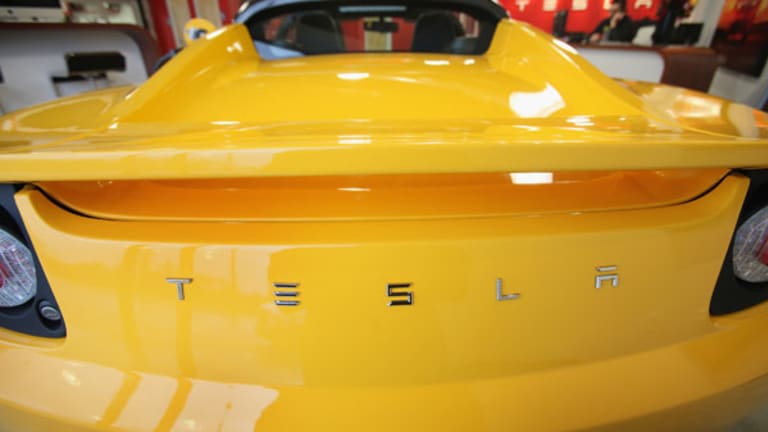 [video] Tesla's Blankenship Makes Surprising Exit as Automaker Weathers Probe
Tesla Motors lost George Blankenship, Vice President, Worldwide Sales and Ownership Experience, due to a surprising retirement.
NEW YORK (TheStreet) -- Tesla Motors (TSLA) - Get Tesla Inc Report has suffered a big hit: George Blankenship, who held the title of chief of Worldwide Sales and Ownership Experience, has retired.
First reported in the San Jose Mercury News, Blankenship was responsible for building Tesla's retail strategy, borrowing many of the strategies and concepts he helped develop at Apple (AAPL) - Get Apple Inc. Report, where he worked on the team that created the wildly successful Apple Store.
Blankenship was partly responsible for placing Tesla stores in shopping malls, helping the automaker to raise raising awareness of its products, particularly the Model S, for which the company delivered 5,500 units in the third quarter.
Earlier on Thursday, the Model S received the "highest owner-satisfaction score" Consumer Reports has seen in years. In a press release to subscribers, the Model S received a score of 99 out of 100, as owners continue to be satisfied with the vehicle, despite the recent concerns over the fires.
The press release made no mention of the fires sparked when Tesla vehicles have been involved in accidents. The survey was completed earlier in the year. The National Highway Traffic Administration recently opened a probe into two fires that occurred in the U.S. amid concerns about the safety of the Model S.
"Our product is different from most products. It's a computer on wheels," Blankenship, Vice President, Worldwide Sales and Ownership Experience said in an interview with TheStreet last year.
According to Blankenship's LinkedIn profile, he left Telsa in November, and currently holds the position of "Director of Smiles for the Blankenship Family."
A phone call to Tesla was not immediately returned.
--Written by Chris Ciaccia in New York
>Contact by Email.