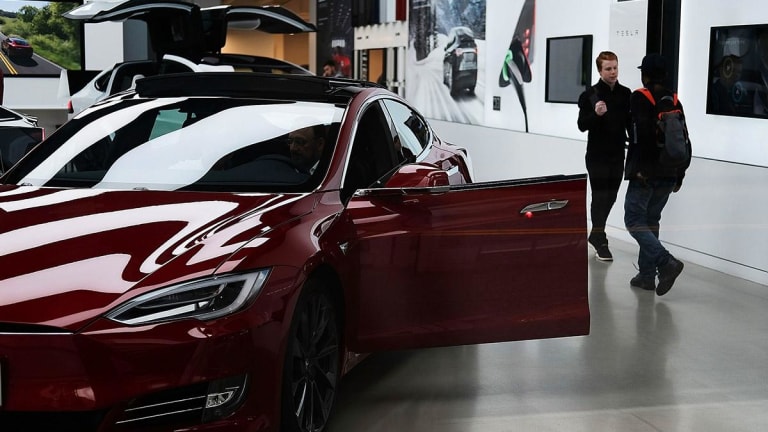 Tesla Will Need to Raise $2.5 Billion in Capital Despite What Elon Musk Says
Tesla repeatedly has said it won't need to raise any more capital this year.
Morgan Stanley still sees Tesla Inc. (TSLA) - Get Report needing to raise more capital this year, but it will need to raise less than the investment firm previously forecast. 
Morgan Stanley analyst Adam Jonas maintained his equal-weight rating and $291 price target on the stock while forecasting Tesla will need to raise $2.5 billion in equity in the fourth quarter, compared to his previous expectation the electric car company would need to raise $3 billion in the third quarter. 
Part of the reason for Jonas' more bullish outlook is that he expects the company to deliver 50% more Model 3s in the third quarter than previously forecast. Morgan Stanley now expects Tesla to deliver 50,400 Model 3s, up from its previous forecast of 33,600 deliveries. 
More on Tesla's Future Here
While that may sound like good news for Tesla, the company and its CEO, Elon Musk, repeatedly have said they won't have to dip into capital markets at all in order to raise money this year. The company reported a cash pile of $2.2 billion during its quarterly earnings release last week. 
Tesla has spent the majority of the $15 billion it has accumulated over the years on capex and research and development, Jonas pointed out, only to achieve a run rate of 150,000 vehicles. But the company is getting better. 
"It seems the company has been forced to think more creatively about how to run a leaner operation following its various operational and manufacturing issues," Jonas said. "Tesla appears to be applying a greater amount of cash discipline." 
Tesla shares were up 0.82% on Tuesday to $344.79.