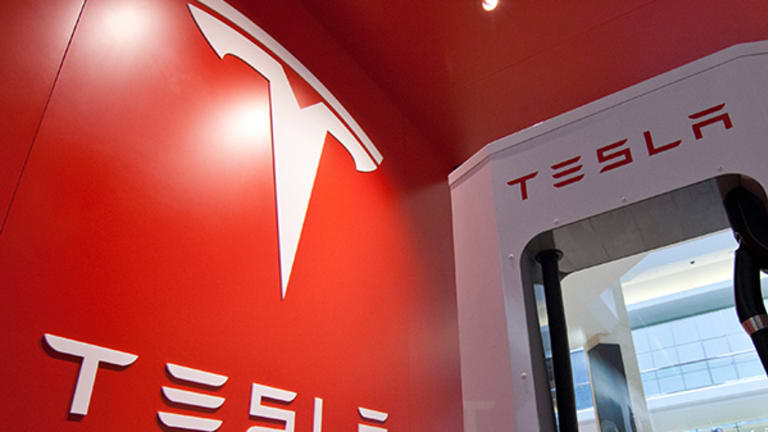 Tesla Unveils the D - Why Only Elon Musk Can Deliver Like This
Tesla unveils not one but three updated dual motor versions of the Model S, in addition to auto pilot, as it continues to push the boundaries for electric cars.
HAWTHORNE, Calif. (TheStreet) -- Tesla Motors (TSLA) - Get Tesla Inc Report unveiled not one but three updated dual motor versions of the Model S, in addition to auto pilot, as the company continues to push the boundaries of the electric car market.
Shares of the the Palo Alto, Calif.-based carmaker were falling 6% to $241.50 in early trading Friday. 
CEO Elon Musk, who had hinted previously that Tesla was "not currently showing all our cards," took to Twitter last week to announce an event for Thursday at which Tesla would unveil something what Musk referred to as the "D and something else." On Thursday evening, Musk unveiled to a crowd of roughly 4,000 the P85D version of the Model S.
Watch the video below for more on Tesla's new version of the Model S:
Not shown but updated were the 60 kWh and 85 kWh battery versions of the Model S, known as the 60D and the 85D. Model S P85D deliveries will start in North America in December, while the 60D and 85D will start in February. "Deliveries in Europe and Asia will come in the months to follow," Tesla spokeswoman Liz Jarvis Shean said in an email.
The D version of the car, which has a price range of $120,000 to $170,000, can go zero to 60 mph in 3.2 seconds with 1G of force, creating an almost roller coaster like feel to the car. "This car is nuts," Musk said at the event, clad in a black suit. "It's just bananas. It's like having your own roller coaster." Musk joked that there would be three settings for the car - "normal, fast and insane."
The speed, as well as the additional motor, the auto pilot features (which offer long range radar, 360 degrees ultrasonic sonar, active emergency breaking, auto cruise control etc.) help continue to refine Tesla's product lineup, which had not been refreshed since the Model S was unveiled in June 2012.
"Product diversity, and especially all-wheel drive, is important and should generate strong demand, especially from people in snowy climates," said Dougherty senior research analyst Andrea James in an email. "Now that Tesla has retooled the factory with a higher-capacity final assembly line, the company can pull demand levers to drive new orders."
In addition to the dual motor, Musk highlighted that the Model S has auto pilot capabilities and could potentially become autonomous, though the safety isn't quite there for that. Aside from the features on the auto pilot, perhaps the biggest thing Musk talked about is what he'd like to see from both a hardware and a software perspective in the future,. He noted he wants the car to eventually charge itself, and may have the car come and meet its driver somewhere with controls already set to the driver's preference.
"These features will allow Tesla to keep pace with competing luxury makes while still banking on its primary advantage -- a pure electric drivetrain," said Kelly Blue Book senior analyst Karl Brauer via email. "The advanced sensors and additional drivetrain components undoubtedly add cost and complexity to the Models S, but they also widen its appeal to luxury-shoppers seeking cold-weather confidence and the latest driver assistance technology."
Musk has continued taking a rabbit out of the hat for Tesla. Judging by the initial reaction of those in attendance at the unveiling Thursday, it appears that both Tesla enthusiasts and investors are anxiously awaiting to see what else Musk and crew have up their sleeves.
Here are the three biggest takeaways from the event:
1. Price: Starting at a base price of $120,000, make no mistake about who Tesla is catering the D model of the car toward: the high-end domestic and international luxury markets. Tesla's 60kWh version of the Model S starts at just under $70,000, so it's a major step up at $120,000. It remains to be seen whether the market for these price points can expand Tesla's market.
2. Availability: With the initial P85D deliveries happening in December, it's unlikely that these upgrades help move the needle for Tesla's fiscal 2014 goal of 35,000 or more deliveries. It may, however, positively impact the company's stated goal of 100,000 annual run rate by the end of 2015.
3. Power: The power behind the P85D battery is rarely seen in cars, be they electric or internal combustion engines. At a top speed approaching 175 mph, the P85D Model S rivals Lamborghini, Ferrari, Bugatti and other ultra high-performance sports cars.
-- 
Written by Chris Ciaccia in Hawthorne, Calif.
>Contact by Email.