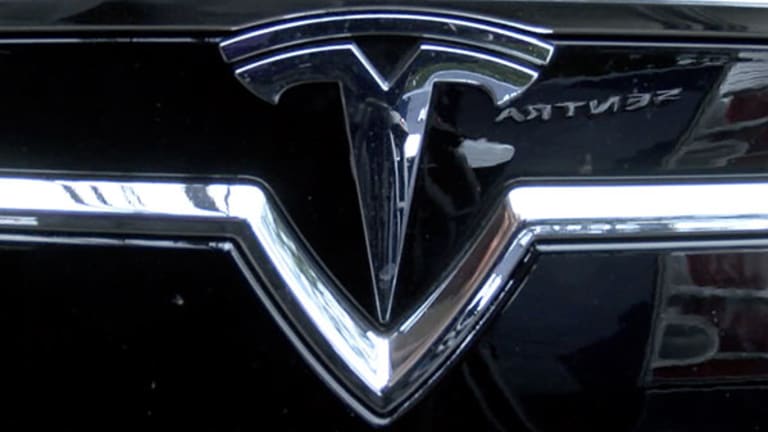 Tesla Unveils Gigafactory: What Wall Street's Saying
Tesla Motors unveiled plans for its multi-billion dollar Gigafactory, and Wall Street is largely positive on the implications for the ambitious project.
NEW YORK (TheStreet) -- Tesla Motors (TSLA) unveiled plans for its multi-billion dollar Gigafactory, and Wall Street is largely positive on the implications for the ambitious project.
Palo Alto, Calif.-based Tesla believes it will reach a production unit rate of 500,000 cars per year by 2020 because of the Gigafactory. Tesla also noted that due to the Gigafactory, battery costs would come down more than 30% by 2017, when the mass market, Gen III vehicle is slated to appear.
Shares of Tesla were higher in pre-market trading, gaining 3.3% to $261.37 on the back of the Gigafactory announcement, as well as the company's $1.6 billion convertible debt offering.
By 2020, the Gigafactory will produce 35 gigawatts worth of cell production and 50 gigawatts worth of pack production.
The factory is going to be huge, requiring anywhere between 500 and 1,000 acres, taking up 10 million square feet and housing up to 6,500 employees. It's not yet known where it will be housed, with Tesla still deciding between four states: Arizona, Texas, Nevada and New Mexico.
Tesla CEO Elon Musk's ambitions are certainly very lofty, and the Gigafactory won't come cheap. Tesla notes that the Gigafactory will cost between $4 billion and $5 billion in capital expenditures by 2020 from the company and its partners (still unnamed), with $2 billion coming from the electric car maker alone.
Following the announcement, Wall Street analysts were largely positive, noting that it opens up large opportunities for the company. Here's what a few of them had to say.
Wedbush Securities analyst Craig Irwin (Outperform, $295 PT)
"We see strong positives in Tesla's credible path to longer-term battery cost reduction and the Gen-III vehicle target costs, and what we believe will be a receptive buying public willing to purchase EVs while retaining reasonable expectations for these vehicles. Tesla's multi-year lead over credible competition suggests the company is well positioned to deliver an aggressive volume ramp."
Goldman Sachs analyst Patrick Archambault (Neutral, $170 PT)
"Tesla announced an offering of $1.6bn in convertible notes, broken down into two tranches of $800mn, one due in 2019 and the other due in 2021. The company will purchase a convertible note hedge to prevent dilution up to 100% over the stock price for the 2019 notes and 120% for the 2021 notes. Tesla plans to use the proceeds to accelerate growth of its business, develop the Gen III sedan, and for the development of the Tesla Giga factory which we have estimated could represent $2bn in incremental capex (with some likely participation from Panasonic)."
Merrill Lynch analyst John Lovallo (Underperform, $65 PT)
"Tesla believes it will be able to reduce the cost of producing its battery packs by at least 30% on a kWh basis by the launch of its Gen 3 vehicle in 2017. Assuming a current cost of $250/kWh (Tesla has stated that its current battery cost is between $200kWh to $300/kWh), a 30% reduction in cost would imply $175/kWh, which is still above the range of $100-$150/kWh the company believes would be necessary to create a distinctive advantage over ICE vehicles. Furthermore, battery costs have historically declined by 5-10% per year, so a 30% improvement by 2017 does not seem overly compelling. Also, having the capacity in place to produce the equivalent of 500K battery packs per year does not
equate to generating this level of demand for Tesla vehicles or even its batteries. In fact, we continue to believe that moving downstream into the mass market will create significant risk for Tesla, particularly considering that incumbent OEMs have the financial resources to be extremely competitive, not only on the technology front, but with vehicle pricing as well. In other words, incumbent OEMs could theoretically be willing to lose money on EVs to drive competition out of the mass market for EVs."

--Written by Chris Ciaccia in New York
>Contact by Email.