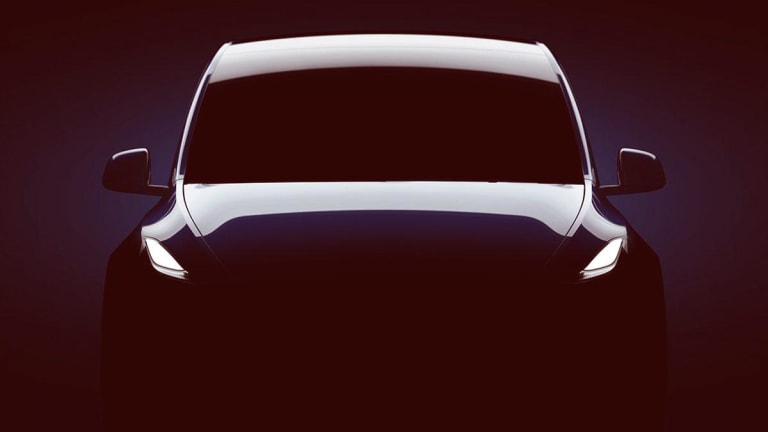 Elon Musk to Unveil Tesla's Model Y SUV on Thursday
Tesla is scheduled Thursday to unveil the Model Y, the electric carmaker's compact SUV.
Tesla (TSLA) - Get Tesla Inc Report is scheduled Thursday to unveil the Model Y, the electric carmaker's compact SUV, at 11 p.m. ET at its design studio in Los Angeles.
There will be a live stream of the unveiling.
CEO Elon Musk tweeted on March 1 that the "Model Y, being an SUV, is about 10 percent bigger than Model 3, so will cost about 10 percent more & have slightly less range for same battery.
The Model Y reportedly won't have the "Falcon Wing" doors that are found on Tesla's bigger SUV, the Model X. Musk previously had hinted that it might.
The Model Y SUV is expected to share about 75% of the same components as the Model 3, which should help alleviate production issues Tesla for years has faced. 
The latest model will complete Musk's personal ambition of naming four different lines of vehicles that (almost) collectively spell out the word "sexy": 3 - E - X - Y.
Analysts on Wall Street haven't been kind to Tesla shares this week.
Tesla got a second slap from an investment bank in as many days Wednesday after Goldman Sachs cut its price target for the company's stock, citing anticipated weaker demand for its higher-priced electric car models that it feels will negatively impact earnings.
In a note to clients, Goldman analyst David Tamberrino said he is maintaining his sell rating on the stock and reducing his 12-month price target to $210.
Shares of Tesla rose 0.9% Thursday to $291.54.
Goldman's price-target cut came on the heels of a similar negative report from Morgan Stanley, which told its clients it sees Tesla "hitting an air pocket in demand that is coming earlier than we expected."