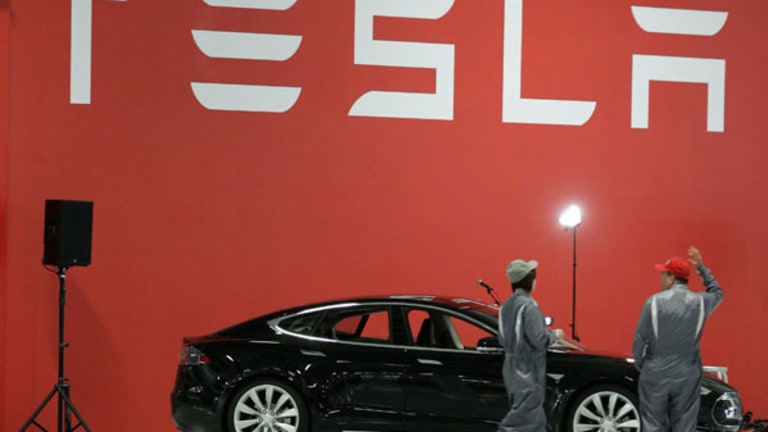 Tesla Tanks as GE Eyes Energy Storage Role, Baidu Plunges on Weak Forecast
Tesla Motors tanks as reports surface that General Electric is eyeing a large role in the energy storage business. Baidu plunges on a weak forecast.
NEW YORK (TheStreet) -- Tesla Motors (TSLA) plummets as reports surface that General Electric (GE) is considering a large role in the energy storage market, an area that Tesla is banking on for future growth. Baidu (BIDU) plunges on issuing a weak third-quarter forecast. Xerox (XRX) continues to fall after its second-quarter earnings report. 
Tesla tanked 4.7% to close at $253.01.
The high-end electric maker took a fall following a report in Reuters that General Electric was angling to become a "sizable" player in the area of energy storage. The top executive of GE's energy storage business told Reuters that the company was offering customers an option to add lithium-ion batteries produced by other companies to their energy storage package.

In April, Tesla announced plans to rollout the Powerwall, a home energy storage system. The Powerwall will work with lithium-ion batteries and store excess energy produced by solar panels, or would also store energy from cheaper sources. The company and Wall Street consider the energy storage business a potential significant contributor to Tesla's revenue in the future.
Baidu plunged 4.2% to finish the day at $197.68.
The Chinese online search giant managed to beat Wall Street's expectations when it posted its second-quarter results. But it fell short on its third-quarter forecast.
Baidu, which features a search engine and offers other forms of content on its site, said it expected to generate revenue between $2.93 billion to nearly $3 billion. Wall Street, however, was expecting Baidu to generate $3.03 billion during the quarter.
During the second quarter, Baidu reported earnings that equated to $1.80 a share on revenue of $2.67 billion. That beat analysts earnings estimates that translated into $1.70 a share and was in line with the revenue expectations.
Xerox plummeted 2.9% to close out the day at $10.62.
The tech giant took a hit Monday after its second-quarter revenue missed Wall Street's expectations when it reported its results on Friday. 
For the quarter, Xerox reported earnings of 22 cents a share on revenue of $4.59 billion. Wall Street's earnings expectations were on par with Xerox's results but analysts' were anticipating higher revenue of $4.94 billion.
Xerox CEO Ursula Burns, in a statement, said, "We are intensely focused on improving our services margin and are implementing restructuring actions and prioritizing investments to accelerate benefits from our new operating model."
This article is commentary by an independent contributor. At the time of publication, the author held no positions in the stocks mentioned.