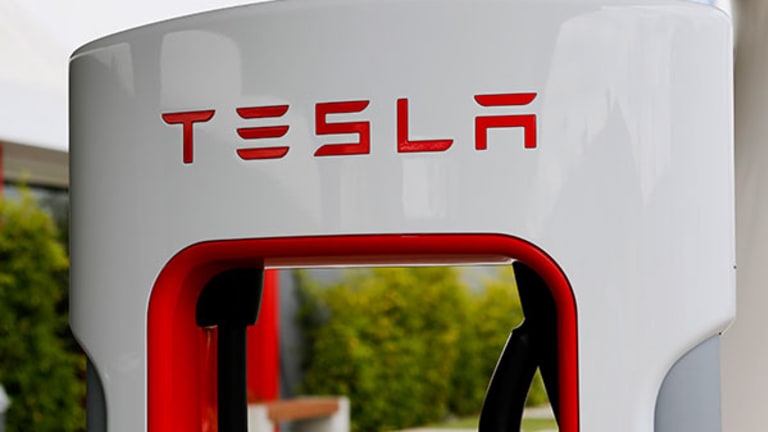 Tesla Stock Falls Following Downgrade on Model X Concerns
Tesla Motors shares were down 2.8% to $196.11 following a downgrade from CLSA. Analyst Andrew Fung noted that while near-term risks remain, the longer term is bright.
Updated from 10:14 a.m. to include comments from Tesla fourth quarter earnings call in the fifth paragraph.
NEW YORK (TheStreet) –– Tesla Motors (TSLA) - Get Free Report shares fell following a downgrade from brokerage firm CLSA noting that while near-term risks remain, the longer-term outlook is bright.
CLSA analyst Andrew Fung downgraded shares to underperform from outperform, cutting his price target to $220 on concerns that the Model X, Tesla's upcoming SUV, will have lower margins than expected. The Model X is slated to be introduced in the third quarter of this year. Fung said the lower margins, coupled with "Tesla's recent execution issues and together with investor concerns around demand, could limit this year's upside potential."
Shares of Tesla dropped 2.8% to $196.11 in trading Wednesday after the downgrade.
Fung expects Model X gross margins to be about 3% in the third quarter with deliveries of about 500 units, and 15% in the fourth quarter on 1,500 units. As a result, he cut 2015 and 2016 earnings per share estimates to 42 cents and $3.40, respectively. Wall Street's consensus estimate is for 72 cents and $4.11 a share for 2015 and 206.
On Tesla's fourth quarter earnings call in February, CEO Elon Musk said he expects Model X production to really ramp up in 2016. "Assuming people like the car, that's where you start to see, yes, I don't know, 40,000, 30,000 40,000 at least," Musk said. "Maybe, 50,000, let's call it 30,000 to 50,000 Xs next year."
Despite the near-term concerns about the Model X and execution issues, Fung believes the picture for the Palo Alto, Calif.-based company is bright in the longer-term, highlighting China and the company's potential in energy storage as opportunities.
China, which Musk has noted in the past is a bit of an issue for Tesla right now, may not be as bad as once feared.
The company is making improvements to bolster its standing in China and is working with local and country officials to boost its profile. Fung noted the addition of the Model S to Shenzhen's new energy vehicle incentive program, as well as Xinhua, China's state news agency, using Model S's as media vehicles. "These developments, along with the Model X SUV launch, could pave the way for a stronger 2016."
Tesla's energy-storage opportunity, which many expect the company's "Gigafactory" to have a huge hand in developing, is one of great interest to Wall Street, particularly because of falling battery costs.
"With 15 gigawatt hours of the Gigafactory planned for stationary batteries and a partnership with SolarCity, Tesla appears very well positioned to participate in this growing market over the mid-term," Fung said.