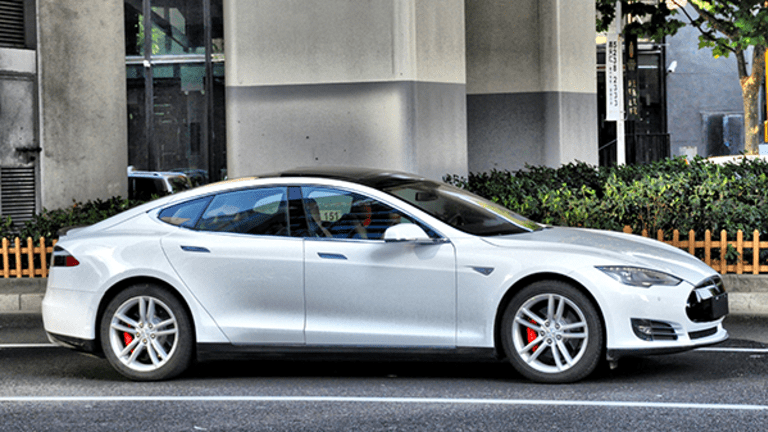 Tesla Stock Is Diving After Model 3 Deliveries Badly Whiff Musk's Predictions
Musk's 'bottlenecks' hit Q3 deliveries, now investors may throttle Tesla's stock
Tesla Inc. (TSLA) - Get Tesla Inc Report shares were indicated to open lower Tuesday after the iconic clean-energy carmaker shipped far fewer of its key Model 3 vehicles than expected in the last quarter, owing to what it called "bottlenecks" in its production process.
Just 220 of the group's new Model 3, by some measures the most anticipated new car release in automotive history, were delivered over the three months ending in September, the company said late Monday, while only 260 in total were constructed. Founder and CEO Elon Musk has been touting the Model 3, which at $35,000 is significantly cheaper than its previous releases, as critical to the company's success while analysts had predicated that at least 1,500 would be over the quarter before rising to 120,000 by the end of next year.
Tesla itself has said it wants to be making 5,000 Model 3s a week by December and 10,000 a week by the end of 2018, taking its annual production rate to just over half a million. Overall, Tesla delivered 26,150 vehicles in the third quarter, logging a personal best for sales of the Model S and Model X.
Tesla shares were marked 1.33% lower in premarket trading in New York Tuesday, indicating an opening price of $337.00 each, a move that would still leave the stock some 57.7% higher so far this year.
That said, TheStreet's Brian Sozzi argued Monday that Tesla has become little more than a side project for Musk, citing his recent ambition (shared, as ever, on social media) to redefine air travel with spaceships and his earlier plans to build a so-called 'Hyper-Loop" between New York and Washington.
"From the outside, Musk looks increasingly stretched at a time in which all his attention should be on making Tesla profitable," Sozzi said. "He has an obligation to shareholders to deliver (actual results such as Model 3 deliveries, not just a higher stock price), and whether he is able to fulfill that is a major unknown. It's time he looks in the mirror, acknowledges his true passion (perhaps space travel) and hands the baton off to an outside CEO to run Tesla."
More of What's Trending on TheStreet: