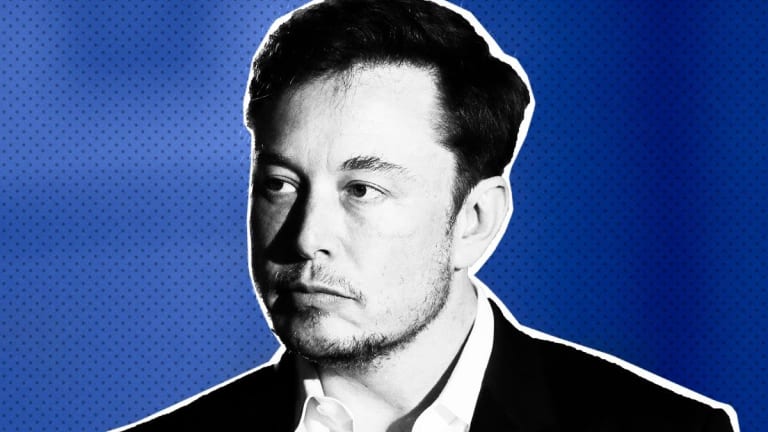 Tesla CEO Elon Musk's Hoped-For 'Short Burn of the Century' Remains Elusive
Elon Musk's go-private tweet has sunk Tesla's stock 18% so far, and only driven away 4% of short sellers, according to the latest research.
Tesla's go-private drama hasn't resulted in the epic short burn that CEO Elon Musk may have hoped for, at least not yet. 
In May, Musk warned that the "short burn of the century" was imminent on his Twitter account -- but if taking Tesla (TSLA) - Get Report private was the burn he had in mind, it may have had the opposite effect for many short sellers. 
Since Musk's now-infamous 'funding secured' tweet on August 7, which said that Musk was considering taking the company private at $420 per share, shares have tumbled more than 18% around questions on how Musk plans to deliver a multi-billion dollar go-private deal. The SEC has also opened an investigation into the claims and the seemingly haphazard way in which they were revealed.
Ihor Dusasiwsky of S3 Partners, which tracks the moves of Tesla short-sellers, told TheStreet on Tuesday that while some trimming has taken place, Musk was only able to banish 3.35% of short stakes. "On [August] 6th (the day before The Tweet), shares shorted [were] 34.37 million and as of [Monday's] close, we were down to 33.51 million shares shorted," he wrote in an email.
"While shares shorted declined after the 7th, the change was gradual and not an overall 'short squeeze', but a cleansing of the smaller short-term momentum shorts and a re-allocation by the larger longer term value shorts," Dusasiwsky wrote. "[On Monday] we saw a slight increase in shares shorted, up just over 200,000 for the day." On Monday, Tesla shares rose just over 1%.
In the weeks since the "funding secured" tweet, reports have steadily trickled out on how Tesla is faring, and how Musk plans to execute on a deal that could require tens of billions of dollars. One came from Musk himself, who conducted a raw, emotional interview with the NYTimes last week that didn't appear to instill much confidence, with the stock dropping more than 4% immediately following the story.
More bad news included a big price target slash from JP Morgan, from $308 down to $195, another price cut from a longtime Tesla bull and a report that the Saudi Arabia Foreign Wealth Fund, PIF, is weighing a $1 billion investment in a Tesla rival, Lucid. Musk had written previously on Tesla's blog that the Saudi Fund was interested in leading Tesla's go-private deal. 
On Tuesday, shares of Tesla were rebounding more than 4% to $321.52, as news that Morgan Stanley dropped coverage of the stock led to speculation that the bank was serious about working with Tesla on a go-private deal.
Dusasiwsky added that taking into account Tuesday's rebound, "shorts are up $735 million in mark-to-market profits since The Tweet." 
Meanwhile, for some of the most ardent short-sellers of Tesla, such as Mark Spiegel, the uncertainty of the last few weeks served to confirm long-held criticisms of the carmaker: "I see two outcomes: Someone gives Tesla a very ugly deal for $2 to $3 billion that lets them keep the lights on for another six months, or they could declare bankruptcy, re-org and get a real CEO in there," he told The Street in an interview last week.