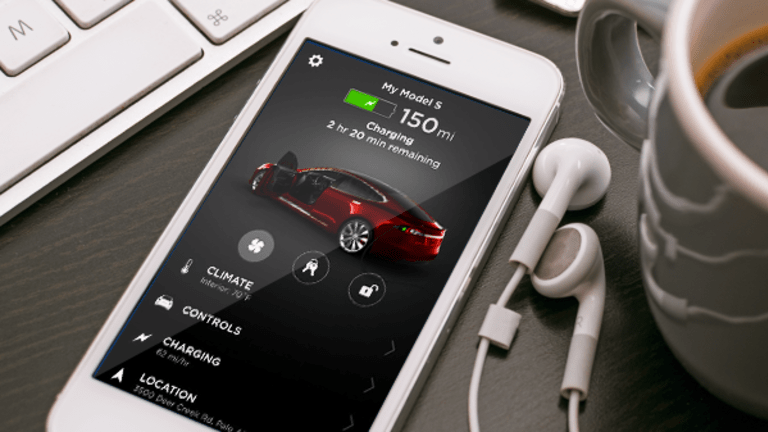 Tesla Bull Market Is Dying Even as European Firms Bet Big on Electric Cars
Tesla's second stock "correction" of the year is worrying, but the future of electric cars certainly isn't.
European-listed companies are accelerating moves to take the inside track on the expected surge electric vehicle growth just as investors question the record-high valuation of the world's most iconic clean-technology car maker.
Swiss-Swedish engineering group ABB Ltd (ABB) - Get Free Report , fresh off a $2.6 billion purchase of General Electric's (GE) - Get Free Report Industrial Solutions business, said Tuesday it will join forces with Northvolt in a push to create Europe's biggest lithium-ion battery factory. The new venture, which will be run by ex-Tesla Inc.  (TSLA) - Get Free Report executive and Norhtvolt CEO Peter Carlsson, expects to be up-and-running by 2020 and will challenge Elon Musk's 'Gigafactory' in Nevada.
"We are excited to support Northvolt's project to build the battery factory of the future here in one of our home countries", said ABB CEO Ulrich Spiesshofer. "This uniquely integrated factory would be a true showcase for ABB's leadership in industrial automation and smart electrification and would help to meet the ever-increasing demand for smarter, greener storage solutions."
The move follows a ringing-endorsement on the future of electric cars from one of the mining industry's most-experienced executives, who said 2017 could be the "revolution year" for the industry and said copper would be the "metal of the future" as a result.
Arnoud Balhuizen, COO at BHP Billiton Plc (BHP) - Get Free Report , the world's biggest miner, told Reuters Tuesday that the global fleet of electric cars could rise from 1 million to 140 million by 2035 and that the surge could pressure copper producers to meet the accelerated demand. The price of copper, a critical component in electric car production, has risen around 17.5% so far this year on a cash basis.
Watch More with TheStreet:
What Are The World's Most Valuable Brands?
How Will Londoners Cope Without Uber?
8 Luxury Items Only the Super Rich Could or Would Buy
Curiously, the twin developments followed the steepest slump in Tesla shares since July yesterday on Wall Street, with the stock ending 1.74% lower at $344.99 and extending its decline since hitting a record high of  $389.61 past 11.4%. 
However, TheStreet contributor Jonas Elmerraji, a senior market analyst at Agora Financial in Baltimore, thinks the downside moves could set the stage for an even more substantial upside move into the final stretch of 2017.
"To figure out the price trajectory for Tesla shares, we're turning to the charts for an updated technical look at what's happening," he wrote Monday.
"Tesla and its sister companies may be involved in rocket science, but this stock's price trajectory in 2017 has been anything but," he said. "Instead, Tesla's price action is about as simple as it gets. Tesla has been hard-charging up to the right since last fall, adding about 95% to its market value from its December lows."
"And, even now, Tesla isn't showing any signs of waning momentum. In fact, shares are showing off a textbook continuation pattern this fall," he added.
More of What's Trending on TheStreet: