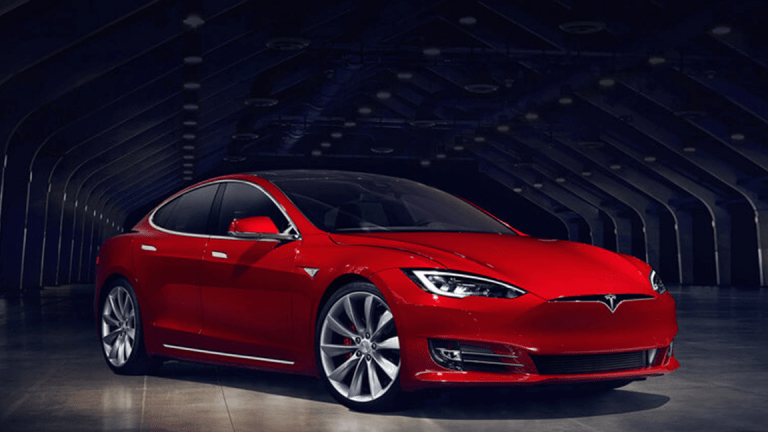 Tesla Slides Amid Reports of Performance-Related Job Cuts
Tesla says annual performance review leads to unspecified number of jobs cuts at luxury automaker
Tesla (TSLA) - Get Tesla Inc Report shares slipped lower in pre-market trading Monday amid several weekend reports that the company fired hundreds of employees for failing to meet targets in the luxury carmaker's annual review process.
The dismissals, first reported by the San Jose Mercury News and subsequently confirmed by the company, could cull the group's workforce by as much as 700 people, although Tesla would not verify exactly how many people will be let go. However, the reduction also comes short on the heels of a significant disappointment in its third quarter earnings, which revealed that only 260 Model 3 sedans were built over the three months ending in September, far fewer than the 1,500 forecast.
Founder and CEO Elon Musk has been touting the Model 3, which at $35,000 is significantly cheaper than its previous releases, as critical to the company's success while analysts had predicated that at least 1,500 would be over the quarter before rising to 120,000 by the end of next year. 
Tesla itself has said it wants to be making 5,000 Model 3s a week by December and 10,000 a week by the end of 2018, taking its annual production rate to just over half a million. Overall, Tesla delivered 26,150 vehicles in the third quarter, logging a personal best for sales of the Model S and Model X.
The stocks was also hit last week by news of a voluntary recall of 11,000 Model X SUVs around the world over a problem with rear seats that may have been been improperly tightened, thus preventing them from locking in an upright position.
Tesla shares were indicated 0.41% lower from their Friday close in after-hours trading, suggesting an opening price of $354.1 each, extending the stock's one-month loss to around 6.7%.
Don't miss these top stories on TheStreet: