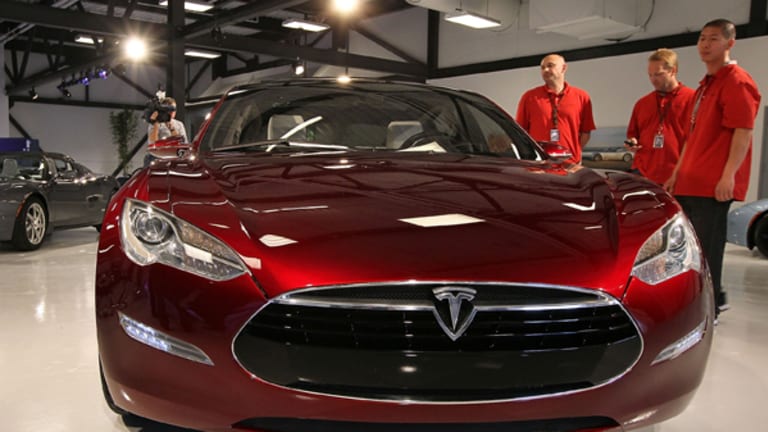 NEW YORK (
) -- As
Tesla Motors
continues to up production of the Model S and gets ready for the Model X, the company has signed an agreement with
Panasonic
(PC)
to expand a previous deal giving Tesla more lithium-ion battery cells.
As part of the expanded agreement, Panasonic will now supply nearly 2 billion lithium-ion battery cells over the course of four years to help power the Model S, and Tesla's upcoming utility vehicle,
, which is scheduled to go into production towards the end of next year.
"This expanded agreement with Panasonic is important to Tesla as we continue to increase the pace of production," Tesla Co-Founder and CEO Elon Musk said in a press release. "We look forward to strengthening our relationship with Panasonic, and I'm confident that this partnership will continue to be an integral part of Tesla's success for years to come."
The agreement allows for the acceleration of the electric vehicle market, which Tesla has helped pioneer with its award-winning Model S. Earlier this week,
Consumer Reports
recommended the Model S, giving the car its much sought-after red checkmark.
In the past, Musk has said that Tesla's parts suppliers have not been able to meet up with demand for the product, noting Tesla could be delivering more units, but the company has had problems keeping up with demand. This agreement goes towards fixing that issue.
The Model S, which has been in the news recently for a couple of
, has proven to be exceptionally popular with consumers. During the company's
, Tesla delivered 5,150 units of the Model S, helping the company generate $405 million in sales.
Tesla is scheduled to report third-quarter earnings Nov. 5. Analysts surveyed by
Thomson Reuters
are expecting the Palo Alto, Calif.-based firm to earn 11 cents a share on $534.6 million in revenue.
Shares of Tesla were higher in pre-market trading, gaining 1.2% to $166.40.
--
Written by Chris Ciaccia in New York
>Contact by
.