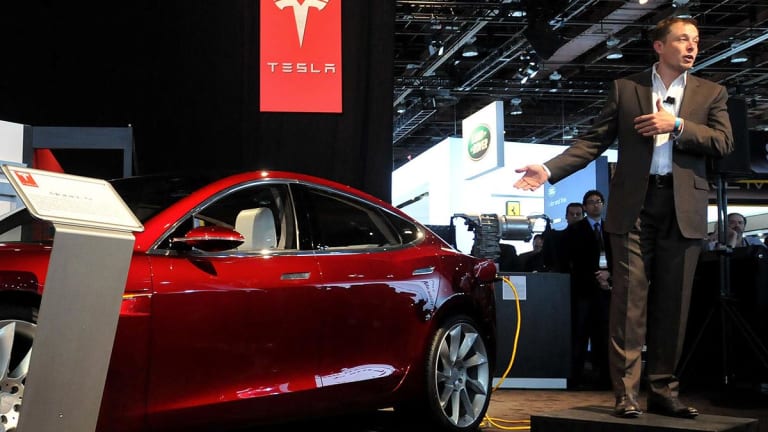 Tesla's Possible 'Record Quarter' and 9 Other Notable Things Elon Musk Shared
The electric car maker's shares rose after CEO Musk made several optimistic comments at its annual shareholder meeting on Tuesday.
As usual, Elon Musk made plenty of notable comments -- including a few eyebrow-raising ones -- at Tesla's (TSLA) - Get Tesla Inc Report annual shareholder meeting on Tuesday.
Here's a recap of interesting things said by Musk at the meeting, which was held on Tuesday  in Silicon Valley. Tesla shares rose after the meeting and were up 3.6% to $224.88 in pre-market trading on Wednesday.
1. Musk Thinks Tesla Has a 'Decent Shot' of Having a Record Quarter
Echoing prior remarks made in an employee e-mail about Q2 potentially being a record quarter for Tesla's vehicle deliveries, Musk said Tesla has "a decent shot at a record quarter on every level."
The comments gave a boost to Tesla's shares, which finished after-hours trading up 3.9% to $225.47.
2. Musk Admitted Balancing Profitability and Growth Remains Challenging
"Profitability is always challenging if you're a fast-growing company," Musk said when asked about Tesla's 2019 financial expectations. He added that he thinks Tesla "could be cash-flow positive" in spite of seeing high growth rates.
In its Q1 shareholder letter, Tesla forecast it would return to profitability in Q3 and see positive free cash flow during the last three quarters of 2019.
3. Many Model 3 Trade-Ins Still Involve Cheaper Cars
Musk showed a slide indicating 63% of trade-ins for the Model 3 sedan involve "non-premium cars. Another 12% are said to involve mid-size premium sedans, and 25% are said to involve "other premium vehicles."
4. Musk Backtracked a Little from His Prior Robotaxi Claim
After predicting in April (to much disbelief) that Tesla -- aided by its new autonomous driving computing system -- will have 1 million robotaxis on the road in 2020, Musk said at the shareholder meeting there would be 1 million Tesla cars capable of acting as robotaxis out there in 2020.
Musk, whose track record for making good on ambitious product launch targets is pretty mixed, added that Tesla expects its self-driving solution to be "feature complete" by the end of 2019, after which its cars will (with human supervision) be able to drive users from home to work. He also said that Tesla expects its self-driving solution to work without human supervision "probably sometime next year," albeit while qualifying his remark by saying that Tesla will still need to convince regulators to approve its technology.
5. A Tesla Pickup Truck Event Might Happen This Summer
Musk says Tesla hopes to reveal its pickup truck at a late-summer event. He also said Tesla is aiming for the pickup to be "more functional" than a Ford F150 and a better sports car than a "basic" Porsche 911.
6. A Battery and Powertrain Event Is Also Planned
In the wake of his company's April autonomy investor day, Musk says Tesla plans to have a battery and powertrain investor day this year. He added the event will "hopefully" take place this summer.
Earlier during the shareholder meeting, Musk showed a slide indicating the Mode 3, Model S and Model X all easily outclass rival electric cars from Mercedes-Benz, Audi and Jaguar in terms of power efficiency, as measured in terms of miles per kWh.
7. Big Model Y Sales Predictions Are Still Being Made
Musk predicts Tesla's Model Y crossover, which is forecast to enter volume production "towards the end of next year," will see demand greater than that of the Model 3, S and X combined. He also said that (in spite of the car's increased size and cargo space) Tesla is aiming for the Model Y to have a lower drag coefficient than the Model 3.
8. Tesla Expects to Offer a 400-Mile Car
Two months after unveiling an updated version of its Long Range Model S that features a 370-mile range (up from a prior 335), Musk said "it won't be long" before a Tesla with a 400-mile range arrives on the scene. He also declared that the range of Tesla's 2012 Model S still exceeds that of all rival cars.
9. Tesla Is Open to Mining Battery Minerals
As Tesla continues scaling its battery operations, the company is open to directly mining some of the minerals it need, Musk suggested. "We will do whatever we have to do to ensure that we can scale at the fastest rate possible," he said.
Separately, Musk asserted that the two most important things for outside Tesla investors to track are its self-driving efforts, and its efforts to bring down battery costs by scaling production.
10. Tesla Plans to Make a 'Small Acquisition' to Get its Insurance Product Off the Ground
During Tesla's Q1 earnings call, Musk disclosed that Tesla plans to launch an insurance product, while claiming that the information Tesla can obtain about the driving activity of its customers can help it provide a differentiated solution. During the shareholder meeting, Musk said Tesla has a "small acquisition we need to complete" before launching the product.