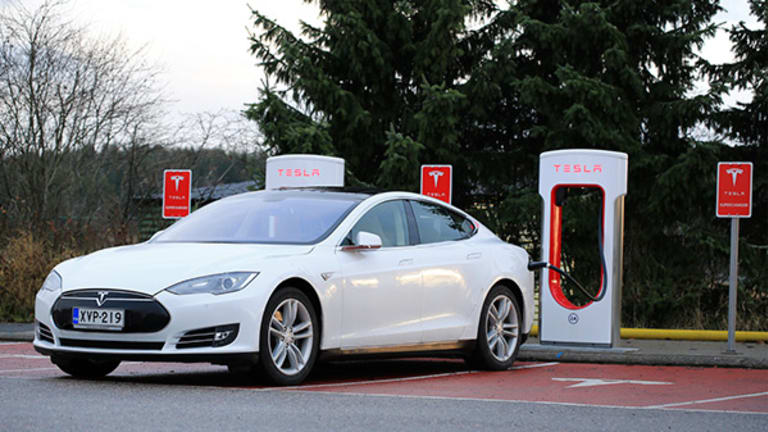 Tesla's Rejection a Long-Term Concern for Mobileye
Tesla's decision not to use upcoming versions of Mobileye's vision processors shows how competitive self-driving car R&D is becoming.
The fact driver-assistance system provider Mobileye's (MBLY) partnership with Tesla Motors (TSLA) - Get Report won't extend beyond Mobileye's EyeQ3 vision processor, as disclosed by Mobileye today during its earnings call, won't have a huge impact on Mobileye's sales in the near-term. But there are still a few reasons why investors in Mobileye, which is down 8.8% at the time of this article, should be concerned.
First, Tesla, which relies on Mobileye's processors to help power the autopilot features found within its Model S sedan and Model X SUV, is positioning itself to evolve from being a niche luxury electric car maker to a high-volume manufacturer. Whereas the company is looking to deliver 80,000 to 90,000 cars this year, it wants to build 500,000 in 2018, as production of its relatively inexpensive Model 3 sedan ramps.
In 2018, it should be noted, Mobileye's next-generation EyeQ4 processor is expected to enter volume production. With Mobileye claiming an average selling price (ASP) above $40 for its chips in recent quarters, and the company having talked of an OEM -- possibly Tesla -- using five chips in an advanced implementation, 500,000 Teslas would've been a major opportunity for a firm whose average 2017 sales estimate was at $489.8 million going into earnings.
Second, Tesla has a reputation for being at the bleeding edge of automotive R&D, in autonomous driving and various other fields. Despite recent scrutiny stemming from accidents that occurred while it was engaged, autopilot, which relies on radar, ultrasonic sensors and GPS in addition to cameras connected to Mobileye's processors, has received rave reviews for the extent to which it can take over from drivers in everyday situations.
Thus the fact Tesla, which has ambitious goals for creating fully autonomous cars, has chosen not to rely on Mobileye's processors as it pursues those goals doesn't make for good PR. Particularly when taken with the fact Google, which is investing heavily to achieve its goal of bringing a self-driving car to market by 2020, has eschewed Mobileye's processors in favor of a proprietary lidar sensor array.
Third, depending on how Tesla's decision pans out, the move could poke a hole in Mobileye's argument that its 17 years of vision processor R&D and engagements with major automakers, along with the machine learning algorithms and driving data it has built up over this time, give it an unassailable lead over rivals. And it does so at a time when major chipmakers are getting serious about challenging the company.
Earlier this year, Nvidia (NVDA) - Get Report, whose GPUs have proven quite adept at handling machine learning tasks, unveiled its Drive PX2 module for autonomous cars. The Drive PX2 feature two Nvidia Tegra app processors and two GPUs, and is said to be capable of processing "the inputs of 12 video cameras, plus lidar, radar and ultrasonic sensors." A few months later, NXP (NXPI) - Get Report, which acquired Mobileye rival Freescale in 2015, showed off its BlueBox self-driving car system. BlueBox pairs a "computing engine" and software with support for radar, lidar and vision sensing. Both Nvidia and NXP claim to be sampling their new offerings with top automakers.
NXP is a holding in Jim Cramer's Action Alerts PLUS Charitable Trust Portfolio. Want to be alerted before Cramer buys or sells NXPI? Learn more now.
Mobileye isn't standing still either. In May, the company and chip partner STMicroelectronics (STM) - Get Report announced they're working on the EyeQ5, a processor that's promised to feature 8 CPU cores and 18 vision processor cores, and to enable "fully autonomous driving" by 2020.
Moreover, Mobileye is still well-entrenched with numerous automakers -- many of whom probably lack the internal talent to counter Tesla and Google's self-driving efforts on their own -- and is less than a month removed from announcing a tie-up with BMW and Intel that aims to bring self-driving cars (likely powered by the EyeQ5) to market by 2021.
But Tesla's move does make it clear that Mobileye faces intense competition, both from chipmakers and others, as autonomous driving gradually becomes a commercial reality. And with Mobileye valued at 47 times its average 2017 EPS estimate going into earnings, that naturally has some investors nervous.