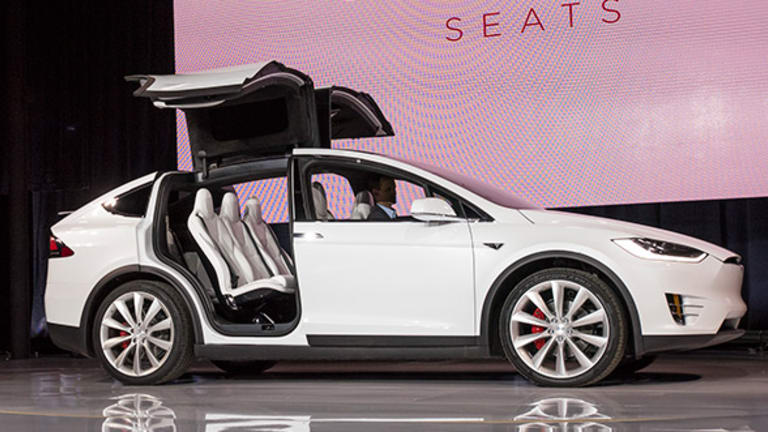 Tesla's Model X Is Mind Blowing in How Awesome It Is
Tesla showed off the Model X to drivers with reservations and the press in New York last week. Its SUV is everything Tesla claimed it would be and then some.
Editors' Pick: Originally published Feb. 29.
Tesla Motors (TSLA) - Get Tesla Inc Report may not have won Consumer Reports best car, for the third year in a row, but just wait until they get a hold of Model X.
The Palo Alto, Calif.-based Tesla showed off the Model X to drivers with reservations and the press in New York last week. The SUV is everything Tesla has claimed and then some. I spent about a half hour with the 6,000-pound SUV and while that wasn't enough to do a full review, I can tell you, drivers are going to love it.
Not only does it handle like a dream, with suspension that automatically shifts depending on whether there are pot holes on the road, but it's just so smooth, a very similar driving experience to the Model S, except you're sitting up much higher.
From the Easter egg in the software to the Falcon Wing doors to the tires that are so high you'd think they were holding Mount Olympus up, the Model X really is an achievement in both aesthetics and engineering. Perhaps the most impressive part of the SUV, which starts at $80,000, is the panoramic sheet of glass in front.
Unlike most windshields, it's one enormous sheet of glass that goes above higher than the standard windshield, letting you look at tall buildings and have a view that would've otherwise been blocked.
Despite it being a wet and rainy day in New York City, I was able to test out the torque and power of the Model X, even for just a few seconds. It goes 0-60 in 3.2 seconds and it's every bit as powerful as Elon Musk and his team say it is. It's built like a tank (and Musk has even joked it could be used to avoid biological warfare with its biodefense weapon mode).
Unlike any other SUV or mini-van out there, getting access to the third row is a breeze. All you have to do is hit the button on the second row of seats and any full-grown adult can get in and out easily.
I'll have a full review of the Model X soon, but from what I was able to tell, it's everything Tesla and Musk have promised -- and more.