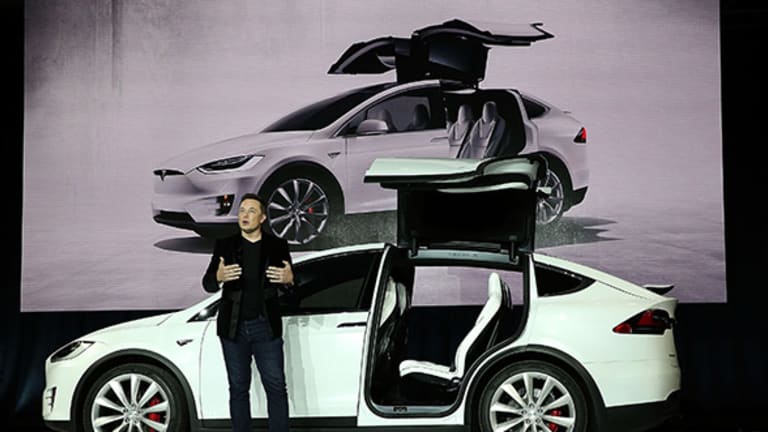 Tesla's Model X Has a Secret You're Going to Love
There's a fun Easter egg in Tesla's new SUV that will leave you saying, 'May the Schwartz be with you.'
Editors' pick: Originally published Feb. 25.
Tesla's (TSLA) - Get Tesla Inc Report Model S has an Easter egg that will let you be James Bond, but the Model X has one that will let you be Lord Dark Helmet.
Inspired by CEO Elon Musk and his team's apparent love of the movie Spaceballs, there's an Easter Egg inside the Model X, Tesla's awe-inspiring SUV.
Switch the control panel on the touch screen over to Ludicrous Mode (itself a Spaceballs reference), hold it for seven seconds and voila, you're hyper-blasted into warp speed on the car's control screen, with an image that's used in Spaceballs. You won't even need "the Schwartz" to find it. (Barf, Princess Vespa and Lone Star unfortunately not included).
Here's what it looks like:
It's always interesting to see what Easter eggs Musk and his team put into their vehicles. Aside from the Spaceballs reference in the X, the $80,000 SUV can also also perform a three-minute Christmas show, with its lights blinking and doors moving in conjunction with Transiberian Orchestra's Wizards in Winter.
Musk had originally tweeted a video of the light show, but the tweet has since been deleted. Videos of the light show can still be found on YouTube.
On the Model S, users can hit the Control panel, slide over to the Suspension tab, then hold the T at the top of the control panel, enter access code 007, hit Okay and the car's image on the screen turns into the Lotus Esprit from the James Bond movie, The Spy Who Loved Me.
This latest Easter egg won't turn you into your father's brother's nephew's cousin's former roommate, but it may have your brains going into your feet.