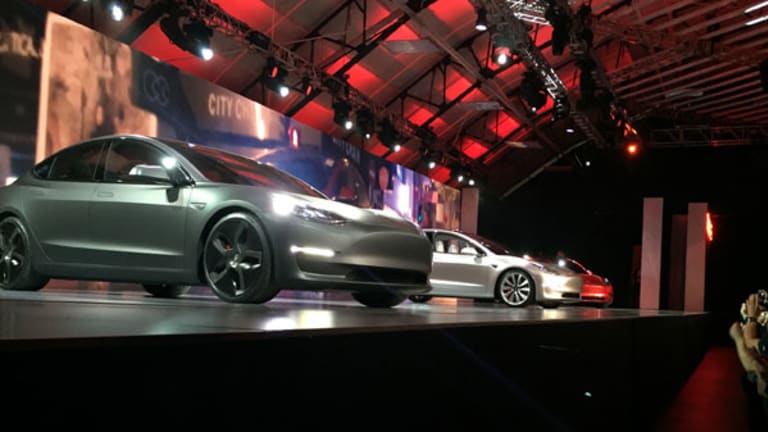 Tesla's Model 3 Is Being Unveiled Tonight -- Here's Everything We Know So Far
Tesla is slated to unveil its mass-market Model 3 car later this week. Here's everything we know about the car so far.
Updated from March 28th to include new information from CEO Elon Musk and analyst comments on the second page.
Tesla (TSLA) has long pinned its long-term hopes on both the Gigafactory, where it's manufacturing lithium-ion batteries, and the company's mass-market sedan, the Model 3. As the unveiling of the Model 3 gets closer to becoming a reality, there's still not a whole lot of information known about the car, causing excitement and anticipation not seen in Silicon Valley since the early days of Apple events.
Normally known for his openness and candor, CEO Elon Musk has not revealed much about the Model 3, save for a few details.
Musk will take the stage and unveil the working design of the car, showcasing looks, capabilities, as well as any other details about the Model 3 that Tesla feels customers and the media need to know.
The Model 3 will cost $35,000 before tax credits, which could bring it down to $25,000. And the Model 3 is expected to compete in the middle market, as opposed to Tesla's luxury Model S or Model X vehicles. On the company's fourth-quarter earnings call, CEO Elon Musk said the Model 3 would compete with the likes of the BMW 3 Series or Audi A4.
Designs of the car have not been leaked yet, but Oppenheimer analyst Colin Rusch isn't concerned about the design nor the impact it may have on S and X sales.
"The company appears fully cognizant of the potential for the Model 3 to cannibalize existing sales," Rusch wrote in a note to clients. "We would not be surprised to see the company introduce upgrades to the older models to support ongoing sales in concert with marketing plans for the Model 3."
There are some details known about the design of the Model 3, and Palo Alto, Calif.-based Tesla has said there will be a driveable version of the car at the company's press event in Hawthorne, Calif., at Tesla's design studio. The event is schedule for March 31 at 11:30 p.m. EST.
Previously, Musk has said the Model 3 will be 20% lighter and easier to manufacture than the Model S, but so far, that's about all we know on what the car looks like.
Musk has even said there may be more to show off at the event. On the company's fourth-quarter earnings call, he said the company was "trying to decide whether we should show all the cards or keep a few cards close to the vest."
The luminary CEO tweeted earlier this week that Thursday's event will only be the first part of the unveil, with the second part coming later.
Musk and his team have repeatedly said the future of the company rides (pun intended) on the Gigafactory and the Model 3 coming online together within a few months to make electric vehicles a competitive alternative to internal combustion engines.
The Model 3 is expected to go 200 miles on a single charge, which would be significantly more than comparably priced electric vehicles on the market, such as the Nissan (NSANY) Leaf, which can only go around 80 miles on a single charge.

GM (GM) has made the claim its upcoming Chevy Bolt will also be able to go 200 miles on a single charge, eliminating "range anxiety." But so far, the Bolt isn't available on the market just yet. (It's expected to arrive later this year.)
For $1,000 down, customers can reserve a Model 3, but if you're already an existing Tesla owner -- be it a Model S or a Model X -- you get priority in your region. "For those who aren't Tesla owners yet, this means the fastest way to buy a Model 3 is to buy a Model S or Model X," Tesla said via email.
If you live on the West Coast, you're likely to get your Model 3 faster than others. Tesla said deliveries will start there in late 2017. From there, the company will move east across the continental U.S. and then move into other parts of the world, including Europe, Asia-Pacific and right-hand drive markets.
Initial orders are expected to be strong and may wind up being a catalyst for the stock. Credit Suisse analyst Dan Galves believes that demand for the Model 3 could be a huge positive not currently baked into shares. "[T]he real catalyst from the Model 3 unveil will be the first indication of demand for the car, in terms of initial reservations...and we think this will be a positive surprise," Galves said in a note to clients earlier this week.
Galves expects there to be more than 100,000 reservations for the Model 3 in the first few weeks, based on previous enthusiasm for Tesla products. Palo Alto, Calif.-based Tesla has said in the past it expects to sell 500,000 cars annually by 2020, up from 50,580 deliveries in 2015.
Not everyone is so positive, however.
There are still some concerns about when the Model 3 is going to get in the hands of drivers, despite Musk's confident prediction of a late 2017 delivery time frame. Early in February, Morgan Stanley analyst Adam Jonas slashed his price target on Tesla, forecasting the Model 3 wouldn't ship until late 2018, later than Tesla has said. Jonas cited a lack of resources such as manpower and money.
Additionally, Jonas noted that the Model 3 may not sell so well in a world where oil prices are so low.
"Low demand for electric vehicles categorically and globally in a $30 oil environment leads us to reduce volume assumptions for the Model 3, which we anticipate will achieve an [average transaction price] of $60K or more," Jonas wrote. "We expect the Model 3 to be a really nice car, just a bit rarer than many expect."