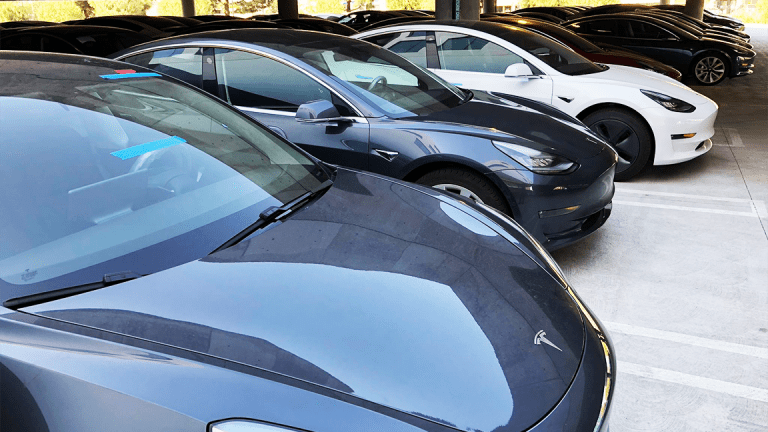 Yikes. 
Tesla Inc.'s (TSLA) - Get Tesla Inc ReportModel 3 has steadily made headlines over the past couple of days and it looks like Elon Musk's company will stay there. 
Consumer Reports magazine released its Model 3 review on Monday, May 21. The review slammed the Model 3. 
"Our testers also found flaws—big flaws—such as long stopping distances in our emergency braking test and difficult-to-use controls," the report starts after praising the "exhilarating acceleration."
It continues, "In our tests of both Model 3 samples, the stopping distances were much longer than the stopping distances we recorded on other Teslas and other cars in this class. The Tesla Model 3's 152 feet is 21 feet longer than the class average of 131 feet for luxury compact sedans and 25 feet longer than the results for its much larger SUV sibling, the Model X."
Consumer Reports seemed baffled when it tested multiple Model 3s and found that the car had different stopping differences. When Car and Driver magazine reviewed the Model 3, it found similar issues. 
"In our testing of the Model 3, the first stop we recorded was significantly shorter (around 130 feet, similar to Tesla's findings), but that distance was not repeated, even after we let the brakes cool overnight."
One of the perks that Consumer Reports liked was the Model 3's ability to go 310 miles without a charge. 
"Another major factor that compromised the Model 3's road-test score was its controls. This car places almost all its controls and displays on a center touch screen, with no gauges on the dash, and few buttons inside the car. This layout forces drivers to take multiple steps to accomplish simple tasks. Our testers found that everything from adjusting the mirrors to changing the direction of the airflow from the air-conditioning vents required using the touch screen."
While Consumer Reports said that there were parts of the Model 3 that the testers liked, the report focused heavily on the negative aspects of the car. 
"Our testers found the Model 3 to be fun to drive, thanks to the superb handling and immediate thrust from the electric motor. However, the Model 3's very long stopping distances, distracting controls, overly stiff ride, and uncomfortable rear seat count heavily against it," the report summarized.
Shares of Tesla were up nearly 3% on Monday afternoon.
TheStreet presents on May 22: "How to Stomach Market Volatility." Hosted by Fisher Investments, the exclusive live webinar will give you the tools to successfully navigate market volatility and discuss why having a wealth manager is more critical than ever before. Quickly register for the event here.