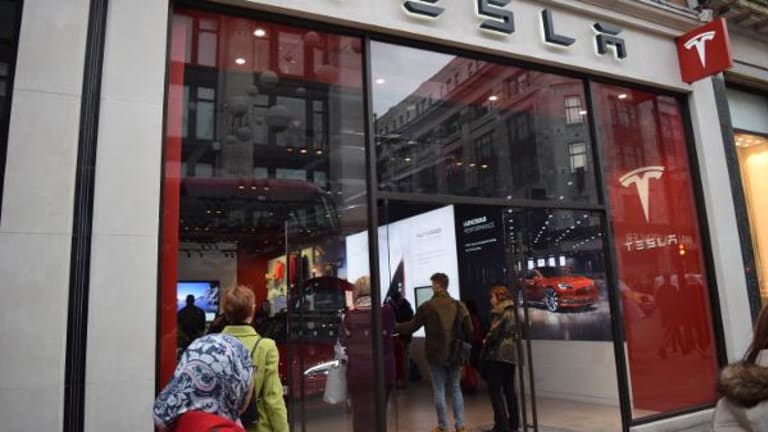 Tesla's Energy Storage Business Powers Up -- Tech Roundup
While most investors and consumers focus on Tesla's automotive business, the company's energy storage business has been making notable strides.
It only took three months for Tesla (TSLA) to build and install the nearly-400 refrigerator-sized batteries that are now being used in an infrastructure project based outside of Los Angeles.
What exactly has Tesla become?
Just a few years ago, the company was producing the hot, all-electric sports car known as the Model S. By 2017 though, Tesla has rolled out an SUV, is gearing up for the mass-produced Model 3, has closed on its acquisition of SolarCity (SCTY) and has its Gigafactory up and running.
And while most people have always focused on Tesla's automotive business, its other energy storage business has mostly flown under the radar. The energy storage business started with the Powerwall product, which stores solar-generated electricity on customers' homes so it can be used to power the home at night.
Because of this, many customers would be able to be completely energy-independent when it came to electricity.
But that apparently wasn't enough. Tesla was looking at the electric grid as a whole. That's why on Monday, its enormous combination of 396 batteries in Southern California will go online.
The batteries, "capable of powering roughly 15,000 homes for four hours, is part of an emergency response to projected energy shortages stemming from a huge leak at a natural gas storage facility," according to theNew York Times.
This won't be the last we see of Tesla in this regard either. The company has won other contracts for similar projects as well. So while the focus may be on Tesla's automobiles, the company is quietly unrolling a two-headed monster when it comes to solar energy and energy storage.
Don't forget, Tesla unveiled solar shingles as well. Could this company be the next big thing despite how many people doubt its potential?
Shares of Tesla closed at $250.63 Monday, down 0.9%.
The fake news is spreading beyond the U.S. -- or at least, the concern over fake news is. Fake news, to some extent, has always been alive and fluid on the internet. But during the 2016 presidential election, that issue grew exponentially.
Either intentionally or unintentionally, the social media companies were not able to combat the issue. Perhaps they thought it was temporary and would be long gone by now. Maybe they didn't know how bad it really was. It's also likely they just weren't in the proper position to do anything about it.
The concern is apparently stretching across the pond, with the European Union's Andrus Ansip saying these companies need to take a stronger stance.
While companies like Facebook (FB) are taking measures to cut down the amount of fake news on the site, many are likely surprised by how long it is actually taking.
Given that we're nearly three months past the election, one would have thought a technological juggernaut like Facebook -- sporting a market cap north of $375 billion -- would have solutions in place by now.
It just goes to show that by not yet having the situation fully under control, just how difficult it is to pin down. Patience seems to be wearing thin. Users certainly don't like it, and apparently, neither does the E.U.
Shares of Facebook closed at $130.94 Monday, down 0.9%.
Facebook and Apple (see next item) are holdings in Jim Cramer's Action Alerts PLUS Charitable Trust Portfolio. Want to be alerted before Cramer buys or sells FB or AAPL? Learn more now.
Square (SQ) really wants to push consumers to use their mobile phones for more purchases. The company is now "giving merchants more than $12,000 worth of Apple (AAPL) Pay transactions for free over a year," according toBloomberg.
Why is the company doing this? It's simple. By coaxing retailers to use its payment terminals that accept mobile payment transaction, it will lead to more transaction sales down the road, which Square produces with a percentage-of-sales fee to the retailer.
Or at least, that's the hope.
Given that Wall Street would likely overlook a pinch in margins and a boost in sales thanks to the promotion likely helps. That's because if it works, Square will see those on-boarding expenses pay dividends later.
While the mobile-card payment process is still relatively new, many users that enjoy it do so for speed. The new pin-and-chip cards can be painfully slow at the counter and using a mobile phone can be much, much faster.
But here's Square's problem: without mobile-friendly terminals, consumers don't use services like Apple Pay. And without customers using it, retailers have little reason to provide it. That's why Square is hoping to incentivize those retailers, in hopes that they will use it more and so will the customers.
Last quarter, the company topped earnings per share and revenue estimates, the latter of which grew over 32% year-over-year.
Shares of Square closed at $14.45 Monday, down 0.6%.
This article is commentary by an independent contributor. At the time of publication, the author held no positions in the stocks mentioned.