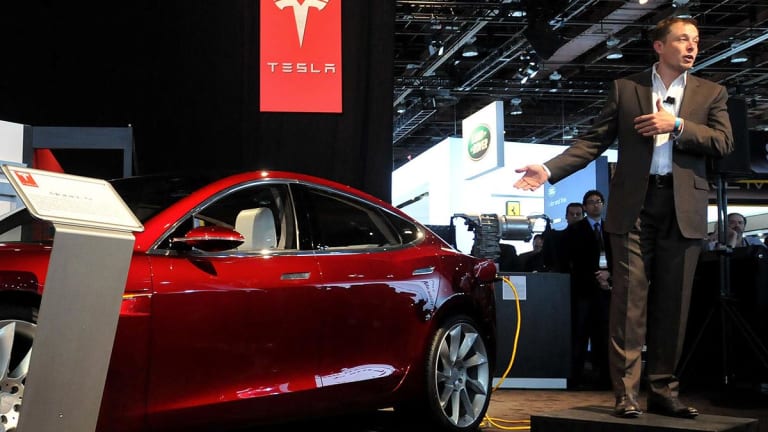 Tesla Reports Earnings on Wednesday: 7 Important Things to Watch
Vehicle deliveries and production guidance, automotive margins and Model Y commentary are among the things to keep an eye on as Elon Musk's company reports.
Tesla's (TSLA) - Get Tesla Inc Report shares are down 21% in 2019, hurt by a weak deliveries report, earnings pressures and worries about a shift to an online-centric sales model.
For Elon Musk's company to recover some of those losses following its Q1 report, which arrives on Wednesday afternoon, it will need to calm some of the top and bottom-line concerns raised by recent announcements. Putting to rest worries about its future capital needs wouldn't hurt either.
The consensus among analysts polled by FactSet is for Tesla to post Q1 revenue of $5.46 billion (up 60% annually), GAAP EPS of negative $1.84 and non-GAAP EPS of negative $0.99. However, the company's production, deliveries and/or cash flow guidance often have a bigger impact on its post-earnings performance than its revenue and EPS numbers.
Here are some things for bulls and bears alike to keep an eye on as Tesla delivers its Q1 shareholder letter after the bell on Wednesday and hosts an earnings call at 5:30 P.M. Eastern Time.
1. Model S and X Deliveries Guidance
In its early-April deliveries report, Tesla disclosed that Q1 deliveries of its Model S luxury sedan and Model X luxury crossover totaled just 12,100. That was well below a consensus estimate of 18,900, as well as a year-ago deliveries figure of 21,880. A U.S. federal tax credit appears to have weighed, and so may have tougher competition in the $50,000-plus electric car market and the cannibalization of Model S sales by the Model 3.
Given the size of the Q1 shortfall, any guidance that Tesla provides for Model S and X deliveries will be closely watched. Currently, the consensus is for Q2 deliveries of 17,200 (down 23% annually) and full-year deliveries of 77,100 (down 28%). To help boost sales, Tesla is reportedly prepping Model S and X refreshes that feature electric motor, battery and charging system upgrades.
2. Model 3 Deliveries and Production Guidance
The Model 3 now accounts for the lion's share of Tesla's deliveries. Tesla disclosed three weeks ago that it delivered 50,900 Model 3 units in Q1; that was a little below a consensus of 54,600, but this shortfall had much to do with the fact that many deliveries meant for Europe and China, where Model 3 sales recently began, remained in transit. The company is expected to deliver 71,700 Model 3 units in Q2 and 288,400 over the whole of 2019 (nearly twice as many as it delivered in 2018).
Meanwhile, Tesla, which has often struggled to make good on ambitious production goals, said in its Q4 shareholder letter that it expects Model 3 production at its Fremont, CA plant " to grow throughout 2019 and reach a sustained rate of 7,000 units per week by the end of the year," and that it's aiming for an annualized Model 3 production rate "in excess of 500,000 units sometime between Q4 of 2019 and Q2 of 2020." That is, barring "unexpected challenges" for its Shanghai Gigafactory, which is currently under construction.
3. Automotive Gross Margins
Excluding stock compensation and the sale of zero-emission vehicle (ZEV) credits, Tesla had a Q4 automotive gross margin (GM) of 24.7%. The company's Q1 automotive GM was most likely lower, given that it saw a major drop in deliveries for its costliest vehicles, carried out price cuts and introduced cheaper versions of the Model 3.
In addition to Tesla's total automotive GM, its Model 3 GM will get attention. In Q4, Tesla's GAAP and non-GAAP Model 3 GMs were above 20%; the company has said it's aiming to reach a 25% non-GAAP Model 3 GM "at some point in 2019."
4. Profit and Free Cash Flow Guidance
Tesla has already warned that it expects to report a loss for Q1, and has also suggested that it burned some cash during the quarter. However, for now, consensus estimates are for Tesla to produce positive free cash flow (FCF) during each of its last three quarters of the year, and (though it's only expected to produce a GAAP profit in Q4) to also deliver positive non-GAAP EPS during each of those quarters.
Whether or not Tesla, which ended 2018 with $3.7 billion in cash and $12 billion in long-term debt and capital leases, affirms Wall Street's expectations for improved bottom-line numbers in Q2 and beyond is likely to play a big role in how its stock moves post-earnings.
5. The Energy Unit's Performance
Tesla's "Energy Generation and Storage" segment, which covers its Powerwall and Powerpack battery businesses as well as its solar offerings, saw revenue rise 25% annually in Q4 to $371.5 million. Strong battery sales growth offset the ongoing declines Tesla is seeing in solar deployments as it tries to improve its solar business' bottom line. However, the segment had a GAAP gross margin of just 11.5%, something Tesla blamed on solar seasonality, a mix shift towards battery sales and costs related to the production ramp for its solar roof offering.
Tesla has forecast its energy unit's revenue will increase "significantly" in 2019 thanks to higher battery sales, and analyst estimates for Q2 through Q4 imply healthy double-digit growth. However, for Q1, the consensus is for the unit's sales to drop 3% to $396 million, with gross margin coming in at 12.4%.
6. Services Losses
Tesla has long been reporting a negative gross margin for its "Service and other" segment, which covers things such as its Supercharger network, used car sales, merchandise sales and maintenance service revenue. The cost of supporting the Supercharger network, which is still provided for free to many Tesla owners, has much to do with the negative margins.
In Q4, the Service and other segment reported a GAAP gross loss of $137 million on revenue of $531.2 million (up 84% annually); that spelled a GM of negative 26%. Tesla forecast the segment's GM will continue improving sequentially throughout 2019, but with its revenue also expected to grow, margin improvement doesn't by itself guarantee that gross losses will narrow.
7. Model Y Production Commentary
Tesla unveiled its low-cost Model Y crossover to much fanfare in mid-March. The company made some impressive claims about the Model Y's performance, handling and storage space, but also said that the $39,000 Standard Range version of the car won't see deliveries start until the spring of 2021 (versions costing $47,000 or more are promised to see deliveries start in the fall of 2020).
In addition, Tesla didn't share any numbers for how it sees Model Y production ramping. Any details the company shares in its shareholder letter or earnings call about its Model Y production targets will get attention.
Learn the History of the Companies in Your Portfolio | Behind the Label