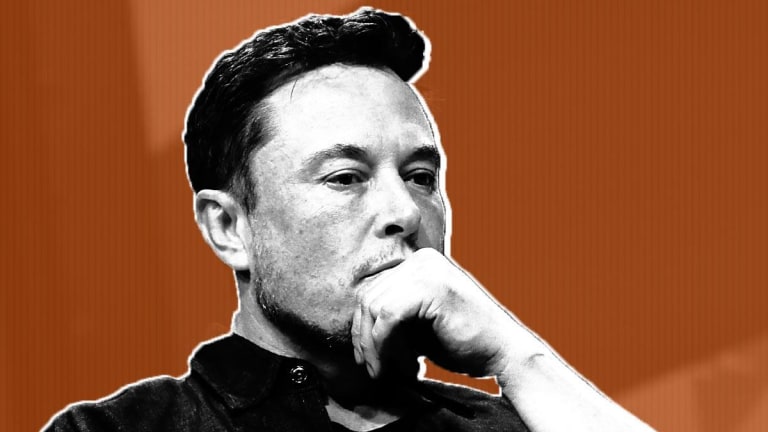 Tesla's 'Alarming' Request for Refunds Sparks Questions about Profitability
In a highly unusual move, Tesla is hitting up suppliers for refunds on years-old purchases. With dwindling cash reserves and looming debt obligations, can Tesla possibly turn a profit by the end of the year?
As Tesla (TSLA) - Get Tesla Inc. Report struggles to turn a profit, it's resorting to strange measures.
One of those is hitting up suppliers for cash. Tesla asked for refunds on purchase agreements made as far back as 2016, as reported by the Wall Street Journal and confirmed in a tweet by CEO Elon Musk and by the company on Monday. As Tesla struggles to fulfill promises that it will turn a profit by the end of this year, industry analysts are calling the refund requests an unusual move. And that's putting it mildly.
It's not uncommon for carmakers to request volume discounts from suppliers, said Jeffrey Osborne of Cowen & Co. But asking for refunds as opposed to discounts is "alarming," he added.
"This is the first instance we have heard of Tesla asking suppliers for cash back. If there was one-off suppliers who had quality issues, we would find this as understandable, but reporting suggests this is more systematic," Osborne wrote.
Tesla has said that it will turn a profit in the second half of this year, and appears to be pulling out all the stops in meeting that goal. Tesla has never posted an annual profit over its 15 years of existence, and has been plowing through cash in ramping up production of the Model 3, shrinking its cash reserves from $3.4 billion to $2.7 billion the first quarter of 2018. Production of the mass-market Model 3, seen as crucial to the carmaker's long-term viability, has been dogged by issues since Tesla kicked off production in mid-2017, including unforeseen costs due to factory robots not working as expected.
"Cash is becoming a major concern of investors and has been for us for some time," Osborne said. 
In another cost-cutting move, Tesla announced in June a layoff of 9% of its workforce as part of a broader reorganization. In memo posted on Twitter, Musk said that the cuts affected "salaried positions" and not jobs in its factories. A residential sales agreement with Home Depot was also eliminated as a part of the restructuring.
Tesla didn't respond to a request for more detail on what cost-cutting measures it's undertaking, but the company wrote in a statement sent to several media outlets that "negotiation is a standard part of the procurement process, and now that we're in a stronger position with Model 3 production ramping, it is a good time to improve our competitive advantage in this area." They also said that they contacted fewer than 10 suppliers about the refunds. 
How much cash the refunds could generate isn't clear, added Rebecca Lindland of Kelly Blue Book. 
"It's hard to say without knowing more about which suppliers the requests went out to -- whether it's nuts and bolts, sheet metal, stamping, interiors. I would think it would have to be millions," Lindland said. 
Complicating Tesla's financial outlook is Musk's statement on a May earnings call that they won't need to raise any more capital, a claim that raised doubts among some analysts. Moody's Bruce Clark estimated that Tesla will need to raise about $2 billion in fresh capital this year in order to cover its cash burn for 2018 and to satisfy $1.3 billion in convertible debt obligations that mature in late 2018 and 2019. Tesla has a payment of $230 million due in November and a larger $920 million chunk due in March 2019.
Tesla has ramped up its Model 3 production in recent weeks, with Musk saying this month that Tesla produced 7,000 cars in the last week of June, exceeding a goal of 5,000. In doing so, the company built a makeshift assembly line in a tent to accommodate more production, and reportedly dispatched workers from other departments to fill gaps in production flow. Whether they can keep up that pace is make-or-break proposition for Tesla as its grasps for a profit.
"Everything has to go right: Every moon has to align, every star has to shine brightly, every build has to go perfectly, and every sale has to be at the highest value. Everything has to go perfectly for that to happen," Lindland added. 
A Tesla spokesperson sent the following statement after publication:
"We're focused on reaching a more sustainable long term cost basis, not just finding one-time reductions for this quarter, and that's good for Tesla, our shareholders, and our suppliers who will also benefit from our increasing production volume and future growth opportunities.We asked fewer than 10 suppliers for a reduction in total capex project spend for long-term projects that began in 2016 but are still not complete, and any changes with these suppliers would improve our future cash flows, but not impact our ability to achieve profitability in Q3."