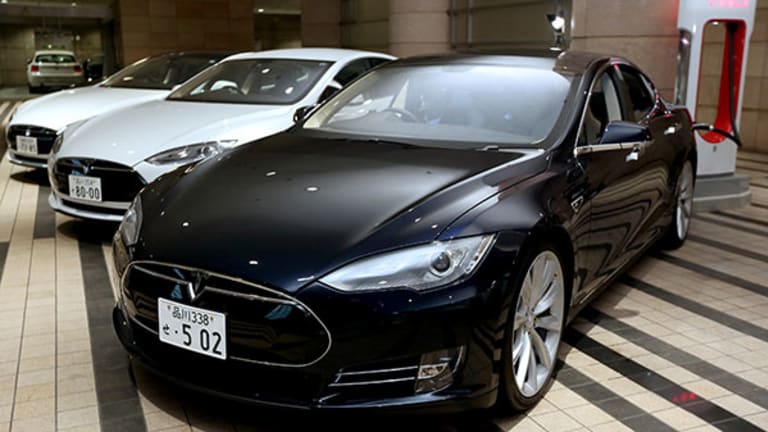 Tesla Q3 Earnings Leaves Uncertainty for Rest of 2014: What Wall Street's Saying
Tesla's third quarter may show a drop in Model S deliveries, but its hopes rely on the rest of 2014, as it seeks to surpass 35,000 deliveries for the year.
NEW YORK (TheStreet) –– Tesla Motors (TSLA) - Get Tesla Inc Report third quarter may show a drop in Model S deliveries, but its hopes rely on the rest of 2014, as it seeks to surpass 35,000 deliveries for the year.
When Tesla reported second-quarter earnings in July, it said it had plans to produce about 9,000 cars in the third quarter, with deliveries at around 7,800 for the quarter. "If we had been able to avoid this production down time, we would have been able to forecast Q3 quarterly production at about 11,000 units," Tesla said in its letter to shareholders. "Without the planned factory retooling shutdown, Q3 delivery expectations would have been approximately 9,500 vehicles."
In the second quarter, Tesla earned an adjusted 11 cents a share on $858 million in revenue, as it delivered 7,579 vehicles. The company noted it produced 8,763 vehicles during the quarter, as it begins to make way for the Model X, which is coming in the spring of 2015.
Tesla's stated goal for the year is 35,000 Model deliveries, which would mean a rather larger fourth quarter, due mostly to the third quarter plant retooling. Assuming a 7,800 delivery rate in the third quarter, Tesla will have delivered 21,836 Model S units in 2014, needing to deliver at least 13,164 cars in the fourth quarter to make its annual guidance. Analysts surveyed by Thomson Reuters expect the company to lose an adjusted 1 cent a share on $889.28 million in revenue in the third quarter.
Investors and analysts will also be looking for other line items in the earnings release as well as the conference call. CEO Elon Musk and his team may shed some clarity on demand for the D version of the Model S, announced in mid-September to a throng of over 3,000 people, and whether that may affect the company's stated goal of 100,000 annual run rate by the end of 2015. Additionally, the company's movement into Europe and Asia are also likely to be big talking points, noted Ascendiant Capital Markets analyst Theodore O'Neill. "Top line growth will come from opening up new markets in the EU and Asia as well as the introduction of new vehicles," O'Neill wrote in a research note in October.
Going into the report, analysts were largely positive. Here's what a few of them had to say:
Morgan Stanley analyst Adam Jonas (Overweight, $320 PT)
"While TSLA has reiterated its expectation that the Model X will see its first deliveries to customers by 2Q15, we look for clues and/or commentary from management that may suggest a possible delay in the launch and/or ramp of the vehicle due to a variety of acceptable reasons. Close attention will be paid to Model S deliveries in China and Tesla's progress in developing the supporting dealer and service infrastructure to accommodate growth. We expect an update on the progress of Tesla's plant retooling/reconfiguration along with an updated forecast for annualized production/capacity. We expect revenues of $920mm vs. cons. of $895mm, on 7,975 deliveries. We forecast EPS of $0.03 vs. cons. $0.01."
Deutsche Bank analyst Rod Lache (Buy, $310 PT)
"We are expecting a loss of $0.06, including a $0.06 ($9 MM) charge for drivetrain warranties that was retroactively applied during the quarter (warranty extended to 8 years, unlimited miles). This estimate is consistent with guidance: Prior to the warranty charge, Tesla expected marginal profitability on a non-GAAP basis based on 7,800 deliveries (300 of which will be leases). Based on comments from mgmt. overnight we believe that Q3 global volumes were likely on target. We believe that investors should focus on the trajectory of growth (production/demand increases, Model X timing, Model III timing, Gigafactory) and costs (we believe that battery costs may decline faster than widely perceived, which opens even larger growth opportunities)."
Bank of America Merril Lynch analyst John Lovallo (Sell, $75 PT)
"In response to a Wall Street Journal (WSJ) article published yesterday claiming that Tesla's US sales may have declined 26% YoY through September, Tesla's CEO Elon Musk issued the following tweet: "Article in @WSJ re Tesla sales is incorrect. September was a record high WW and up 65% year-over-year in North America." While at first glance this may appear very positive, we point out two key nuances. First, the WSJ referenced an estimated 26% YoY decline in sales year-to-date through September in the key United States market, while Musk's tweet specifically referenced sales for the month of September in the broader North American region. Second, looking at September in isolation is likely misleading given that the plant shutdown in early 3Q resulted in more orders being shifted to later in the quarter. Therefore, analyzing the quarter in aggregate would be far more informative, in our view. We believe that the WSJ article highlights the risk of a declining volume trend in the US, which could drive downside to the company's FY14 delivery outlook of 35K+ vehicles."
Ascendiant Capital Markets analyst Theodore O'Neill (Buy, $320 PT)
"Street is looking for 3Q14 revenue and non-GAAP EPS of $891.7 million and $0.00 (breakeven), respectively (see Exhibit 2 below). Our revenue and non-GAAP EPS estimates are slightly higher at $911 million and $0.03 respectively however, we would not read anything into the difference as the result is subject to the percentage of vehicles that are in-transit to other countries and of those that are leased versus sold."
--Written by Chris Ciaccia in New York
>Contact by Email.