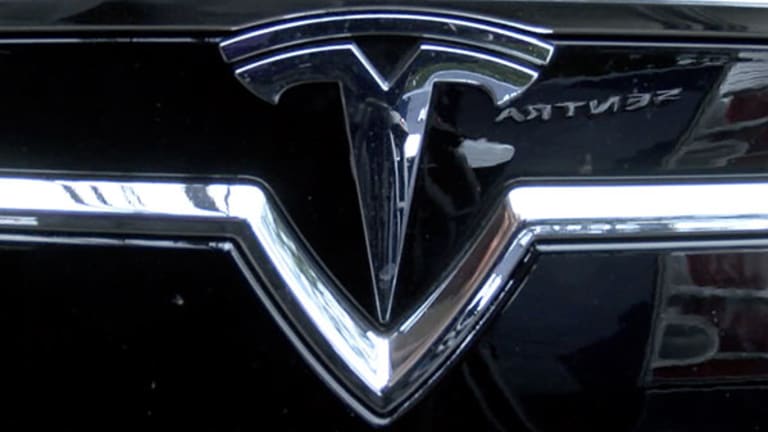 Tesla Plunges as Merrill Questions Valuation
Tesla shares dropped as Merrill Lynch questioned the stock's valuation, noting 'meaningful execution challenges remain.'
NEW YORK (TheStreet) -- Tesla Motors (TSLA) - Get Tesla Inc Report shares dropped 4.7% to $163.53 as Bank of America Merrill Lynch questioned the company's potential for execution challenges and noted the stock is overvalued.
Analyst John Lovallo II, who has a "underperform" rating and a $45 price target on Tesla shares, notes that shares "are vastly overvalued from a fundamental standpoint in reports such as 300K reasons to have doubt and Caution: Oversize Load implied in current share price." Given the run-up in shares, 383.9% year-to-date, Lovallo notes that retail investors could be at risk, as institutional investors continue to wane on owning shares of the Palo Alto, Calif.-based electric car maker.
"This appears to be slowly occurring, driven by factors such as the recent Model S battery fire and potential NHTSA probe, and speculation of a slowdown in the company's European expansion," Lovallo wrote in the note. "In fact, TSLA shares are down roughly 12% from their 9/30 closing price of just over $193/sh. While the recent decline pales in comparison to the year-to-date hyperbolic growth of the shares, it could foreshadow emerging cracks in the seemingly ironclad façade surrounding Tesla's stock."
There's also the question of "meaningful execution challenges remain," Lovally notes, as Tesla moves past early adopters of the Model S, and looks toward the broader market for adoption of electric vehicles. "Despite TSLA's technology and the beginnings of a charging station network, we believe the average consumer remains unlikely to sacrifice convenience in order to own an electric vehicle. Therefore moving into the mass market (key to the bull thesis) could prove extremely difficult, and will also be met by similar EV offerings from many incumbent OEMs with deep pockets and the ability to compete on pricing."
With the company set to report third-quarter earnings next month, Lovallo is advocating investor caution, given the wide range of expectations for Model S deliveries.  When Tesla reported second-quarter results in August, the company said it expects to deliver slightly over 5,000 cars as the company expands into Europe, and remains on track to deliver 21,000 Model S units during the year. The company said it expects non-GAAP gross margins to be "in the low 20% range, with continuing improvements in Model S vehicle margin, offset by significantly lower ZEV credit revenue."  Lovallo expects Tesla to deliver 5,500 Model S units, with some analysts expecting as many as 7,000 units. 
Analysts surveyed by Thomson Reuters are expecting Tesla to report earnings of 11 cents per share on $535.4 million in revenue.

--Written by Chris Ciaccia in New York
>Contact by Email.