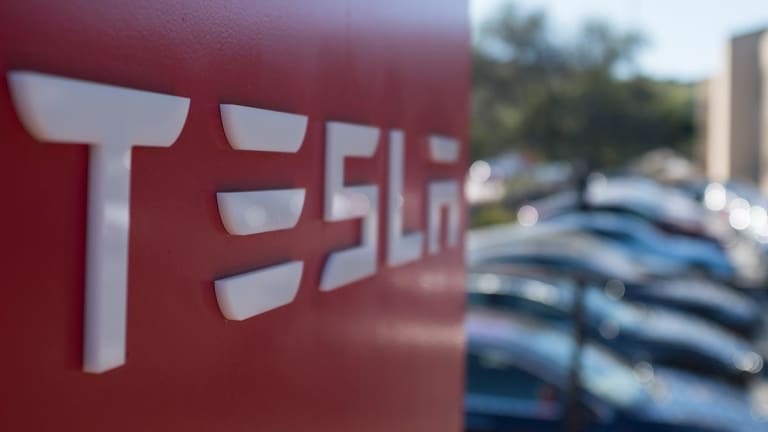 Tesla Hires a New Accounting Chief as It Wrestles with Cash Burn, Looming Debt
Ahead of its Wednesday earnings report, Tesla hired a new accounting chief as it grapples with dwindling cash reserves, looming debt deadlines and profitability promises.
Just ahead of its next earnings report, Tesla (TSLA) has a new executive with the unenviable task of balancing the carmaker's books.
The company said in a news release on Monday that it hired Dave Morton, who was previously CFO at the data storage firm Seagate (STX) , as its chief accounting officer. Morton will start on Aug. 6, according to an SEC filing by Tesla, and will report to Tesla's CFO Deepak Ahuja.
Recent events suggest that Morton has his work cut out for him. Since Tesla's last accounting chief, Eric Branderiz, left in March, Tesla has faced much scrutiny into its significant cash bleed and production rates of the Model 3. And CEO Elon Musk's bizarre behavior on Twitter and offline haven't done much to reassure investors, with Musk freaking out on an analyst's "boring, bonehead questions" on Tesla's last earnings call in May.
Whether it can fulfill promises to get profitable by the end of this year, and avoid a capital raise also as promised, are some of the issues Tesla faces as it prepares to release its quarterly report this week. 
On Monday, UBS analyst Colin Langan articulated the concerns of many bearish Tesla analysts in reiterating its sell thesis "focused on cash burn, sustainable profitability, and quality concerns." In a note to investors, he predicted a decline of more than 30% to Tesla's stock value in 12 months, setting a price target of $175. Tesla traded at $290 as of Monday's close. 
Tesla and its CEO have declared on several occasions that he expects the company to post a profit later this year, with Musk saying in a June shareholders' meeting that the company is "expecting positive GAAP net income and positive cash flow in Q3 and Q4." 
In its last quarterly report, Tesla reported diminishing cash reserves at $2.7 billion in cash compared with $3.4 billion at the end of the fourth quarter last year. It also reported a revenue increase of 30%, but projected $3 billion in expenditures for 2018 owing in part to unforeseen production problems with the Model 3. In an interview with The Street's Bret Kenwell, Vertical Group's Gordon Johnson projected that the company will end this quarter with less than $1 billion in cash.
Tesla is banking on increases in its Model 3 production capacity to solve its financial woes -- it reported a production volume of 7,000 per week in the last week of June, beating its weekly target of 5,000 -- but its precarious cash position is a subject of increasing worry. The company has taken some unusual measures in improving its cash outlook, including hitting up suppliers for refunds to agreements dating back as far as 2016. In a statement, Tesla said the refund requests will impact "future cash flows, but not impact our ability to achieve profitability in Q3."
Tesla is also shrinking its workforce, saying in June that it was eliminating 9% of jobs as part of a company reorganization.
Meanwhile, Tesla says that it won't need to raise money anytime soon, a claimed that has perplexed some analysts as it ties its prospects to increases in production capacity through such long-term efforts as building a Gigafactory in China.
In a May statement, Moody's Bruce Clark estimated that Tesla will need to raise about $2 billion this year to cover its cash burn for 2018 and a pair of debt obligations maturing soon. Tesla has a payment of $230 million due in November, and a larger $920 million chunk due in March 2019.
Tesla reports its Q2 results on Wednesday, Aug. 1 after the bell. Its stock is down more than 7% overall since the beginning of this year.