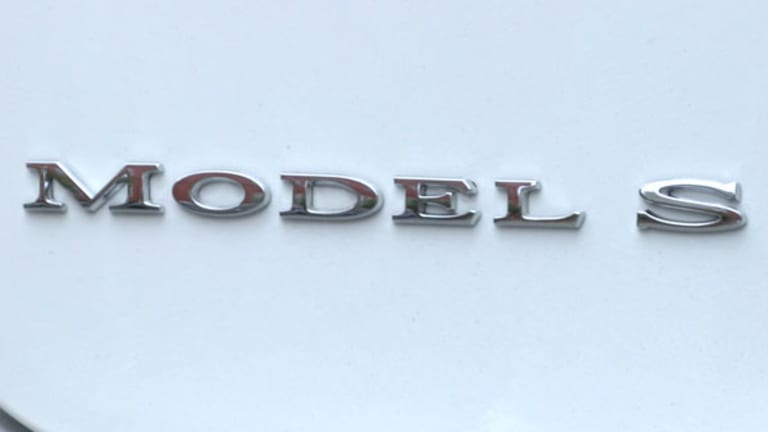 Tesla Model S Review: Precision, Luxury & Power Redefined
Tesla's Model S is a premium, electric luxury sedan. Driving enthusiasts will be more than pleased.
NEW YORK (
) -- I finally had the chance to test drive the
Tesla Motors
(TSLA) - Get Report
Model S after 15 long, arduous months of waiting, and I can say without a shadow of a doubt that it was worth every one of those days, and then some.
I'll start with a brief synopsis of the trials and tribulations of getting the review before I go into the actual review.
It started when I first went out to Palo Alto to
and interview the folks at Tesla in June 2012. Unfortunately, I arrived at the car maker's headquarters a week before the company was scheduled to test drive the Model S. Plans to drive the car would have to be postponed. In the following months, other plans were tried but didn't work out for one reason or another.
And then finally, at long last, I was able to get behind the wheel of Tesla earlier this week on the roads and highways of New Jersey.
Here's what it's like:
Before you even get into the car, you'll notice the handles on the doors retract for safety but protrude when the key gets near to the door. You can also tap on the handles to get them to pop out. This is just a sign of things to come.
Getting behind the wheel of the Model S, the first thing you notice is how Elon Musk and Tesla have thought of everything. Yes, you read that right. Your eyes and senses are taken over by the wonders of the car, noticing the giant dash with every feature set you could possibly want.
I test drove the fully-loaded version of the Model S, painted in pearl white, priced at $111,770. Tesla recently introduced a
to make the cars more affordable, though even with that, the car is still catered towards the very affluent.
Here is the spec sheet for the model I drove with pricing included:
P85 kWh battery (INCLUDED)
Pearl White Paint ($1,500)
All glass panoramic sunroof($1,500)
Premium Interior Lighting (INCLUDED)
21" Silver Wheels ($4,500)
Black Napp Leather/Alcanatara with Red Piping (INCLUDED)
Obeche Wood Gloss Decor Accents (INCLUDED)
Tech Package ($3,750)
Ultra High Fidelity Sound Package ($950)
Smart Air Suspension (INCLUDED)
Rear Facing Seats ($1,500)
Supercharging (INCLUDED)
Twin Chargers ($1,500)
Yacht Floor ($500)
The 60 kWH base model of the car starts at $69,900, not including a $7,500 U.S. federal tax credit. Depending on where you live, drivers are entitled to additional incentives. Interested buyers can check
for details.
Getting into the driver's seat, you can easily adjust the seat to your preferred setting with the aide of motorized buttons on the seat's sides. Besides the usual buttons to push forward and backward as well as up or down, there's additional levers for lumbar support and another that moves the back of the seat for added comfort.
The aforementioned dashboard is a sight to behold, something like a giant iPad with its ease of use, aesthetics, and bountiful features. From the dash, you can change the general climate in the car, both for the driver and passenger side. There's also a slew of other features, including opening and closing the optional panoramic sunroof, opening the front trunk as well as offerings of Internet radio (Titled "Media" on the dash), Navigation (featuring Google Maps), surfing the Internet, the rear-view camera and connecting your phone via Bluetooth.
Once I finally out on the open road, the Garden State Parkway, you can definitely see where the P85 kWh battery stands out. Going from a standing start to near 100 MPH took no time at all, showcasing what Musk and others have talked about endlessly. Not only is the Model S a luxury sedan, it's a performance car that matches or exceeds what
Audi
,
BMW
and
Mercedes
have to offer at the high-end of the luxury car market.
I was able to drive the car around Hoboken, NJ, and then take it up and down almost the entire state of New Jersey, having no difficulty or anxieties about running out of power. From start to finish, I drove approximately 170 miles, using up approximately 60% of the cars' EPA 5-Cycle Certified Range of 265 miles, with the P85 battery.
For every day driving, drivers should have no concerns about running out of power, as the 85 kWh performance battery lasts exceptionally long, even when stepping on the accelerator. Tesla also offers a 60 kWh battery, which has an EPA 5-Cycle Certified Range of 208 miles, and a regular 85 kwH battery, also with an EPA 5-Cycle Certified Range of 265 mile range.
Pure speed and power is where the performance battery really shines and separates Tesla's ability to innovate, out-think its competitors. Tesla claims the car can go from 0-60 in 4.2 seconds, and I have no doubt that's accurate. The car did indeed accelerate very quickly in what seemed like a heartbeat. With any electric car, drivers go from o to full torque almost instantly, and the Model S is no different. The P85 kWh battery offers an 8 year, unlimited mile battery warranty, while the 60 kWh battery only offers an 8 year, 125,000 mile warranty. Tesla has said that an increasing number of users are choosing the 85kWH battery, and judging by my experience, rightfully so.
Though the car is incredibly quick, hitting full torque instantly, it's built like a tank. The Model S feels very safe and well-built. Earlier this summer, the National Highway Traffic Safety Administration (NHTSA)
the Tesla Model S a 5-star safety rating in every sub-category, making it one of the safest cars ever reviewed.
Tesla's recently announced Supercharger network, which Tesla built to allow drivers to charge their cars for free, allows owners to remove "range anxiety," a feeling drivers get as the charge on the battery gets too low. That will allow drivers to save $8,100 in fuel costs over 5 years over the average new vehicle.
The closest chargers to me are Darien, CT, which was just recently opened, and Newark, DE. Tesla has
to cover the entire country with Supercharger stations over the next few years. As I didn't drive the car long enough to test the charging process, I can't comment on how this might pan out. It's not hard to see that the lack of charging stations near my home might become an issue, but it would take further driving tests to see if Tesla's claims are accurate with regards to charging times.
While not designed nor priced for everyone, the Model S is clearly at the top of its class in terms of electric vehicles, and at the top of luxury sedans overall. It is truly an incredibly experience and Tesla has been able to redefine what luxury driving should be.
Final Grade: 98/100 (1 point deducted because nothing is perfect, and 1 point because of affordability.)
--
Written by Chris Ciaccia in New York
>Contact by
.