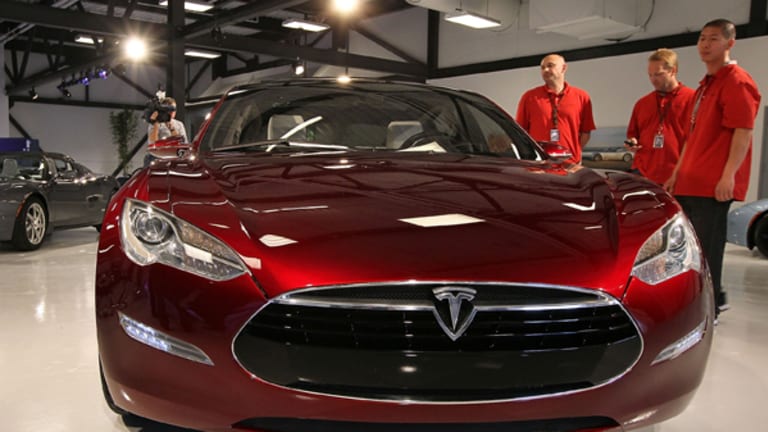 Tesla Model S Gets Highest Consumer Reports Score
Tesla's Model S has topped the Consumer Reports Survey, getting a score of 99 out of 100.
NEW YORK (TheStreet) -- Despite the fires that have happened to the Model S, Consumer Reports has given the electric car from Tesla Motors (TSLA) - Get Tesla Inc Report the "highest owner-satisfaction score" the magazine has seen in years.
In a press release to subscribers, the Model S received a score of 99 out of 100, as owners continue to be satisfied with the vehicle, despite the recent concerns over the fires. The press release made no mention of the fires, as the survey was done earlier in the year.
The three fires, two of which took place in the U.S., has put a dampener on the company's high-flying stock, which has tumbled nearly 40% since hitting a 52-week high of $194.50 on Sept. 30.
Following the fires, Tesla has asked the National Highway Traffic Administration (NHTSA) to open a probe into the fires on the electric vehicle. In a blog post to the company's Web site, CEO Elon Musk said Tesla has "rolled out an over-the-air update to the air suspension that will result in greater ground clearance at highway speeds."
He noted this is about reducing the chances of underbody impact damage, not improving safety, as Musk, and others have repeatedly said the Model S is the safest car on the road. "Another software update expected in January will give the driver direct control of the air suspension ride height transitions," Musk said.
Following the Model S, which starts at around $70,000 were two other luxury cars. The Porsche Boxster sports car received a score of 95, and the Porsche 911 sports car received a score of 91.  Perhaps a sign of the times, the Chevrolet Volt, owned by General Motors (GM) - Get General Motors Company Report, and another electric car, received a score of 91 as well.
--Written by Chris Ciaccia in New York
>Contact by Email.