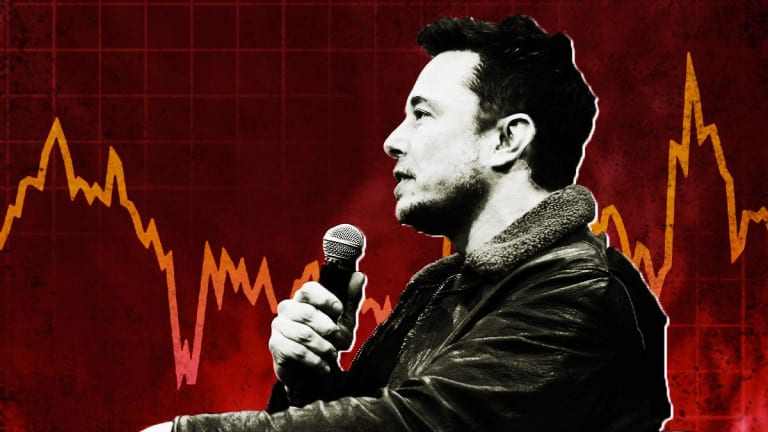 Tesla Misses Estimates But Forecasts a Stronger Second Half: 8 Key Takeaways
The electric car maker had a rough start to 2019. But it's maintaining its full-year vehicle deliveries guidance, and forecasts a return to profitability in Q3.
Low expectations are helping Tesla's (TSLA) - Get Free Report shares hold relatively steady following a Q1 report featuring a few numbers that fell short of analyst expectations. In pre-market trading on Thursday, shares were down 0.8% to $256.55.
Tesla's Results and Earnings Guidance
On Wednesday afternoon, Tesla reported Q1 revenue of $4.54 billion (up 36% annually thanks to the Model 3 production ramp), GAAP EPS of negative $4.10 and non-GAAP EPS of negative $2.90. Revenue, hurt by lower Model S and X vehicle deliveries and a $501 million accounting adjustment, missed a consensus analyst estimate of $5.42 billion.
GAAP EPS missed a consensus of negative $1.81; non-GAAP EPS missed a consensus of negative $1.15. Both figures were impacted by $188 million worth of charges related to things such as inventory write-downs, restructuring actions and changes to reserves for potential returns. Free cash flow (FCF), which like earnings was positive in Q3 and Q4 of last year, came in at negative $919 million.
Elon Musk's company also forecast it will report a "significantly" smaller loss in Q2; that compares unfavorably with consensus estimates for a small amount of positive non-GAAP EPS. However, the company added it expects to return to profitability in Q3, and to see positive FCF for the last three quarters of the year.
With markets already pricing in some bad news, Tesla's shares finished after-hours trading nearly unchanged (it's entirely possible they'll act differently on Thursday). Here are some notable takeaways from the company's Q1 shareholder letter and earnings call.
1. Tesla Is Maintaining its 2019 Deliveries Guidance
Three weeks ago, Tesla reported that it delivered 63,000 vehicles in Q1, a figure that was well below a consensus estimate of 76,000 thanks largely to a 45% annual drop in combined deliveries for the Model S sedan and Model X crossover. Nonetheless, the company forecasts 90,000 to 100,000 deliveries for Q2, and is reiterating full-year guidance (issued in January) for 360,000 to 400,00 deliveries (up 45% to 65% annually).
The company notes that fulfilling European and Chinese Model 3 deliveries that remained in transit at the end of Q1 will boost its Q2 sales. It also reports seeing strong interest in the Standard Range Plus version of the Model 3 sedan, which now starts at $39,500, and expects Model S and X sales to get a boost from the recent launch of revamped versions of the cars that (among other things) provide better range.
2. The Capex Budget Has Been Lowered
In January, Tesla forecast it would spend about $2.5 billion on capital expenses in 2019 -- up from a 2018 level of $2.1 billion, but below a 2017 level of $3.4 billion. It's now guiding for 2019 capex of $2 billion to $2.5 billion.
"We believe this amount should be sufficient to continue to develop our main projects, such as Gigafactory Shanghai, Model Y and Tesla Semi, as well as for the further expansion of our Supercharger and service networks," Tesla insists.
3. Operating Expenses Grew Just Modestly
On a GAAP basis, Tesla's operating expenses rose 3% annually to $1.09 billion. R&D expenses fell by $27 million to $340 million; SG&A spend rose by $18 million to $704 million. Tesla has carried out a string of layoffs to help improve its bottom line.
4. Automotive Margins Fell
With recent price cuts and a major drop in Model S and X deliveries weighing, Tesla's non-GAAP automotive gross margin (it excludes zero-emission vehicle credit sales and stock compensation) came in at 20.3%. That's down from a Q4 level of 24.7%, albeit up from a level of 18.8% in the year-ago period, when the Model 3 was just beginning to ramp.
Model 3 gross margin also fell a bit sequentially; Tesla says it was around 20%. Nonetheless, the company says it's still aiming for "a 25% non-GAAP gross margin on Model S, Model X and Model 3, depending on variant mix and option take rates as our product offerings change." On the call, new CFO Zach Kirkhorn insisted that a rebound in Model S and X volumes, cost reduction efforts and greater uptake for Tesla's full self-driving option (it doesn't actually support full self-driving, though its feature set is gradually improving) will boost margins going forward.
5. Elon Musk Thinks There's 'Some Merit' to Raising More Capital
When asked whether Tesla plans to raise additional capital, Musk didn't promise that Tesla would do so, and noted that he wants the company to run itself efficiently. But he added that there's "some merit" to raising new funds, and that "this is sort of probably about the right timing" for such a move.
Tesla's cash balance fell by about $1.5 billion sequentially in Q1 to $2.2 billion; a $920 million convertible debt repayment weighed, as did lower deliveries and working capital needs related to the start of European and Chinese Model 3 deliveries. However, Kirkhorn predicted that Tesla's quarter-ending cash balance will increase going forward.
6. The Model 3's North American ASP Is Around $50,000
Though it launched sub-$40,000 versions of the Model 3 in Q1, Kirkhorn says Tesla's "most recent data" points to a North American Model 3 average selling price (ASP) of just under $50,000. He added that over half of Tesla's North American Model 3 orders are for long-range versions of the car.
7. Tesla Plans to Launch an Insurance Product
"[We] are creating a Tesla insurance product and we hope to launch that in about a month," Musk said on the call. "It will be much more compelling than anything else out there."
Later, Musk suggested that the information Tesla has about its customers can help differentiate its insurance offerings. "[We] essentially have a substantial price sort of arbitrage or information arbitrage opportunity where we have direct knowledge of the risk profile of customers based on the car," he said. "And then, if they want to buy Tesla insurance, they have to agree to not drive the car in a crazy way. Or if they [do], then the insurance rate is higher."
8. Musk Still Wishes Tesla Was a Private Company
Eight months after writing his infamous "funding secured" tweet, which led to an SEC settlement that required him to temporarily step down as chairman, Musk says he still wishes Tesla was privately-owned. "But unfortunately I think that ship has sailed," he added, while lamenting how the volatility of Tesla's stock can be "a bit of a distraction at times."
This article has been corrected to state that Tesla expects positive free cash flow in Q2, in addition to Q3 and Q4.
TheStreet's Eric Jhonsa previously covered Tesla's Q1 report and earnings call though a
.