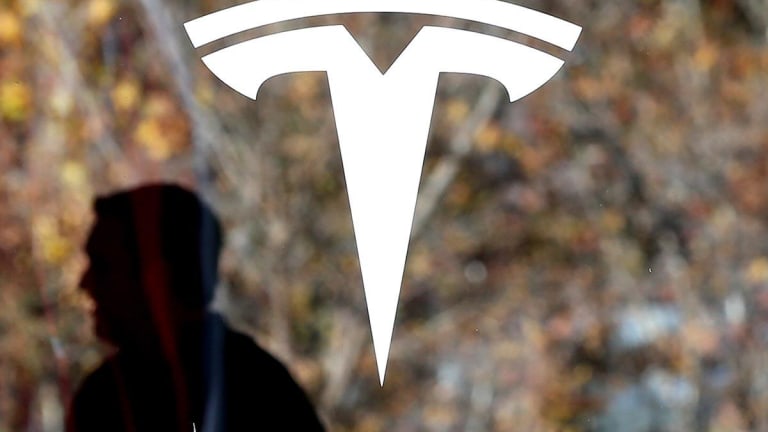 Tesla Ignored Drug Trafficking, $37 Million Theft, Whistleblower Says
Meissner Associates, who's representing Tesla whistleblower Martin Tripp, are representing another Tesla whistleblower.
Meissner Associates, who's representing Tesla whistleblower Martin Tripp, are representing another Tesla whistleblower.
More serious trouble for Tesla.
Tesla Inc. (TSLA) - Get Report failed to tell the police about the theft of $37 million worth of raw materials from its Nevada factory nor about allegations that Tesla employees were running a narcotics trafficking ring on behalf of a Mexican drug cartel, according to a whistleblower complaint filed with the Securities and Exchange Commission.
Karl Hansen, a former member of Tesla's internal security department, made the allegations after he said he was fired by Tesla in July. The formal complaint was filed with the SEC Aug. 9 by Meissner Associates, a law firm that specializes in whistleblower cases.
A spokesperson for the SEC's Office of Public Affairs said the SEC declined to comment. Hansen's is the second Tip, Complaint or Referral (TCR) document to be filed about Tesla by the Meissner law firm with the SEC, after former employee Martin Tripp filed a complaint on July 6 that the electric car company used faulty batteries and overstated its production numbers. Tripp left Tesla on June 19.
Hansen's complaint alleges that Tesla "failed to disclose thefts of copper and other raw materials from Tesla's Gigafactory valued at over $37 million which occurred between January and June 2018. Mr. Hansen alleges that he was instructed not to report the thefts to outside law enforcement, that he was directed to cease his internal investigation into the issue, and that another Tesla employee who reported some of the thefts to law enforcement was fired by Tesla after being told that he was not a 'Tesla team player.'"
Hansen also alleges that Tesla failed to disclose that it wiretapped and hacked Tripp's cell phone even after he wasn't working there anymore.
"According to Mr. Hansen, following Tripp's departure from Tesla, Tesla went so far as to install specialized router equipment within its Nevada Gigafactory designed to capture employee cellphone communications and/or retrieve employee cellphone date," the news release stated.
Hansen also said Tesla "failed to disclose a recent internal investigation ... into a May 24, 2018, written notification it received from the U.S. Drug Enforcement Administration/Storey County Sheriff's Office Task Force alleging that a Tesla employee may be a participant in a narcotics trafficking ring including the sale of significant quantities of cocaine and possibly crystal methamphetamine at the Gigafactory on behalf of a Mexican drug cartel."
"DEA does not notify non-law enforcement entities of ongoing or pending investigations," a DEA spokesperson told TheStreet.
Hansen said he told Tesla in June that he had corroborating information that linked a Tesla employee with the Mexican drug cartel, but that Tesla "refused" to disclose the findings to law enforcement.
"I never expected that my employment with such a major public company would lead to uncovering such issues, and am disturbed by Tesla's highly unusual response to those like me who investigated them," Hanson said in a news release sent out by Meissner Associates. "I am also very disturbed by Tesla's failure to respect the privacy of its own employees. In my opinion, Tesla's actions have placed investors, the public, and Tesla employees at risk. I hope that shining a light on Tesla's practices will cause appropriate governmental action against the company and its management," said Hansen, in a statement.
"I personally have seen the [Storey County] report to Tesla from May 24," said Stuart Meissner, the lawyer representing both Tripp and Hansen, in a phone interview. "The DEA/Storey Country Sheriffs Task Force received a very detailed anonymous tip, which they passed on to Tesla. This is the most significant case I've seen to date," said Meissner. 
The SEC is also investigating Tesla CEO Elon Musk for posting on Twitter last week that he had funding secured for a deal to take the company private at $420 a share, prompting shares of the company to rise. It turned out that there is no such secured funding. It's illegal to spread unfounded rumors to boost the stock price of publicly traded companies.
"Mr. Hansen's allegations were taken very seriously when he brought them forward" said a Tesla spokesperson. "Some of his claims are outright false. Others could not be corroborated, so we suggested additional investigative steps to try and validate the information he had received second-hand from a single anonymous source. Because we wanted to be sure we got this right, we made numerous attempts to engage further with Mr. Hansen to understand more about what he was claiming and the work that he did in reaching his conclusions. He rejected each of those attempts, and to date has refused to speak with the company further. It seems strange that Mr. Hansen would claim that he is concerned about something happening within the company, but then refuse to engage with the company to discuss the information that he believes he has."
Tesla shares fell 1% Thursday to close at $335.45.
This article has been corrected to reflect that the SEC spokesperson did not confirm the existence of the complaint against Tesla and declined to comment.