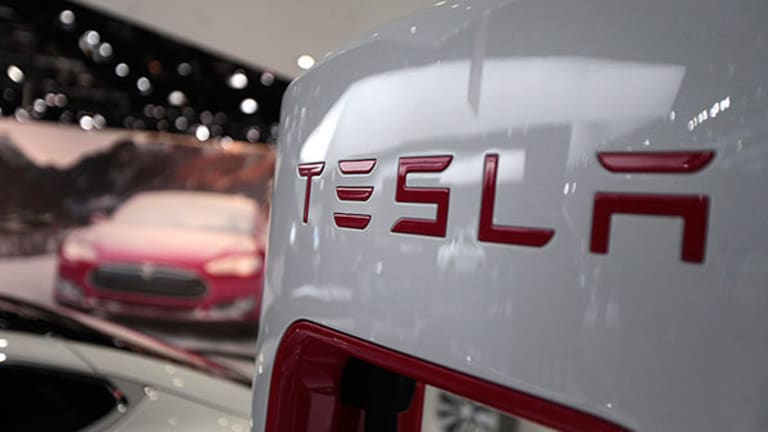 Why Tesla Is Serious About Its European Expansion
Though the majority of Tesla's Model S sales occur domestically, the company is getting serious about expanding into Europe. Tesla plans to open a slew of new Supercharger stations and service centers.
Updated from 10:27 a.m. to include information from Morgan Stanley.
NEW YORK (TheStreet) -- Although the majority of Tesla Motors (TSLA) - Get Tesla Inc Report Model S sales occur domestically, the company is getting serious about expanding into Europe. Tesla said it plans to open a slew of new Supercharger stations and service centers in Europe.
At the Geneva Auto Show, Tesla announced it would open more than 30 service centers and stores across Europe, while rapidly expanding the Supercharger network unveiled last spring.
Shares of Tesla were higher in early Tuesday trading, gaining 2.1% to $255.75.
The Model S has been incredibly well-received, both domestically and abroad. Tesla recently won the honor of being Consumer Reports top car in 2014, after having been recommended by the publication in 2013 as well. In 2013, the Model S was named Sweden and Norway's Car of the Year, as well as winning the Most Stylish Car award in Switzerland, and the Car of the Year Prize of Honor in Denmark. Judging by those award wins, it's clear that European consumers are serious about the Model S, and now Tesla is providing the infrastructure necessary for them to drive the car.
The Supercharger network is key to Tesla's expansion not only domestically, but also abroad, as it alleviates "range anxiety," the feeling drivers get when the battery is low and there is no place to recharge. Tesla CEO Elon Musk noted that the rapid expansion of the Supercharger network is important to European travelers. "By the end of this year, we expect you will be able to travel almost anywhere in Europe using only Superchargers," Musk said in the press release.
Though Tesla delivered more than 22,000 cars to customers worldwide, the company was supply constrained in the third quarter, with the automaker having to "starve" demand in North America to feed Europe. It looks like that issue was partially solved in the fourth quarter, as Tesla delivered 6,892 Model S units, and had a 25.2% non-GAAP gross margin for the quarter.
However, the company still remains slightly supply-constrained. For the first quarter, Tesla said it expects to produce about 7,400 Model S units, up from 6,587 in the fourth quarter of 2013, yet due to the number of cars in transit to Europe and Asia, Tesla will deliver about 6,400 vehicles in the first quarter.
Despite that, Musk has said in the past that Europe is expected to pick up in the coming quarters, due to the sheer number of people waiting for Model S vehicles there. However, the company also has other issues in Europe, largely because of charging issues.
"Well, we -- I think there's probably work to do in a number of locations in Europe, mostly because we still have to sort out a number of charging issues," Musk said on Tesla's fourth-quarter earnings call. "Because the -- even though the EU is sort of one market economically. It's certainly not one market from an electricity standpoint. So we're sorting through a number of charging issues over there. And I think that's what's slowing down our [indiscernible] temporarily, but we feel confident about addressing those in the very near term and expect that the sales will do -- will pick up quite a bit over in Europe."
Outside of Tesla's European announcement, Morgan Stanley continued to pound the tablet on Tesla as being more than an auto manufacturer, especially as it relates to the recently announced Gigafactory.
"Tesla's Gigafactory targets exceed our expectations in terms of both scale and implied cost per kWH," analyst Adam Jonas wrote in a research note. "Our N. American Electric Utilities team sees major potential for a continued trend of distributed energy generation with potential benefits to Tesla."
Jonas recently raised the price target on Tesla to $320, noting that depending on the success of the Gigafactory, "there is significant potential for revenue streams not captured in our $320 price target."
-- Written by Chris Ciaccia in New York
>Contact by Email.