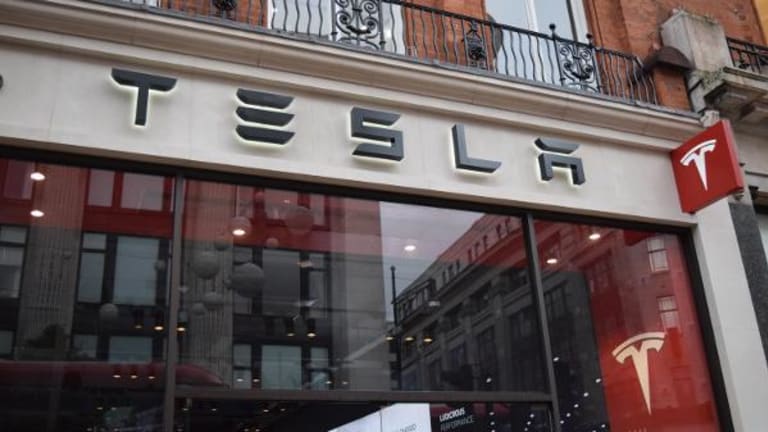 Tesla Expands California Factory, May Purchase Samsung Chips -- Tech Roundup
Tesla could increase the number of workers at its Fremont, Calif., factory by roughly 50%.
Tesla could increase the number of workers at its Fremont, Calif., factory by roughly 50%.
Fremont, Calif., is getting some love in the form of more jobs for its community. Tesla Motors (TSLA) - Get Report has received permission to expand its operations, which will boost production at its factory in the city, previously known as the NUMMI factory -- New United Motor Manufacturing Inc. -- that was previously used by General Motors (GM) - Get Report and Toyota (TM) - Get Report .
Tesla's gearing up to produce its Model 3 unit. While the Model S and Model X were costly high-performance electric rides, the Model 3 is aimed at the mass market, with prices starting in the mid-$30,000s if everything goes according to plan.
In 2010, the NUMMI factory was closed down, resulting in a loss of about 4,700 jobs. However, Tesla currently employs about 6,200 people at the factory, a notable recovery in those lost jobs.
Furthermore though, the new jobs are expected to add an additional 3,100 positions.
Although the timing for the expansion is still unknown, it will be possible for more than 9,300 jobs to exist through Tesla's Fremont factory alone. That's a big deal and should Tesla continue to grow, it can be a serious job provider in the U.S.
Shares of Tesla closed at $192.18 Friday, down 0.1%.
Sticking with Tesla, the company may look across the Pacific Ocean for some its supply. More specifically, reports out of South Korea suggest that Samsung (SSNLF) could be the one supplying Tesla with the chips it needs.
These chips would apparently be used for self-driving car capabilities -- a topic that has engrossed both car makers and tech companies alike, with news on Alphabet (GOOGL) - Get Report and Apple (AAPL) - Get Report hitting the wires on Thursday regarding the industry.
Remember now, Samsung recently acquired Harman (HAR) for about $8 billion. Harman is a producer in audio, "infotainment" and security software and hardware for consumers and automakers.
While some questioned the deal, many saw the potential as Harman's technology aligns with Samsung's resources and scale. This apparent deal with Tesla underscores Samsung's desire to get into the auto business.
Although the deal makes for a lively discussion among those in the self-driving car space, TheStreet's tech guru Eric Jhonsa notes that Tesla wants to produce 500,000 vehicles by the end of 2018. Given that Samsung shipped over 300 million smartphones last year, this small number - even if lucrative on a per-unit basis - is unlikely to move the needle much at Samsung.
Perhaps though, over time more contracts and more chips will lead to more cash.
Amazon (AMZN) - Get Report is testing some pretty cool stuff when it comes to grocery concepts. One of the company's concepts, Amazon Go, allows customers to come in and shop, but not check out.
No, it's not free food. Sensors allow for the company to track the products and charges customers' Prime account once they leave the store.
In any regard, it was reported earlier this week that the company would open 2,000 brick-and-mortar locations, pending the results of its test concepts.
Well, that doesn't seem to be the case. At least for now, according to Amazon. The company released a statement saying that it had no plans "to open 2,000 of anything. Not even close."
Ouch. Those are some strong words, but it can understandably be frustrating when stories are flung around the web on false reports. Still, Amazon's potential emergence in the grocery business could be a huge potential for it - and devastating to a number of traditional grocers, many of which operate on very low margins.
Shares of Amazon closed at $768.66 Friday, up 0.2%.
This article is commentary by an independent contributor. At the time of publication, the author held no positions in the stocks mentioned.