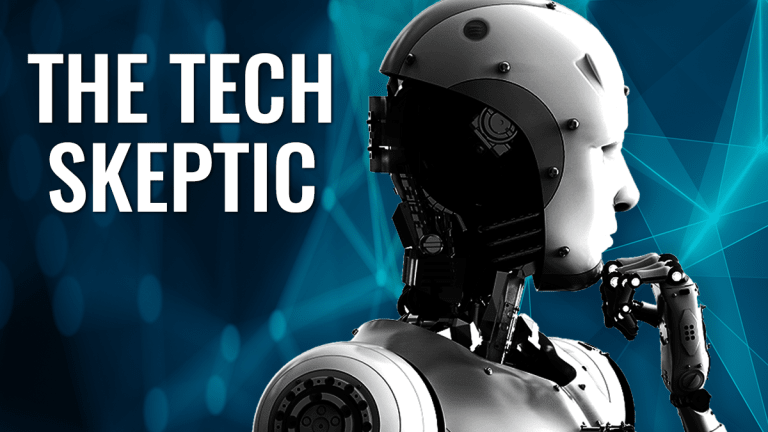 Elon Musk, Tesla's Rockstar CEO, Is Starting to Lose His Groupies
The flamboyant tech CEO's celebrity status and erratic behavior are increasingly becoming more liabilities than assets for Tesla.
Even among tech CEO's that have become this generation's household names, Tesla's (TSLA) - Get Tesla Inc. Report Elon Musk is special.
Unlike say, Apple's (AAPL) - Get Apple Inc. Report Tim Cook or Amazon's (AMZN) - Get Amazon.com Inc. Report Jeff Bezos, you're just as likely to see Musk's activities splashed across Page Six as on the cover of Fortune. Which is fitting for the man who inspired Robert Downey Jr.'s portrayal of Tony Stark, the fictional billionaire inventor and playboy better-known as Iron Man.
Written by TheStreet's tech reporter Annie Gaus, the weekly 'The Tech Skeptic' column takes a critical look at the biggest news in tech. Follow Annie Gaus on TheStreet here.
Musk has, in effect, become a celebrity CEO -- a leader whose personal notoriety, whether positive or negative -- threatens to eclipse their accomplishments in business. Musk may run four companies (SpaceX, The Boring Company, and Neuralink, in addition to Tesla), but nowadays you're more likely to read headlines about his weekend antics, his many romantic entanglements or his bombastic tweets.
The most recent example was Musk labeling a British diver who helped to rescue 12 Thai boys 'a pedo' in a now-deleted tweet, after the diver criticized Musk's headline-grabbing mission to Thailand with a mini-submarine as a PR stunt. And that's just the latest in a long series of controversial tweets by the Tesla chief, including attacks on media critics and on an ex-employee, and an ill-fated April Fool's joke claiming that Tesla had gone bankrupt that sent the stock diving.
Those represented some of the most deeply negative moments in Musk's career. The pedo fiasco, and a May conference call in which Musk snapped at an analyst for "boring, bonehead questions" were two moments that have generated overwhelmingly negative attention for Musk, according to data from Quid, a software that searches, analyzes, and visualizes text-based data for strategic business questions.
"Great CEOs can be extroverted and love the limelight," said Bob Rosen, an organizational psychologist who works with CEOs. In Tesla's case, however, its CEO's antics are often accompanied by wild fluctuations in the stock -- for better or for worse, at least for Tesla's many short-sellers.
"If the celebrity CEO says something stupid on the public stage, does something that embarrasses the workforce, or is not a change leader helping the company navigate through marketplace disruptions, then employees will turn against him or her," added Rosen.
That may already be happening at Tesla, given a parade of executive departures this year and a whistleblower lawsuit by a former technician, Martin Tripp, alleging widespread safety flaws in Tesla products. Over the last year, Tesla's stock is down 5% after logging huge gains in previous years. 
Certainly, having a well-known chief executive is not always a bad thing. Silicon Valley places 'founder CEOs' on a special pedestal: Musk is one, as is Facebook's Mark Zuckerberg, Amazon's Jeff Bezos, Twitter (TWTR) - Get Twitter Inc. Report and Square's (SQ) - Get Block Inc. Class A Report Jack Dorsey, Salesforce's (CRM) - Get Salesforce Inc. Report Marc Benioff and Snap's (SNAP) - Get Snap Inc. Class A Report Evan Spiegel, just to name a few. Founders are revered as creative visionaries (instead of career paper-pushers) and tend to naturally attract legions of admirers as evidenced by their huge social media followings.
And Wall Street generally loves them, too. "Founder-run companies exhibit higher levels of innovation. For one, these companies generate 31% more patents than the average company in the S&P 500," said Jay Jacobs of Global X, which offers an ETF focused specifically on founder-CEOs. "High equity ownership, bolstered by an emotional attachment to a company they have grown from the start, may cause founder-CEOs to take a longer term view of growing their businesses."
In Musk's case, his (perceived) singular genius as an inventor, combined with a bad-boy attitude, flashy style and string of glamorous girlfriends, have won him an army of fanboys and made him the most-talked-about tech CEO by far, according to data from Hootsuite, which analyzes hundreds of thousands of blogs, social media posts and forums (Jeff Bezos was the second most-discussed, followed by Zuckerberg.)
But fame can be a fickle mistress: In 2017 Travis Kalanick, Uber's party-boy founder, was ousted by the board as CEO after months of scandals erupted at his company, blamed in part on Kalanick's pompous leadership style, disregard for rules, and the crude antics that pervaded the company's top ranks.
"CEOs in tech can face tremendous pressure, but if you look at Google's co-founders, it is entirely possible to stay the course while keeping a low profile," said Shannon Wilkinson, a crisis management and reputation expert. "Because the brighter the light, the faster it burns out."
In Musk's case, his celebrity status may increasingly be doing more damage than good. His widely-reviled 'pedo' tweet again sent the stock down 4% on Monday, and left some investors infuriated by the distraction as Tesla struggles to ramp up Model 3 production and get profitable. "Your behavior is fueling an unhelpful perception of your leadership -- thin-skinned and short-tempered," wrote Gene Munster, a Telsa investor and partner at Loup Ventures, in an unusual open letter to Musk. 
Muster urged Musk to apologize, focus on Tesla's business goals and perhaps take a break from Twitter. But that advice has been brushed off thus far, with Musk tweeting at least 19 times this week so far.
Facebook, Amazon, Apple and Alphabet are holdings in Jim Cramer's Action Alerts PLUS member club. Want to be alerted before Jim Cramer buys or sells these stocks? Learn more now.