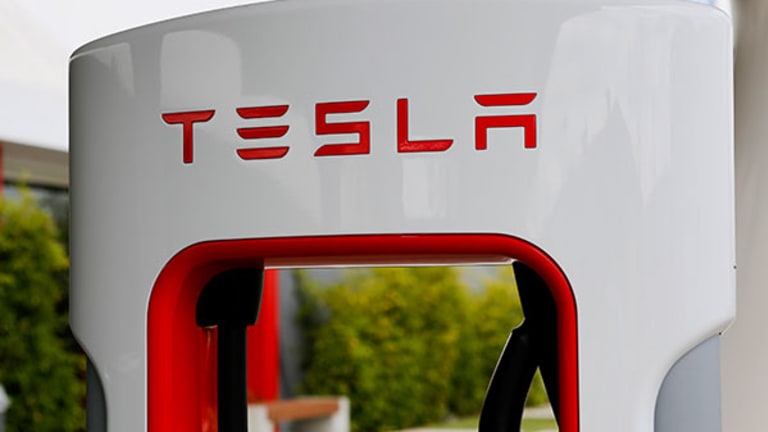 Tesla Earnings Live Blog
Tesla Motors reports fourth-quarter earnings after the closing bell on Wednesday. Given the incredible run in Tesla shares, all eyes will be looking to 2014 to see what's ahead for the electric automaker.
Updated from 4:53 p.m. to include information from the conference call.
NEW YORK (TheStreet) -- Tesla Motors (TSLA) - Get Tesla Inc Report reported fourth-quarter earnings after the closing bell on Wednesday. Given the incredible run in Tesla shares, all eyes will be looking to 2014 to see what's ahead for the electric automaker.
The Palo Alto, Calif.-based firm earned 33 cents a share on $761 million in revenue during the quarter. Tesla delivered 6,892 Model S units, and had a 25.2% non-GAAP gross margin for the quarter.
Analysts surveyed by Thomson Reuters were expecting Tesla to earn 21 cents a share on a non-GAAP basis, generating $677.36 million in revenue.
Last month, at the Detroit Auto Show, Tesla said it delivered 6,900 Model S units during the fourth quarter.
The company believes it has room to expand gross margins even further, as economies of scale and volumes continue to increase. "We think an automotive gross margin of 28%, excluding potential ZEV credit sales, is a reasonable target for Q4 2014, even if a lower option take rate is assumed," the company said in a letter to shareholders, released on Wednesday. "Please note that Tesla is not trying to achieve the absolute highest possible gross margin, as this would require following the industry practice of charging excessive prices to customers in certain markets, which we believe is inconsistent with building long term loyalty."
Tesla said it expects to deliver 35,000 Model S units in 2014, up 55% year over year, as production "is expected to increase from 600 cars/week presently to about 1,000 cars/week by end of the year as we expand our factory capacity and address supplier bottlenecks." The company noted that battery cell supply will continue to be a constraint in the first half of 2014, but that will "improve significantly in the second half of 2014."
For the first quarter, Tesla expects to produce about 7,400 Model S units, up from 6,587 in the fourth quarter of 2013. With supplies still constrained because of the number of cars in transit to Europe and Asia, Tesla will deliver approximately 6,400 vehicles in the first quarter. First quarter gross margins should increase "very slightly" from the fourth quarter, but are expected to improve throughout the year.
On the earnings call, Musk noted "it's a good idea to pull in fresh capital," but that the company would talk more that next week, potentially letting the cat out of the bag about a equity or debt offering.
Touching on the Model X, Tesla said it expects "to have production design Model X prototypes on the road by end of year and begin volume deliveries to customers in the spring of 2015." On the call, Musk said Model X demand is "very high," despite there being no advertising for the upcoming sports utility vehicle. He wouldn't disclose the amount of reservations for the Model X, but noted "the fish are jumping in the boat," when talking about demand.
Tesla also noted it would have news on the Giga factory soon. "This will allow us to achieve a major reduction in the cost of our battery packs and accelerate the pace of battery innovation," the company said in the letter. "Working in partnership with our suppliers, we plan to integrate precursor material, cell, module and pack production into one facility. With this facility, we feel highly confident of being able to create a compelling and affordable electric car in approximately three years. This will also allow us to address the solar power industry's need for a massive volume of stationary battery packs."
On the call, Musk said that he expects to have more than one partner for the Giga factory, with Panasonic likely being one of them.
-- Written by Chris Ciaccia in New York
>Contact by Email.