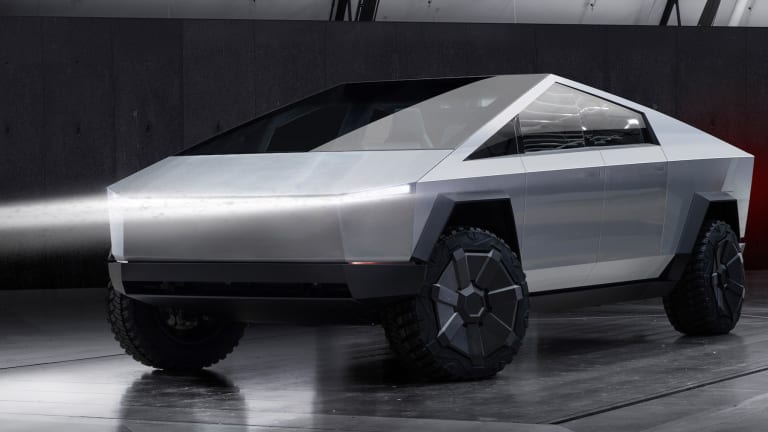 Tesla's Cybertruck: Not the 'Smash' Hit Elon Musk Was Expecting
The electric vehicle maker rolls out its highly anticipated, 'Mad Max' and 'Total Recall'-looking Cybertruck to much hype and fanfare, but with an unexpected real-time twist.
It was not the kind of smash hit that Elon Musk or other Tesla (TSLA) - Get Tesla Inc Report executives were expecting.
The electric car maker on Thursday rolled out its highly anticipated, "Mad Max" and "Total Recall"-looking Cybertruck to much hype and fanfare, with the usual energized, light show-infused, music-pumping lead-up of a big auto reveal.
The unveiling of what Musk himself hopes will re-define the ubiquitous pickup truck that dominates North American roads and highways was relatively flawless - at least until it came time to demonstrate the vehicle's shatter-proof and purportedly bulletproof windows.
"Oh my f*** God," Musk muttered after an aide hurled a metallic ball at the front window in real time - a test that was intended to show its durability - and instantly shattered it. The back panel of the truck was also smashed during the stunt, leaving Musk visibly stunned.
"We threw wrenches, we threw everything even literally the kitchen sink at the glass and it didn't break," Musk said after the incident. "For some weird reason, it broke now. I don't know why. We will fix it in post."
Moments earlier, after successfully showing how the Cybertuck can withstand a blast from a sledgehammer without leaving a scrape, Musk did concede that windows could be perceived as the main "vulnerability" of the new pickup, which will carry an entry level price tag of roughly $39,900.
Reaction in social media was both swift and fierce, not only to the botched demonstration but to the design of the truck itself, which drew not-so-flattering comparisons to the now-retired Pontiac Aztek, or to something designed in Roblox.
It was also the second embarrassing mishap for Musk in as many days, after the first full-size prototype of the SpaceX Starship rocket exploded during pressure testing on Wednesday.
The cybertruck has a 250-mile range at the low end and 500 at the high end, according to Tesla. It will take a neck-wrenching 2.9 seconds to reach 60 mph, a performance figure that places it on par with some of the world's fastest sports cars.
General Motors (GM) - Get General Motors Company (GM) Report  has also announced plans to build an electric Chevrolet pickup, and Ford (F) - Get Ford Motor Company Report  has confirmed plans to build an electric truck called the F1-150.
Investors didn't appear to be all-too-impressed with the Cybertruck, with Tesla stock ending the day Friday down 6.14%, or $21.79 a share, at $333.04.