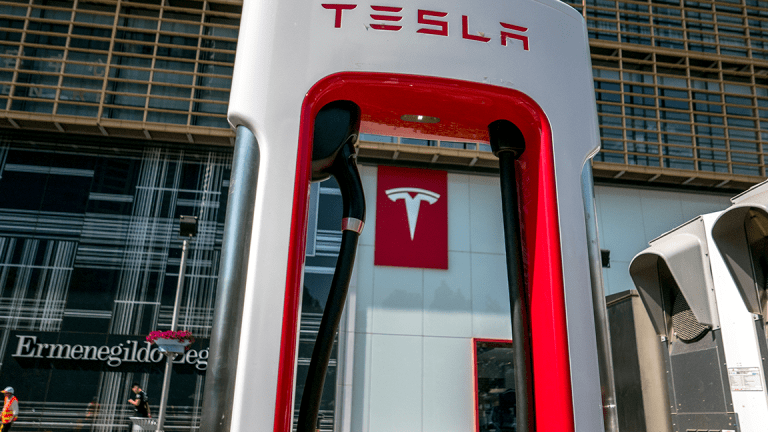 Here's How Far You Can Drive a Tesla Before Seeing Battery Degradation
Tesla's battery holds up well under data collected by its customers. That's one thing it's got going for it.
I really want Tesla Inc.  (TSLA) - Get Tesla Inc Report to succeed. 
It's my nature as a positive person and someone who cheers on underdogs willing to scrap with the big dogs and win big.
That underdog is CEO Elon Musk, who has essentially put it all on the line to build two potentially world-altering companies in Tesla and SpaceX. The latter of those two companies continues to do quite well and recently raised about $500 million.
However, my hope for Tesla doesn't overlook some of its glaring concerns. The growing worries over Tesla essentially boil down to two issues: Model 3 production and its financials. Those are for a separate discussion, though.
We recently looked at the teardown of a Tesla Model 3 by a professional auto consultant. He praised the automaker for its revolutionary technology that boasts game-changing improvements in the auto industry. On the critical side, Tesla could have used a few pointers from the automobile dinosaurs when it came to assembly lines.
In any regard, the company's battery is top notch. But just how good is it? A recent study looked to answer that question.
Tesla Batteries
According to the data, Tesla degradation -- or how much it degrades over time -- is incredibly minimal. The numbers suggest that a Tesla Model S will be operating at about 90% capacity after the car has logged 186,000 miles.
That's right: Still going strong after nearly 200,000 miles.
For the Model 3, Tesla has a 70% degradation warranty on the vehicle's battery within eight years, or 100,000 miles or 120,000 miles depending on which battery drivers buy. But even for the Model S, certain studies by the company show that it would take about 500,000 miles for it to wear the battery down to 80% capacity. While the Model 3 battery has a different architecture than the one used in the Model S, one could safely assume that the battery life shouldn't be an issue for Tesla drivers. 
The data confirms the opinion of the auto pro who performed the Model 3 teardown.
"I'm really impressed with the electronics and the battery, I'm not so impressed with the body build," said Sandy Munro. He openly complimented Tesla for its revolutionary technology, but didn't hold back when it came to critiquing the company's production miscues.
In Munro's words, "This is revolutionary and everybody else is sitting there twiddling their thumbs... Anybody that's in the car industry that ignores this car is doing it at their own peril. This is big stuff."
A study of the Nissan (NSANY) Leaf suggests about 15% degradation after two years. While the Tesla study was measured in distance rather than time, consider that owners could drive 100,000 miles per year for the first two years and should still have more battery capacity than the leaf. General Motors' (GM) - Get General Motors Company Report Bolt EV has better battery degradation than the Leaf as well. Although hard data on the Bolt is admittedly tough to come by.
Nissan uses a different method to cool its batteries than GM and Tesla, thus showing that the latter two are clearly leading in the technology.
In conclusion, Tesla's cars will lose about 5% of their battery capacity after 50,000 miles. After that, it will take some serious road trip commitments for several years before degrading the battery another 5%.
This article is commentary by an independent contributor. At the time of publication, the author had no positions in the stocks mentioned.