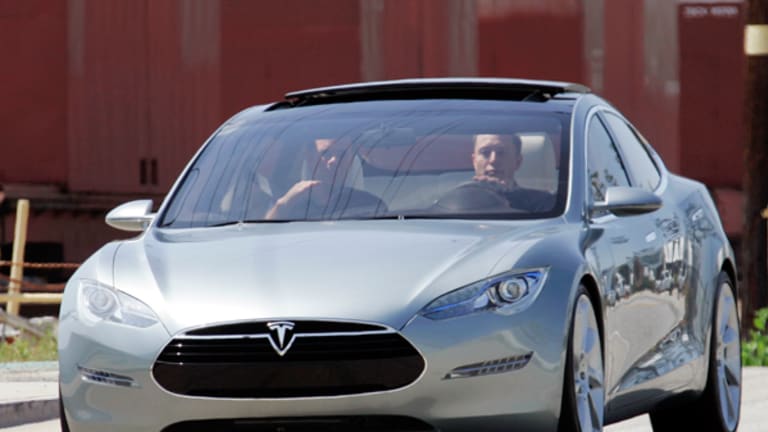 Tesla: 'Automotive Nirvana' (Update 1)
Tesla isn't just changing the electric car market. It's changing the car market itself. But that doesn't mean it's smooth sailing ahead.
Updated from 10:53 A.M. to include information about safety in the fourth paragraph.
NEW YORK (
) --
Tesla Motors
(TSLA) - Get Tesla Inc. Report
shares gained 0.68% to $148.86 as Stifel Nicolaus initiated coverage on the stock, rating it a "hold."
Analyst James Albertine notes that Tesla is really making a name for itself not only in the electric car market, but the automotive market in general. "No other auto maker could (or would) have been able to capitalize on current political and consumer momentum for electric vehicles, in our view," Albertine wrote in the note. While the stock continued to climb based off positive sentiment, CEO Elon Musk's ability to create buzz, and incredible strong fundamentals, Albertine notes not all is rosy for Tesla. "Risks ahead are significant and we think under-appreciated. OEMs, parts suppliers and retailers all have TSLA locked in their sights. TSLA might have 1-2 years of order backlog to work through, but as of yet, little evidence of customer retention or conquest at lower price points."
The Model S has been a revolution to the electric car, as the company continues to sell more than it can make. In the
Tesla delivered 5,150 units of the Model S, helping the company generate $405 million in revenue, earning 5 cents per share.
Not only is the Model S revolutionizing the electric car industry, it's revolutionizing safety as well. Earlier this week, the National Highway Traffic Safety Administration (NHTSA)
the Tesla Model S a 5-star safety rating in every subcategory, a rating that just 1% of all federally tested cars achieve. In a press release, Tesla noted that although the NHTSA it doesn't publish ratings above 5, the Model S managed to get a 5.4 rating in overall Vehicle Safety Score (VSS), a new record.
The NHTSA has since made a comment, further denouncing this claim on its
. "NHTSA does not rate vehicles beyond 5 stars and does not rank or order vehicles within the star rating categories. In addition, the agency has guidelines in place for manufacturers and advertising agencies to follow to ensure that accurate and consistent information is conveyed to the public," the government agency said.
As a result shares have performed incredibly year-to-date, outperforming every index and having been
to several Nasdaq-related indices as well.
data by
However, much of the recent run up in the stock is attributed to short-squeezes, future production and momentum, as well as fundamental shift in the automotive industry. As such, Albertine believes the company's valuation "deserves a deeper, broader fundamental analysis." He notes, "Any investor, sell-sider or otherwise bystander focused on the Model S, X or Gen III is missing the bigger picture, in our view. Our long-term sensitivity analysis provides a mechanism to assess TSLA's earnings power beyond products, pricing or penetration, and perhaps provide a deeper dive on battery costs, regulatory credits, gross and operating margin potential."
Tesla recently
the name Model E, perhaps the name of the third-generation vehicle. The filing notes "The description provided to the USPTO for MODEL E is Automobiles and structural parts therefor."
As the momentum behind Tesla continues to be a tailwind, and the company continues to raise money to further build out its operations, Tesla is increasingly looking like it's going to be a self-sufficient automotive company. On the second-quarter earnings call, Musk said some of Tesla's suppliers simply can't boost production fast enough to meet demand and that it might look to bring some stuff in-house. "90% of our suppliers are able to ramp-up and 5% have some difficulty and 4% have a lot of difficulty and 1% just can't and so we have got to replace those or in-source those items," Musk said on the call. "You can't give people a car that's 99% complete, unfortunately and there are several thousands unique parts in the car."
With the wind at its back, and the company increasingly getting more positive momentum behind it, Albertine notes Tesla has a chance to do something the automotive industry has never seen before. "In our opinion, no other disruptive force has had as much potential as TSLA looking back over the 100-plus year old auto industry. Simply put, we believe TSLA is seeking 'Automotive Nirvana'."
--
Written by Chris Ciaccia in New York
>Contact by
.