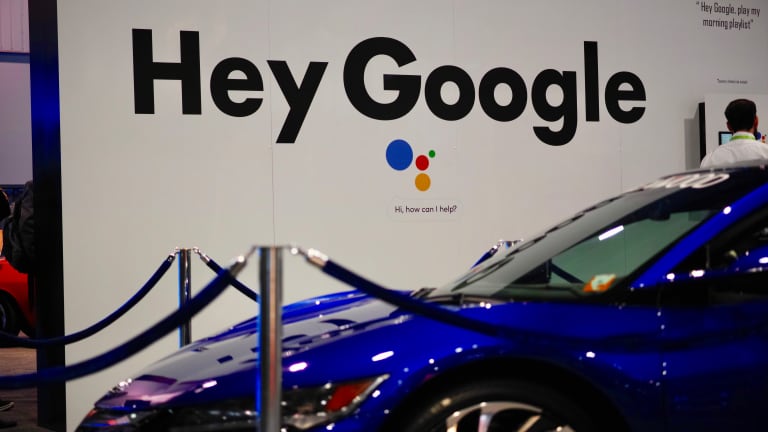 Here Comes Tesla's 'Android Moment' -- and That's Not a Good Thing
The EV maker may have to contend with a shift in the landscape not unlike what Apple faced from Android when the iPhone was still in its early years.
A Tesla coup or sedan is the muscle car of the new century, a beautiful combination of style and engineering prowess, a unique object on the road. But that moment of worshipping the object may be about to pass away. Something else is coming from Detroit. 
Everywhere you went in Las Vegas this week, during the Consumer Electronics Show, you were sure to hear the monotone voice of Amazon's (AMZN) - Get Amazon.com Inc. Report Alexa assistant. Alexa has been popping up in all kinds of products, as the consumer electronics industry has fallen in love with it. And, for the first time this year, so have the automakers, as well as their parts suppliers such as Bosch, and the after-market tech vendors like Boss and Alpine. 
The industry is pushing toward a vision of the car not as totem of power and performance, but as a smartphone on wheels, where computer functions such as Alexa dominate. 
That has unsettling implications for Tesla (TSLA) - Get Tesla Inc. Report . The company may be about to have its Android Moment, just like Apple (AAPL) - Get Apple Inc. Report did not long after it introduced the first iPhone in 2007. It was the "Jesus Phone," a perfect object of tech lust in its combination of form and function. Then, slowly at first, copycats appeared running Google's (GOOGL) - Get Alphabet Inc. Report Android operating system.
The first ones weren't very good, they lacked style and finesse, but they began to erode the notion the iPhone was entirely unique. Apple kept on making, and selling, tens of millions of beautiful objects, but Google convinced hundreds of millions more consumers that all devices were nothing more than the sum of a checklist of functions such as mail and maps.
Detroit's love affair with Alexa, and with Google's "Assistant" function, and other in-car technologies, is poised to shift the debate in electric vehicles. Elon Musk has had the upper hand, building an EV consistently ranked tops in performance. But what if consumers start to care less about performance, and more about the computing features in their cars?
At Amazon's booth in the convention center's north hall, where all the car makers huddle, demonstrations were being given of almost a dozen dashboard add-ons by Boss and others. You could hop in your car and tell Alexa to resume reading the audio book you were listening to in the house. You could ask Alexa to turn on the living room lights for you on your drive home. 
The move to smartphone-like features is being enabled by an army of component vendors looking for greener pastures beyond a stagnant smartphone market. Chip vendor Qualcomm (QCOM) - Get QUALCOMM Incorporated Report on Monday showed off a concept car whose entire dashboard is a magnificent stretch of uninterrupted computer display glass, made in partnership with South Korea's LG Electronics. A Ford Motor (F) - Get Ford Motor Company Report exec made an appearance to proclaim many Qualcomm features will be coming to new model cars in waves.
Meanwhile, a demo of Alexa showed what it's like to pick out a song or a movie to play, although it had an unexpected and hilarious stumble when the Qualcomm exec was interrupted by Alexa, who blurted out suddenly, "No, that's not true," eliciting guffaws. Such priceless moments are often the case with beta technology. 
Of course, all these functions are available to Tesla as well. But the longer-term shift is more profound. The masters of computer technology -- Amazon, Google and Apple, as well as others -- are poised to own the car experience as the suppliers to Detroit. In a panel discussion on car technology, Seamus Hatch, head of software maker Invision AI, said that perhaps the true competitors to the car companies are "those large technology companies with $200 billion in the bank," who view the automobile as a platform to gather even more data about people everywhere they go. 
At the same time, the very notion of car ownership, the thrill of driving, may in the not-too-distant future yield to the model of fleets of cars, where no one really owns a vehicle, they just grab rides like with Uber, a phenomenon the industry is calling "transportation as a service." The Kia Motor booth was filled with prototype cars that are basically living rooms on wheels, no controls visible, filled with giant TV screens, a future absent of driving and dedicated to leisure. 
One of Tesla's advantages in the EV race has been just how much of the fundamental enabling technology it builds itself. It may continue to maintain an edge in driving range and the number of charging stations. But that may not matter as much in a future where cars are maintained by professionals and merely experienced by individuals. 
Tesla's problem has never been demand; it's always sold every car it can make to this point. As the priorities of consumers shift, however, incremental demand could become a new worry for the company. 
Apple, Amazon and Alphabet are holdings in Jim Cramer'sAction Alerts PLUS Charitable Trust Portfolio. Want to be alerted before Cramer buys or sells AAPL, AMZN or GOOGL? Learn more now.
The author owns no shares of any stocks mentioned in this article.