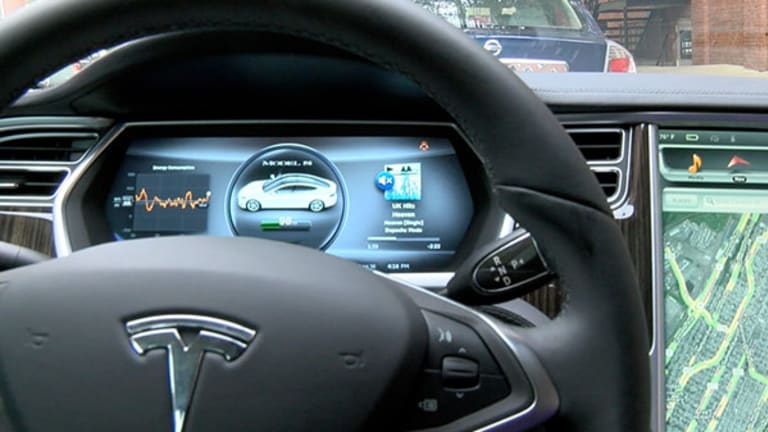 Tesla Allowed to Sell Cars in Ohio, Following N.J. Ban
Following a ban to sell its cars directly to consumers in New Jersey, Tesla Motors is now free to do so in Ohio.
Updated from 11:12 a.m. to include comment from Tesla.
NEW YORK (TheStreet) -- Following a ban to sell its cars directly to consumers in New Jersey, Tesla Motors (TSLA) - Get Free Report is now free to do so in Ohio.
Earlier this month, news broke that Tesla had met with the Ohio Automobile Dealers Association about selling its popular Model S directly to consumers. Following discussions with Ohio auto dealers about Senate Bill 260, which would have banned Tesla from selling directly, Tesla is now free to do so in its two stores in the state, one based in Easton and the other in Cincinnati. The deal between the association and Tesla was approved by a Senate panel, according to the Associated Press.
Diarmuid O'Connell, Tesla's VP of Corporate & Business Development, said the company was happy to reach an agreement in Ohio. "We're pleased with the compromise reached in the Senate Committee to amend SB 260 to allow Ohio residents to continue to purchase electric vehicles directly from Tesla at our two existing stores and one additional location in Ohio," O'Connell said in an emailed statement. "Tesla stores are essential to educating customers about electric vehicle technology and building a mass market for EVs. We look forward to continuing to provide our Ohio customers with the full Tesla experience and to further investing in the state by employing Ohioans both directly at our stores and service centers, and through our Ohio-based suppliers of parts and components."
Not only can Tesla sell directly to consumers in its two existing stores, but it allows for Tesla to open a third store in Cleveland. However the deal prohibits the Palo Alto, Calif.-based company from opening any more stores in the state. As per the agreement, Tesla is the only automaker allowed to operate its own stores in the state.
Tesla's right to sell directly to consumers has come under intense scrutiny in recent weeks, following a ban in the state of New Jersey, effective April 1. Tesla said New Jersey Governor Chris Christie had gone back on his word to allow the matter of selling directly to consumers to be open for discussion. Christie fired back, saying he wasn't pushing Tesla out, he was only enforcing laws already enacted. "I'm not pushing Tesla out; the state Legislature did," Christie said last week. "They passed a law, which is still on the books, which says if you want to sell cars in this state, you must go through an authorized dealer. My job is not to make the laws, it's to enforce the laws. And Tesla was operating outside the law."
New Jersey State Assemblyman Tim Eustace (D-Bergen) has since introduced a bill that would let electric car companies sell directly to consumers.
Prior to the action in New Jersey, the Elon Musk-led company held a conference call to discuss the pending ban. On the call, Tesla said it's sold "several hundred cars" in New Jersey, but declined to discuss the exact amount. Tesla's Vice President of Corporate and Business Development Diarmuid O'Connel said the decision would be "disappointing, if not downright outrageous." The ban would require Tesla to shut down its operations in New Jersey, O'Connel noted, calling it a "pretty black-and-white issue."
Currently, similar legislation is currently being discussed in New York.
News of the ban, as well as a recent downturn in high-flying technology stocks has sent Tesla's shares sharply lower, following the company's announcement of its planned Gigafactory and capital raise. Shares had reached a high of $265 on Feb. 26, but had fallen, following the concerns about the company's long-term viability.
Despite the recent fall in shares, Tesla's stock has performed exceptionally well in recent months, having gained 44.5% year-to-date, and 474.2% over the past year, vastly outperforming the broader Nasdaq.
The recent run up in shares, largely prompted by the company's initiative in the battery business, has prompted UBS analyst Colin Langan to note shares are fully valued, with significant risks to the downside. He initiated coverage on the stock with a "neutral" rating and a $230 price target.
"While Tesla has been extremely successful to date, investors should appreciate that the downside this early in its life is material," Langan wrote in the note. "The failure of a current or future product could quickly unravel all the progress. Moreover, we'd expect more luxury competitors to respond over the next few years given Tesla's initial success."
Shares of Tesla finished lower in Wednesday trading, falling 3.4% to close at $212.96.
-- Written by Chris Ciaccia in New York
>Contact by Email.