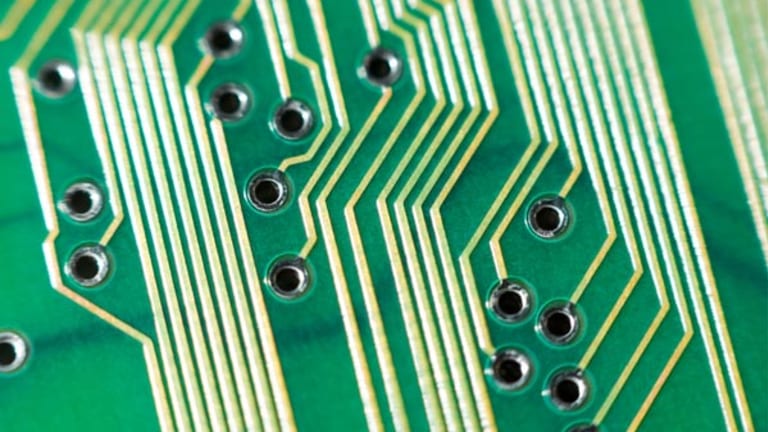 Telecom Investors Should Be Wary of Record iPhone 5 Sales
Apple iPhone 5 mania may be a drag on an otherwise strong 2012 for AT&T and Verizon.
NEW YORK (
) --
Apple's
(AAPL)
iPhone 5 is on track to be the fastest selling smartphone ever -- a record 2 million phones sold on the first day of pre-order last Friday -- but for wireless carriers like
AT&T
(T)
and
Verizon
(VZ)
, the launch will serve as a key test. Are carrier stocks to remain reliable long-term, dividend-paying investments, or are they on their way to becoming trading vehicles timed to smartphone launch cycle dynamics?
Apple's newest smartphone may disrupt a strong earnings environment for wireless carriers, exposing the recent strength of AT&T and
Verizon
(VZ)
to be driven by cyclical factors as opposed to sustainable strength. At the forefront of investor concern are subsidies that the carriers pay to Apple to sell new phones at a palatable price for consumers.
In the past, new iPhone launches have been a profit-draining proposition because carriers pay as much as $500 a phone in subsidies.
Currently, Apple is challenging a record high share price of $700 on expectations of the new phone, while wireless carriers AT&T and
Verizon
(VZ)
sit near one-year highs. Blockbuster iPhone 5 sales could drive Apple shares, according to analysts, while carriers may be
by subsidies in the near-term.
Already, analysts are warning that iPhone 5 subsidies may have a negative earnings impact on AT&T and Verizon, with the prospect that swarms of subsidized new users and phone upgrades hit at profitability into 2013. Meanwhile, amid iPhone 5 pandemonium and expectations that the LTE-enabled device will pull consumers to top networks and potentially away from struggling players like
Sprint
(S)
, it's the latter who may be buffeted from earnings wrecking subsidies.
"We continue to believe that Sprint will capture its fair share of iPhone sales, while its upgrade and churn rates are likely to see smaller swings in part because Sprint has not seen as much benefit over the last two quarters as AT&T and Verizon," writes Shing Yin, an analyst with Guggenheim Securities in a recent note to clients.
Because upgrades and new subscribers from other networks -- the so-called "churn" -- are likely biggest at AT&T and Verizon, Yin sees current profit margin expectations at risk. "We believe strong wireless margins have been a major driver of AT&T's and Verizon's outperformance since
the first quarter; if margins dip significantly, we believe both stocks could give back some of their recent gains," the analyst notes.
On Monday, AT&T said it set weekend sales records on the launch of the iPhone 5. "Customers ordered more iPhones from AT&T than any previous model both on its first day of preorders and over the weekend," said AT&T in a press release. The two million iPhone 5 orders already in will begin to be delivered on Sept. 21.
Apple's sooner than-expected iPhone 5 launch date and shipments are a key theme for lowered expectations on the Wall Street in assessing third quarter carrier earnings. On Friday, Stifel Nicolaus analyst Christopher King cut his buy ratings on AT&T and Verizon as a result of iPhone 5 shipments in the quarter, which ends on Sept 30. "
We believe potential downside to earnings estimates exist as we enter into the back half of the year," writes King, who estimates AT&T's wireless service margins may fall by 12.6% by year-end, while Verizon's may fall by 5.3%.
Todd Rethmeier, an analyst at Hudson Square Research recently cut AT&T from a buy to a hold, citing the impact of the iPhone 5.
Longtime carrier bear Craig Moffett of Bernstein Research calculates AT&T's third quarter margins could fall by 360 basis points and Verizon's by 270 basis points as a result of the iPhone 5. However, Moffett does not espouse more optimism on Sprint, arguing it faces a similar sized margin drop.
For investors, taking a long-term view of the iPhone 5 launch may be trump any short-term earnings dent and the fears that in a worst-case scenario, declining carrier margins could show the cyclical nature of carrier earnings, poking holes in the argument that these stocks are safe, dividend-yielding investments.
Yin of Guggenheim Securities, though, goes beyond the iPhone 5 launch in forecasting difficulty for the carriers that lingers through future launch cycles. In fact, he views the carriers as being better positioned as a smart and recurrent trade rather than a "safe" long-term investment.
"
Other smartphone makers are now timing their major new product releases to be coincident with the iPhone.... this likely means upgrade patterns -- and therefore subsidy expense and margins -- will become increasingly cyclical over time, as not only iPhone users but Android and Windows users get accustomed to waiting for new models every Fall," the analyst writes.
In recent weeks,
Nokia
(NOK)
,
Google
(GOOG)
and
Samsung
have released new smartphones, while
Amazon
(AMZN)
recently launched an upgraded Kindle to take aim at the iPad.
Carrier earnings swings could provide a trading opportunity, notes Yin, because many long-term trends continue to play out in AT&T an Verizon's earnings. For instance, an influx of customers to leading LTE-enabled networks may be a long-term earnings benefit, especially if new phones add to data demands and overage charges.
Meanwhile, Sprint may be buffeted from iPhone 5 mania, as consumers decide whether unlimited iPhone 5 data plans outweigh the carrier's LTE network struggles. Subscriber outflows may be a near-term blessing. Meanwhile, takeover expectations may give Sprint a non-iPhone catalyst that could continue to drive the company's stock. As Sprint spends billions to upgrade its wireless network -- called Network Vision -- solid execution may make the carrier a more credible takeover candidate, according to Nomura Securities analyst Mike McCormack.
In the least, it's a time for wireless carrier stock investors to take notice: as sales numbers for Apple's iPhone 5 blockbuster flow in, investors should prepare for performance to diverge after a strong first nine months to 2012.
-- Written by Antoine Gara in New York