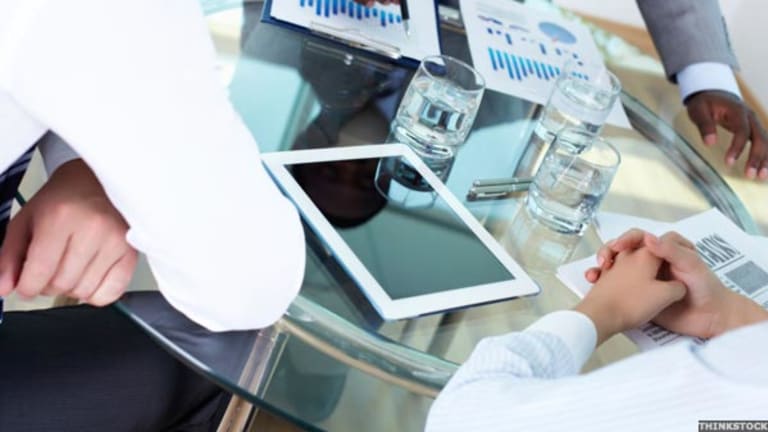 Tech's Top Stories of 2011
Month by month, here's a look back at the year's top technology stories.
NEW YORK (
) --When isn't it an exciting year for the tech sector? From the launch of the iPad 2 to Netflix' graceless dive, here is a look back at the top stories by month for 2011.
January: Microsoft announces Windows 8 will run on ARM chips
When
Microsoft
(MSFT) - Get Report
gave a technical look at Windows 8 on January 5 at the Consumer Electronics Show, it was a stark contrast from previous versions of the operating system. In addition to bringing an app store to Windows, it would no longer run exclusively on chips using -x86 architecture from designers such as
Intel
(INTC) - Get Report
and
Advanced Micro Devices
(AMD) - Get Report
.
It would now be compatible with ARM-based chips.
Due late next year, Windows 8 is Microsoft's first operating system modeled for mobile devices, and Microsoft switching to ARM-based chips brought about the beginning of the end of the "Wintel" -- Windows + Intel -- monopoly.
Chips that use -x86 architecture are traditionally seen as more power consuming than chips which run on ARM designs, especially Intel's designs. ARM chips already have a stronghold in smartphones and tablets, with 10 % of the market in mobile devices, according to a May report from
.
Microsoft bringing ARM-based chips to Windows will allow other chip companies such as
Qualcomm
(QCOM) - Get Report
,
Texas Instruments
(TXN) - Get Report
, and others which use intellectual property from
ARM Holdings
(ARMH)
to enter the personal computer market, where they have been shut out previously.
February: Verizon starts selling the iPhone
When
Apple
(AAPL) - Get Report
launched the iPhone in 2007,
AT&T
(T) - Get Report
was the exclusive carrier in the U.S., leaving
Verizon
(VZ) - Get Report
and
Sprint Nextel
(S) - Get Report
out in the cold.
Since then, constant speculation swirled about when Apple would bring the phone to Verizon, America's No. 1 cell phone carrier. The announcement finally
as Apple's then-COO Tim Cook and Verizon's Lowell McAdam dropped the news at a glitzy New York City event. The phone went on sale at Verizon Feb. 10.
Sprint eventually got the phone later in the year.
March: iPad 2 launch; AT&T bids for T-Mobile
The iPad was a runaway hit in 2010, as Apple's tablet outsold every other tablet in the market by a wide margin; Apple sold close to
1 million iPads during the debut
weekend.
The iPad 2, which starts at $499 for the WiFi version, started shipping domestically March 11, and March 25, internationally.
The launch also marked Steve Jobs' last public appearance as a member of the company he co-founded more than 30 years ago.
Also in March, AT&T announced a $39 billion merger to buy
T-Mobile USA
, from its parent
Deutsche Telekom
. Throughout the year, this deal would be subject to lots of scrutiny from the federal government, consumers, and other carriers.
April: BlackBerry PlayBook launched
Desperate to compete with the likes of Apple and
Google
(GOOG) - Get Report
,
Research In Motion
(RIMM)
unveiled its own tablet, the PlayBook, which went on sale April 19.
The PlayBook went off to little fanfare, as it did not have the capability to send e-mail. It was RIM's first product with its newly-acquired QNX operating system, which was supposed to enable RIM to better compete with the mobile device market leaders.
Despite releasing several updates to the initial PlayBook software, consumers still complained about the price point, lack of apps, and the aforementioned inability to send email.
Since the April launch, RIM has cut the product price to $199 and
took a $485 million inventory charge
during the fourth quarter due to the lack of PlayBook sales.
May: Microsoft buys Skype, LinkedIn goes public
Microsoft transformed its social networking landscape when it
announced its intentions to buy Skype
for $8.5 billion in cash on May 10.
Skype gave Microsoft the much needed social networking presence it sorely lacked. It has been a way for Microsoft to add more functionality and usefulness to existing platforms, such as Xbox, Kinect, and Windows phones.
The purchase of Skype allowed Microsoft to continue making the Xbox into an entertainment hub, rather than just a gaming console.
Microsoft purchased the Luxembourg-based company from a group including Silver Lake, Index Ventures, Andreessen Horowitz and the Canada Pension Plan (CPP) Investment Board, and the deal
closed in mid October
.
LinkedIn
(LNKD)
was the first major social networking site to go public, paving the way for other social-minded Internet firms to go public later in the year. LinkedIn priced at $45 per share, opened at $83, and shot as high as $122.70 in July, before coming back down. Shares currently trade around $60, still above their IPO price.
June: Pandora IPO
Riding the wave of investor enthusiasm surrounding Internet firms established by LinkedIn's IPO,
Pandora
(P)
went
, surging as high as $26 during the initial trading session.
The stock has not seen that level since then.
Pandora, a free Internet music-streaming service, generates a significant portion of its revenues from display and audio ads, but users can also buy a subscription to the service, which costs $36 per year.
Pandora currently trades around $10 per share, well below the IPO price of $16, and below its all time high of $26.
July: Netflix announces price hikes
Netflix
(NFLX) - Get Report
was the darling of Wall Street, boasting stock-boosting factors like big subscriber growth. But on July 12, all of that changed. The company announced it would raise its subscription rates 60%, and would separate the DVD and online streaming businesses into two different Web sites, Netflix, and Qwikster, respectively.
Customers balked. CEO Reed Hastings backed off the plans to separate the businesses, but his credibility took a hit with both consumers and Wall Street.
Since hitting a high of around $300 per share back in July, shares have lost around 75% of their value. Year-to-date, the stock is down about 60%.
August: Google announces Motorola Mobility acquisition
As the battle for mobile device patents heated up, Google made its biggest acquisition ever, announcing on Aug. 15 its
cell phone stalwart
Motorola Mobility
(MMI) - Get Report
for $12.5 billion, a hefty 63% premium to Motorola's closing price the day before.
Google cut the deal to beef up its patent portfolio -- Motorola holds some 17,000 patents related mostly to the wireless industry, which should give Android protection against rivals like Apple.
Patents became a major issue throughout the year, as smartphone companies continued to sue each other over patent infringement. Many analysts saw Google's Motorola buy as a reaction to Google's failed bid to purchase Nortel's patents, which went to a consortium of others, including Apple, Research In Motion and Microsoft for $4.5 billion.
September: HP names Meg Whitman new CEO
Following a disastrous 11 months with Leo Apotheker at the helm,
HP
(HP) - Get Report
decided to
, naming Meg Whitman as his replacement on Sept. 22.
Whitman had previous experience running a Silicon Valley tech titan, as she was the CEO of
eBay
(EBAY) - Get Report
from 1998-2007.
Since
taking over
, Whitman has reportedly done a better job of communicating to investors than her predecessor and announced her intention to keep HP's PC business, which the company had previously said was looking to spin off or sell.
In December, Whitman reversed another decision made before she got there: She announced that HP would make its
open source software.
October: iPhone 4S launch, Steve Jobs passes away
October was a very busy month for Apple. Not only did the company
, it saw the
passing of its legendary CEO, Steve Jobs.
Initial reaction to the iPhone 4S was weak, with many tech pundits noting that the phone was not much different than its predecessor, the iPhone 4. Sales of the iPhone 4S have still been brisk, with Apple
announcing it had sold over 4 million of the phones
in the first weekend it was available.
The death of Steve Jobs provoked a wave of emotion that circled the globe. Even the White House put out a response the day Jobs died, noting "there may be no greater tribute to Steve's success than the fact that much of the world learned of his passing on a device he invented."
Apple set up a
on its Web site to allow those around the world to express their emotions, both joyous and sadness, over the loss of Jobs.
November: Amazon Kindle Fire is launched
In November, Amazon went beyond its e-reader roots and announced the Kindle Fire, which many tech enthusiasts assumed would be the first viable competitor to the market-leading iPad. And by pricing it at $199, Amazon hoped to capture the low end of the tablet market, with Apple's iPad 2 starting at $499.
Its debut has been marred by
, although Amazon contends that the device is selling extremely well.
Earlier in December, Dave Limp, Vice President, Amazon Kindle, said "Kindle Fire is the most successful product we've ever launched -- it's the best-selling product across all of Amazon for 11 straight weeks, we've already sold millions of units, and we're building millions more to meet the high demand."
He did not give specific sales figures, but did go on to say that Kindle Fire sales had "increased week over week for each of the past three weeks," as of December 15.
December: AT&T gives up T-Mobile
After months of regulatory issues including a lawsuit from the Department of Justice, AT&T
decided to end its bid for T-Mobile
on December 19.
AT&T will still
in its network, but it will have to do so without the addition of the nation's fourth-largest mobile carrier.
Analysts have speculated AT&T will eventually need to acquire additional spectrum, with
Dish Network
(DISH) - Get Report
being
as a possible target.
--
Written by Chris Ciaccia in New York
>To follow the writer on Twitter, go to
http://twitter.com/commodity_bull
.
>To submit a news tip, send an email to: