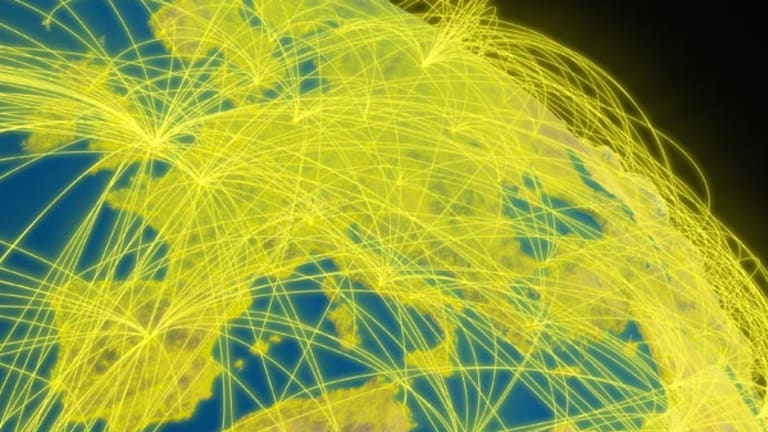 Tech to Weather Fed Spending Cuts
The Super Committee may be gridlocked, but experts and CEOs are confident that Silicon Valley can weather the inevitable federal spending cuts.
NEW YORK, (
) -- The Super Committee may be gridlocked on how to shave more than $1.2 trillion off the U.S. deficit over the next 10 years, but experts and CEOs are confident that Silicon Valley can weather the inevitable cuts in federal spending.
Still, though, big dollar-shaped clouds are gathering over the Capitol. The Budget Control Act which created the Super Committee, for example, caps "discretionary" federal spending at $1.043 trillion in 2012, compared to $1.376 trillion in 2011.
Tech should weather much of the federal spending cuts, say experts.
"Certainly, on aggregate,
federal spending is going to be coming down over the next several years
but our view is that the tech sector will be somewhat insulated from the cuts," said Kevin Plexico, vice president of federal information solutions at
Deltek
. "Not that it's going to plow ahead with a strong growth rate,
but our view is that it will be a relatively flat market."
IT tends to be less impacted by cuts in discretionary spending, according to Plexico, because agencies need to keep their technology operations up and running, regardless of the economic climate. Additionally, he said, government will still spend big bucks on key technologies such as health care IT and cyber security.
Symantec
(SYMC)
, which recently posted
, said that cyber security is now a major priority for governments, both in the U.S. and overseas. Speaking during the company's second-quarter conference call, Symantec CEO Enrique Salem, citing conversations with "senior folks" in government, predicted 2012 federal IT spending between $76 billion and $80 billion.
According to data from the Office of Management and Budget, federal IT spending was around $79 billion in 2011. The Government Accountability Office, however, said the actual figure is likely higher.
Nonetheless, Symantec remains confident of its ability to win government business. "I still expect
cyber security to be a very significant budget," explained Salem, during the conference call. "I haven't seen dramatic changes in that area."
In health care, the Obama administration's ambitious plan to deploy
electronic medical records
continues,
of a host of companies, including
McKesson
(MCK)
,
GE Healthcare
(GE)
,
Cerner
(CERN)
and
IBM
(IBM)
.
"I don't know if
the overall spending environment is healthy or not, but security is definitely going up, health care is going up," said Chip Gliedman, principal analyst at Forrester Research. Agencies, he added, are also under pressure to improve their online interactions with the public.
Additionally, the analyst predicted robust government demand for mobile and cloud technologies.
"What we're now seeing are large capital expenses that are shifting to the cloud," he said in an interview. "As more resources are located in either a public or private cloud, the demand for desktops changes -- you don't need high-powered desktops."
Bad news for the likes of
HP
(HPQ)
, perhaps, but good news for
such as IBM and
Microsoft
(MSFT)
, as well as smaller, less well-known, companies.
"We're just getting started," explained Karen White, CEO of cloud-based file management specialist
Syncplicity
, which has clinched a handful of government customers. "We see tremendous growth in this area in 2012 and 2013."
Syncplicity, which has built its locked-down cloud service on
Amazon
(AMZN)
Web services, said the need for worker mobility is also driving the government's cloud efforts.
Earlier this year, for example, Washington approved
Research In Motion's
( RIMM) PlayBook tablet for use, highlighting agencies' desire to deploy next-generation of mobile devices.
Clearly, the federal government will still open its wallet for key technologies, even in the midst of a deficit crisis. "The federal government is definitely spending," explained Kevin Thompson, CEO of management software specialist
SolarWinds
(SWI)
. "But it's going to be spending on projects that are important and on technology that gets the job done and gets the job done quickly."
Understandably, though, many tech firms are unwilling to predict what Washington's coffers will look like next year.
Cisco
(CSCO)
, for example, recently benefited from an end-of year federal budget flush, but is staying cautious.
"It's hard to say," Frank Calderoni, Cisco's chief financial officer, told
TheStreet
during a
. "For the last year, our business was challenged in the public sector, not just in the U.S., but around the world."
Calderoni, however, acknowledged that this situation improved during the networker's recent
. "I think that some of that was from the budget flush
but this is one of the areas that we will have to look at each quarter -- it's hard to predict because of the budget constraints that many governments are having."
Cisco's U.S. public sector business grew 5% year over year during its first quarter, with the company citing growth in federal defense, state government and higher education while federal civilian, local government and K-12 declined.
Despite plenty of growth areas, though, Silicon Valley clearly needs to adapt to a new Washington spending climate.
"All of this talk about budget cuts and deficit reductions, consolidation and fiscal responsibility, I think, has changed the way that
government organizations are thinking about how they should spend their money," said Forrester's Gliedman. "They are going into their fiscal planning assuming flat or reduced budgets, instead of seeing IT spending as an entitlement."
--Written by James Rogers in New York.
>To follow the writer on Twitter, go to
http://twitter.com/jamesjrogers
.
>To submit a news tip, send an email to:
.