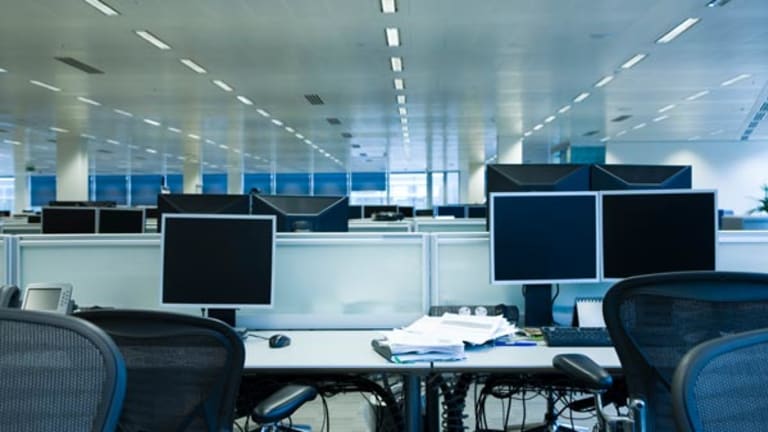 Tech Titans Seek NFL Touchdown
In Silicon Valley, football is much more than yards and inches as companies like Cisco charge down new revenue in the NFL.
This story has been updated with Verizon statment on mobile apps.
NEW YORK (
) -- The NFL season is finally underway, with Brett Favre making yet another Lazarus-like comeback and the Jets already struggling to match their pre-season hype. In Silicon Valley, though, football is much more than yards and inches, and some of tech's biggest names are charging down new revenue opportunities in the NFL.
Cisco
(CSCO) - Get Free Report
and
Verizon
(VZ) - Get Free Report
have built much of the technology infrastructure at the New Meadowlands Stadium in New Jersey, home to the New York Jets and Giants. Neither company has divulged how much money they are raking in from the deal, although Giants co-owner Steve Tisch has said that the stadium is packed with $100 million worth of high-tech gear.
With a sizable chunk of that $100 million likely ending up in Cisco and Verizon's coffers, the NFL -- whose stadiums have presented tech companies with naming-rights prospects for years -- represents a goliath business opportunity.
"It's obviously a pretty big growth area for the business, just because of the number of stadium wins that we have had over the last 12 to 18 months," a Cisco spokesman told
TheStreet
. In addition to the Jets and the Giants, Cisco has also clinched recent deals with the Miami Dolphins, the Dallas Cowboys and the Kansas City Chiefs.
Eric Fisher, a staff writer at
Sports Business Journal
, told
TheStreet
that these high-tech projects are part of a broader strategy driven by the NFL itself.
"From the league's perspective, they are trying to get really focused on the in-venue experience," he said, adding that the NFL is concerned about losing fans to TV networks, particularly in a tough economy. "Do you want to pay for parking and deal with all the
traffic hassles, or do you want to stay home and watch on your beautiful TV?"
With stadium attendance falling in markets like Oakland, Calif., and Jacksonville, Fla., the NFL has a real a challenge on its hands, according to Fisher, who says that tech is key to pulling in more bodies. "The NFL is trying to bring a lot of things that fans are doing at home into the stadium," said Fisher, a Steelers fan.
At the New Meadowlands, Cisco and Verizon are delivering 34 customized channels to sections like luxury suites, while Verizon built the stadium's wireless network. The Jets and Giants are also working with Verizon to deliver stadium-specific mobile apps providing fans with information on concessions, team news, player information and game highlights.
"The mobile app for the Giants is on track to launch soon, and the Jets will follow," a Verizon spokeswoman told
The Street.
Cisco, which has described the New Meadowlands as the most technologically advanced stadium in the U.S., has also deployed its StadiumVision technology around the arena. This powers the stadium's four massive scoreboards and 2,200 video displays, and also enables the entire arena to switch from Jets green to Giants blue at the touch of a button.
Will this type of project be emulated elsewhere? "This is a copycat league," said Fisher. "You're definitely seeing things that the Cowboys and Dolphins, etc., have taken an interest in that other teams will take and roll out."
Hal Raveché, CEO of consulting firm Innovation Strategies International -- a Giants fan -- said that Cisco's work at the New Meadowlands is more than just a gimmick. "It's a wonderful place to showcase technology -- it's not like it's an airport, it's a stadium," he said. "I think that it could give Cisco an edge over competitors like
Alcatel-Lucent
(ALU)
."
Bold words, but Raveché says that a stadium offers a great launchpad to reach the masses. "A lot of people are not aware of Cisco, but you will walk into the stadium and see Cisco -- it's a brilliant marketing move."
The networking giant has, of course, launched a massive push into the consumer market, most notably with its
Flip video camera.
Cisco is also eyeing the home market,
where it predicts
a collision between the Internet and TV
.
Other tech firms punting for NFL dollars are
IBM
(IBM) - Get Free Report
and
Sony
undefined
, which both worked on the technology infrastructure for the Arizona Cardinals' stadium. NFL sponsor IBM also provides a slew of services to the league itself. Last year, the tech giant announced that it was working to overhaul the NFL's data center; IBM also helped develop the league's online presence.
With the NFL generating between $8 billion and $8.5 billion in annual revenue and fans demanding the latest technology at the league's 31 stadiums, football could be a touchdown for Silicon Valley.
--Written by James Rogers in New York.
>To follow the writer on Twitter, go to
http://twitter.com/jamesjrogers
.
>To submit a news tip, send an email to: