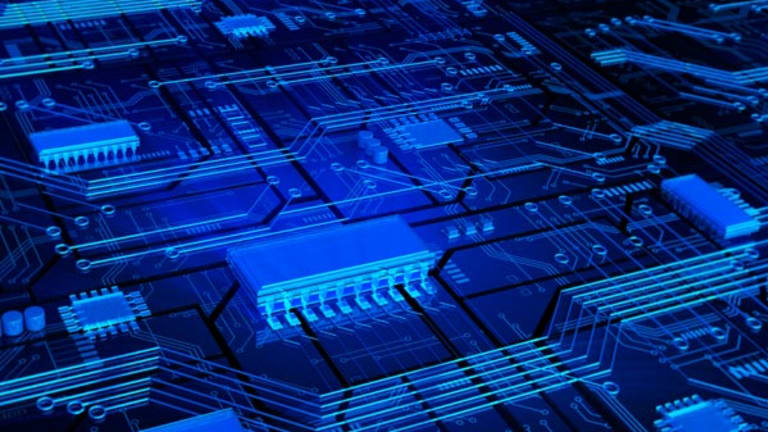 Publish date:
Tech Titans May Save the World
There were plenty of positives in the quarterly results from IBM, Microsoft and Intel, with enterprise spending and software shining.
There were plenty of positives in the quarterly results from IBM, Microsoft and Intel, with enterprise spending and software shining.
NEW YORK (
) -- Whoever is betting against the tech sector and pushing the Nasdaq lower today must have missed last night's
The results posted last night by
IBM
(IBM) - Get International Business Machines (IBM) Report
,
Microsoft
(MSFT) - Get Microsoft Corporation (MSFT) Report
and
Intel
(INTC) - Get Intel Corporation (INTC) Report
revealed two important trends that bode well for the tech sector: companies are spending on hardware and software and demand is growing in emerging markets. The tech sector suddenly seems much healthier than the Nasdaq's 0.12% Friday dip would suggest.
IBM was among the companies reporting results after the markets closed Thursday.
Even
Google
(GOOG) - Get Alphabet Inc. Class C Report
, which
Wall Street's profit estimate by almost a dollar, surpassed $10 billion in quarterly revenue for the first time on Thursday, citing rapid growth in emerging countries.
Intel also struck a bullish tone during a conference call after market close. "2011 was our most profitable year and a year of record revenues," noted Stacy Smith, the Intel CFO. "We expect continued strength in emerging markets as rising incomes increase the affordability of personal computers."
With other big names such as
Dell
(DELL) - Get Dell Technologies Inc Class C Report
,
Cisco
(CSCO) - Get Cisco Systems, Inc. Report
,
AMD
(AMD) - Get Advanced Micro Devices, Inc. Report
and
Symantec
(SYMC) - Get Symantec Corporation Report
yet to report their results, positive comments this week, particularly from IBM, Microsoft and Intel, could bode well for the rest of the sector.
Despite growing concerns about the global economy, particularly
, IBM, Microsoft and Intel all
Wall Street's earnings forecasts, with chipmaker Intel also
analysts' revenue projections.
Microsoft Chief Financial Officer Peter Klein, for example, said that enterprise spending is helping the software giant deal with a sagging PC market. "The overall business environment remains strong for us," he said.
Revenue from the software giant's Server and Tools business grew 11% year over year, boosted by double-digit growth in Windows Server and SQL Server premium. Sales of Exchange and SharePoint products also climbed 10%, while revenue from its Lync communications software and Dynamics CRM grew by more than 30%.
Still, though, weakening PC sales helped push revenue from Microsoft's Windows and Windows Live division down 6% year over year.
Nonetheless, Microsoft refused to be beaten down by the soft PC market. "In terms of PCs -- there's still growth, we're still in the refresh cycle," explained Klein during the conference call. "Emerging markets will continue to drive PCs."
Intel also put a healthy spin on PCs during its fourth-quarter conference call. The world's biggest chipmaker has thrown its weight behind a new category of super-skinny laptops, dubbed ultrabooks, which it claims will breathe new life into the ailing personal computer market.
"I haven't seen this level of excitement in the customer base since 2003," said Intel CEO Paul Otellini, explaining that more than 70 ultrabooks will launch this spring. "People are very excited about the feature set and having the PC re-energized."
During the fourth quarter, revenue from Intel's PC client group grew 17% year over year, outpacing its Data Center Group, which enjoyed 8% growth.
Over in Armonk, N.Y., IBM no longer needs to worry about the vagaries of the PC market, after selling its PC business to
Lenovo
. IBM, however, had other things in common with its fellow tech behemoths on Thursday.
Like Google, for example, Big Blue felt the impact of currency fluctuations, which shaved about $300 million off the firm's $29.5 billion revenue. On a more positive note, IBM, similar to Microsoft, has been reaping the benefits of emerging markets.
Growth markets, as they are known in IBM-speak, enjoyed revenue growth of 7% during the fourth quarter, outpacing the Americas and Europe, which grew, respectively, 3% and 1%. The growth markets segment accounted for a massive 22% of IBM's total annual revenue, according to a statement released after market close.
Also like Microsoft, IBM saw enterprise strength, particularly in its software business, where quarterly revenue was up 9% year over year.
"We have got real momentum going into 2012," explained Mark Loughridge, the IBM chief financial officer, during a conference call, citing demand for the company's WebSphere and Tivoli products. "
Software should be able to deliver double-digit profitability once again."
IBM's hardware business, though, was weighed down by a tough comparison with record mainframe sales in the prior year's quarter. As a result, revenue from the company's Systems and Technology Group dipped 8% year over year.
The tech giant, which celebrated its centennial last year, nonetheless offered up robust guidance, much to the delight of investors. IBM said, excluding items, it expects to earn $14.85 a share in fiscal 2012, above the current analysts' estimate of $14.82 a share. The company also reiterated its commitment to deliver operating earnings per share of at least $20 in 2015.
Buoyed by the guidance, IBM's shares rose $7.52, or 4.17%, to $188.04 on Friday.
Intel shares gained 58 cents, or 2.26%, to $26.21, while Microsoft rose $1.52, or 5.41%, to $29.64.
Google's stock, on the other hand, plunged $53.22, or 8.32%, to $586.35.
--Written by James Rogers in New York.
Readers Also Like:
10 Best-Performing Stocks Defy Prediction
Morici: Jobs Will Decide Election 2012