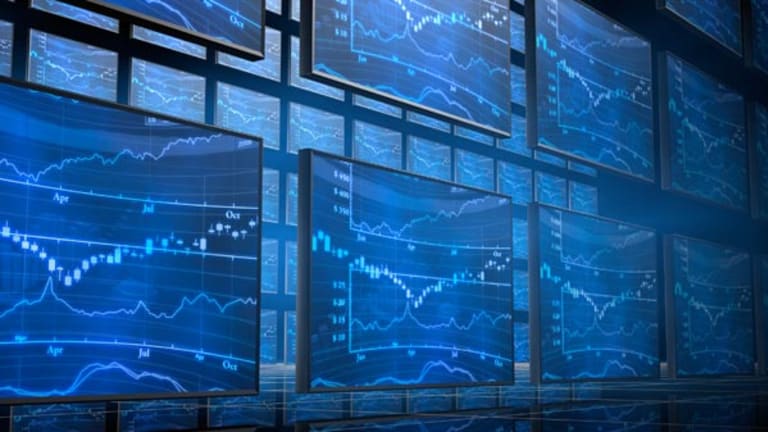 Tech Teeters on Consumers' Shoulders
Tech bulls who see signs of stability are also ignorning the economy.
Updated from 2:32 p.m. EDT April 29
Tech has turned a corner, and also a deaf ear to the economy.
The free-falling demand and inventory pile-ups that crushed business prospects going into the year are starting to ease, and some companies are seeing signs of stability.
In the past week, about a dozen big tech companies reported earnings, and roughly half of that sampling had significantly changed outlooks on business conditions since January.
Qualcomm
(QCOM)
,
Nokia
(NOK)
,
Juniper
(JNPR)
,
Microsoft
(MSFT)
,
eBay
(EBAY)
and
Verizon
(VZ)
all said, while the economy remains challenging, key elements of their businesses had stopped deteriorating, according to reporter notes and conference call transcripts provided by
SeekingAlpha
.
"We see some
and pockets of replenishment," wireless chipmaker Qualcomm CFO Bill Keitel said Monday. Verizon echoed the theme Monday, though perhaps less glowingly. "We are
not seeing things getting worse
," COO Denny Strigl said. "I would qualify it as consistent."
Left out of the party --
IBM
(IBM)
,
Google
(GOOG)
,
Apple
(AAPL)
,
Amazon
(AMZN)
,
AT&T
(T)
and
EMC
(EMC)
did not see the same trend, or at least did not indicate any overall changes in the effects of a slumping economy or the pace of order declines. However, with the exception of EMC, each delivered stronger-than-expected first-quarter results.
On Thursday, however, No. 1 cable operator
Comcast
(CMCSA)
broke from the optimists' ranks
after beating analysts' first-quarter financial targets. The Philly cable outfit said consumers weren't buying as many of its services in March and April as they had earlier this year. Comcast didn't blame the heated competition from telcos, but pointed squarely at the faltering economy, a claim not many tech companies have made lately.
The
, which turned critical last fall with the collapse of six major firms, was enough to shock corporate IT buyers and consumer electronics fans into retreat on purchases. Now, with less fear of widespread mortgage foreclosures and bank failures, the spending clampdown in some segments of the market is easing, say some executives and analysts.
"There's a comfort in the belief that demand has bottomed," says Morgan Keegan analyst Tavis McCourt. But, McCourt notes, the comfort wasn't spread evenly across the tech sector.
The effects of the downturn have revealed "two distinct markets: enterprise and consumers, and "the consumer market has held up reasonably well," says McCourt. People didn't spend as much, but they kept spending. This instills "faith that there is some base level of demand out there," he says.
Tech's Magic
One reason consumers keep spending on tech -- and not so much on other purchases like autos -- is that electronic devices continue to pack on more features, says Oppenheimer analyst Yair Reiner.
Makers of smartphones like the iPhone and BlackBerry, for example, "are creating value where there wasn't something before," says Reiner.
Tech manufacturing has also become extremely efficient, allowing for quick adjustments as demands change, say analysts. "Companies have been very nimble about costs and operations to protect their bottom line," says Reiner. "That is a positive surprise and that is probably sustainable."
Tech stocks have been rising in anticipation of a recovery. The Nasdaq is up 11% in the past month, and some stocks like
Research In Motion
(RIMM)
are up more than 50% in that time period.
But the bullishness has somehow tuned out the fragility of the financial market and ample signs of a
still swooning economy
. Realistically, this newfound stability could just be a pause before another steep drop in demand. And even if business stops getting worse, that doesn't necessarily mean it will get better.
"There's only so long you can be excited by an easing rate of decline," says Oppenheimer analyst Yair Reiner. "At some point you have to see some actual demand increase."
And what consumers gave in stability, consumers can take away.
"If you are looking at this as though things are as bad as they are going get, then yes, tech has hit a bottom along with the world economy," says Alpha One Capital Partners co-Chief Investment Officer Dan Niles.
Tech stocks have been resilient in the face of bad news, and Niles says shares will continue to rise until summer. But by then, says Niles, a consumer-driven tech rally will face challenges like higher personal savings rates, rising unemployment, the return of higher interest rates and the continued drop in home values.
"When reality sets in," says Niles, "We will see how strong the consumer is in the second half of the year."