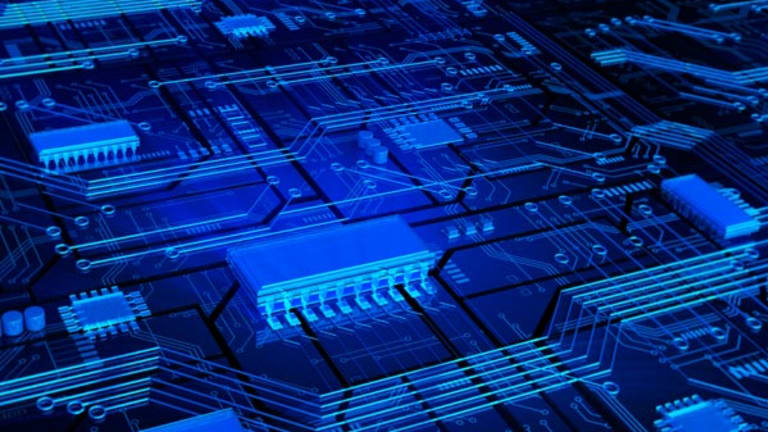 Tech Stocks to Watch if IT Budgets Decline
A JPMorgan survey finds a shift in IT spending in September with many CIOs cutting back on their budgets.
NEW YORK (
) -- The cloud may not be advancing as quickly as the headlines seem to indicate, while software and security look like areas where companies don't plan to skimp even if the economy sinks into a protracted downturn.
Those are just two of the findings of a new survey of chief information officers conducted by JPMorgan analysts. The research reflects data compiled in two separate rounds of questioning. 100 CIOs participated in the first round, which was conducted in the late July to mid August timeframe, while 84 participated in the second round during the first three weeks of September, when the survey concentrated on spending budgets.
"According to our CIO survey, software, security, and server virtualization remain top IT priorities," the firm writes. "Tablet and mobile device integration in enterprise environments also ranked high. Meanwhile, the pace of cloud adoption seems slower than all of the marketing hype would suggest. On a more cautionary note, services, printing, and PCs appear most at risk if ITbudgets come under protracted pressure."
The hard news from the survey is that 28 of the 84 CIOs participating in the follow-up round said they were planning to change their prior 2011 IT spending plans with 24 of those saying a decrease was in the offing. Of those 24, 10 were in control of budgets ranging from $500 million to $1 billion. The overall percentage of CIOs who were lowering their spending on a year-over-year increased to 31% in the follow-up round from 22% in the initial round.
"In our view, this sort of sudden change related to medium to large-sized budgets in 30-45 days suggests that more cuts are likely in the near to mid term," JPMorgan said, adding later: "Our main concern is that the next few months could become tougher if macroeconomic challenges persist and the U.S. Dollar continues to strengthen. When the U.S. Dollar strengthens the cost of procuring IT goods and services from the U.S. becomes higher, and this currency dynamic has been a thorn in the past."
A bit of information on the CIOs participating in the survey. The firm said 66% of the executives worked at companies with 10,000 employees or more, and that 75% had IT investments concentrated in North America with the remainder split between the EMEA
Europe, Middle East, and Africa region (13%) and Asia-Pacific (12%).
So what's the takeaway for investors? Well, JPMorgan highlighted stocks it believes could benefit from the trends the survey revealed, as well as those that may end up taking a hit.
Among the names the firm thinks may be positive plays are
Accenture
(ACN) - Get Free Report
,
Apple
(AAPL) - Get Free Report
,
Aspen Technology
(AZPN) - Get Free Report
,
Autodesk
(ADSK) - Get Free Report
,
Broadcom
undefined
,
Cavium
(CAVM)
,
EMC
(EMC)
,
EXLService Holdings
(EXLS) - Get Free Report
,
Genpact
(G) - Get Free Report
,
IBM
(IBM) - Get Free Report
,
Intel
(INTC) - Get Free Report
,
NetApp
(NTAP) - Get Free Report
,
Oracle
(ORCL) - Get Free Report
,
Riverbed Technology
(RVBD)
,
SAP
(SAP) - Get Free Report
,
Synopsys
(SNPS) - Get Free Report
, and
VMWare
(VMW) - Get Free Report
.
The stocks the firm is more cautious about include
Cisco
(CSCO) - Get Free Report
,
Citrix Systems
(CTXS) - Get Free Report
,
Emulex
(ELX)
,
Juniper Networks
(JNPR) - Get Free Report
,
Lexmark
(LXK)
,
Micron Technology
(MU) - Get Free Report
,
Nvidia
(NVDA) - Get Free Report
,
QLogic
(QLGC)
, and
Xerox
(XRX) - Get Free Report
.
Here's a few of the comments offered from JPMorgan about some of the individual stocks mentioned above.
Riverbed
Riverbed is the market share leader in the attractive, high ROI WAN Optimization market with strong underlying fundamentals driving data center consolidation and virtualization. We continue believe Riverbed is well positioned to benefit from surging bandwidth demand, which hasn't cooled off despite the turbulent macro environment, with further share gain opportunities and TAM expansion potential.
Riverbed shares closed down 3% Friday at $19.96. The stock is down about 40% so far in 2011, and most analysts are bullish with 23 of the 37 analysts covering the stock at strong buy (13) or buy (10). JPMorgan has an overweight rating.
Intel
Intel is a dominant player in the data center as it holds 94% share in the server microprocessor market, its highest level since 2004. We believe positive trends in the data center should help the company offset choppy PC demand.
Shares of the no. 1 chip maker closed Friday at $21.33, down 4%. Year-to-date, the Dow component's stock is still up less than 5%. Of the 51 analysts covering Intel, 30 rate the stock either a strong buy (16) or buy (14). JPMorgan is at overweight.
Broadcom
Broadcom is the leading provider of Ethernet controllers and its products are used extensively by top-tier networking OEMs like Cisco, Juniper, and Huawei. Consequently, we believe BRCM will be one of the major beneficiaries of the transition from 1G to 10G Ethernet, which the CIO survey suggests is still in the early innings.
Shares of Broadcom close Friday at $33.29, down 2.7%. The stock down nearly 22% so far in 2011 but 31 of the 42 analysts covering the communications chip maker are bullish with strong buy (15) or buy (16) ratings. JPMorgan has an overweight rating.
Oracle
We believe that Oracle is increasingly becoming more strategic to its customer base as the one-stop shop for software and hardware combined systems.
Oracle shares finished Friday at $28.74, down 3%. Year-to-date, the stock has given back 6%. The believers far outnumber the doubters on Wall Street with 35 of the 43 analysts covering the shares at strong buy (15) and buy (20). JPMorgan is at overweight.
Citrix Systems
We continue to believe that the market opportunity for desktop virtualization, and forXenDesktop, is limited relative to current expectations.
Shares of Citrix wrapped at $54.53 on Friday, down 4.1%. Year-to-date, the stock has lost nearly 16%. Sentiment is faintly sour on Citrix with 17 of the 32 analysts covering the stock at hold (15) or underperform (2). JPMorgan has an underweight rating.
--
Written by Michael Baron in New York.
>To contact the writer of this article, click here:
Michael Baron
.
>To submit a news tip, send an email to:
Disclosure: TheStreet's editorial policy prohibits staff editors, reporters and analysts from holding positions in any individual stocks.