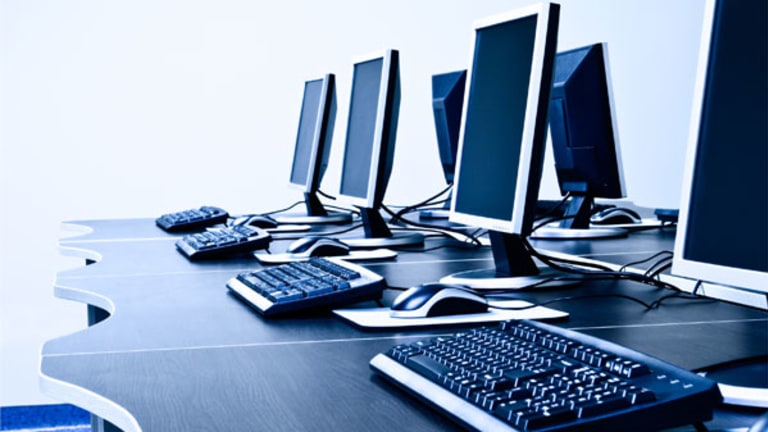 Tech Selloff Slaps Apple
Traders worry that the mortgage crisis will weigh down sales.
SAN FRANCISCO -- After ravaging the shares of tech companies that sell mostly to businesses, Thursday's selloff fell heavily on
Apple
(AAPL) - Get Apple Inc. Report
as fears that the unfolding mortgage-market crisis could affect consumer sales.
The maker of iPods and iPhones has been a highflier this year, as hopes for surging sales of iPhones and Mac computers boosted its stock by nearly 120%. As a result, Apple's stock is increasingly vulnerable to fears that problems like the mortgage market crisis could stifle consumer spending and deflate the sales forecasts that justify a market cap of more than $150 billion.
Shares of Apple were recently down $9.52, or 5.1%, to $176.78, about 8% below its all-time closing high set on Tuesday.
Network-gear maker
Cisco Systems
(CSCO) - Get Cisco Systems Inc. Report
initiated the
bleeding in tech stocks with comments late Wednesday that problems in the financial markets are hurting sales to U.S. businesses, and financial services firms in particular. Those comments exacerbated existing fears stemming from the mounting losses among banks from mortgage-related securities.
The credit market turmoil may foreshadow souring consumer sentiment as many mortgages are scheduled to adjust to higher interest rates in 2008. That could crimp consumer purchases and potentially push more homeowners into foreclosure. Many retail analysts are forecasting weak holiday sales as consumers fret about an array of factors ranging from a slowing economy to the fall in the value of their home.
The stakes are high for Apple, which derives most of its computer sales in the last two quarters of the year. Macs have increasingly become an engine of the company's growth, with sales gains outpacing iPods in recent quarters. Many investors have pinned their sky-high valuations on Apple's ability to increase its share of the PC market.
Darren Chervitz, head of research for the Jacob Internet Fund, which manages $103 million in assets, says his firm has trimmed its Apple holdings from about 2.5% of its assets to about 1%, despite the company's healthy fundamentals and product pipeline.
Chervitz's biggest concern is that consumer spending will wane if the economy takes a turn for the worse. This could spook investors whose stratospheric valuation of Apple is based on sales that may appear unsustainable in an economic downturn.
"I don't think the (credit and housing) problems will go away as quickly as Wall Street makes it seem," he said in an interview. "They're going to linger for a while, putting the consumer in a precarious position, especially if employment trends weaken."
The Jacob Fund has raised its cash holdings to nearly 15% of total assets to buffer it from the financial market turmoil.
Investors' worries also fell heavily on PC makers and their suppliers.
Hewlett-Packard
and
Dell
(DELL) - Get Dell Technologies Inc. Class C Report
were also down over 4%.
Seagate
(STX) - Get Seagate Technology Holdings PLC Report
and
Western Digital
(WDC) - Get Western Digital Corporation Report
, which make hard disk drives in PC, were down 3% and 4.5% respectively.