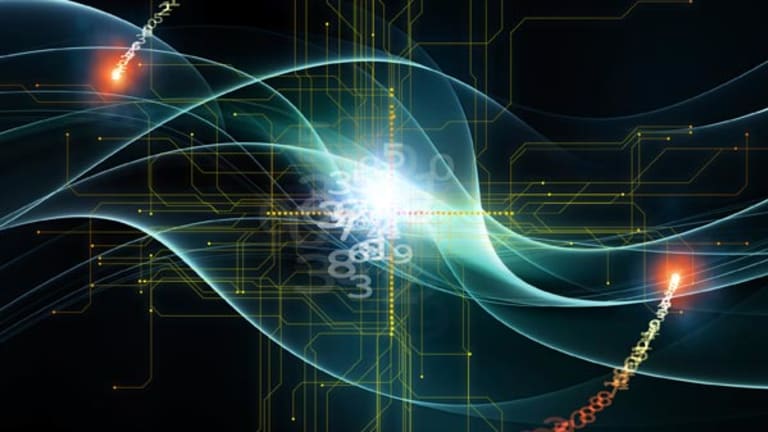 Tech Rumor of the Day: RIM
Research In Motion's operating system is starting to look faded next to those of rivals Palm, Apple and Google.
Research In Motion's
(RIMM)
trusty old BlackBerry operating system is starting to look dumb in an advancing smartphone developers' race.
With the arrival of the
Palm
(PALM)
Pre and its WebOS system, the continued success of
Apple's
(AAPL) - Get Apple Inc. Report
iPhone 3.0 update and the rise of
Google's
(GOOG) - Get Alphabet Inc. Class C Report
Android, the bar on phone software has been raised.
And RIM, for all its sleek hardware designs and killer email simplicity, is now looking to some like a laggard in mobile computing.
The chorus of criticism is getting louder as people point to the BlackBerry operating system -- the brains of the phone -- as RIM's biggest vulnerability.
On the company's May 30 earnings conference call, Goldman Sachs analyst Simona Jankowski asked what was "holding up the pace of innovation ... to remain competitive with some of the newer operating systems out there?"
And more pointedly, a
Tuesday said RIM has 90% of the smartphone success solved "but that last 10% has become the most important," referring to the software. "It's inexcusable that people put up with a 2003 operating system with so many limitations and restrictions it would make Ahmadinejad jealous," BoyGenius wrote.
So where exactly is RIM falling down?
For starters, the iPhone, the Palm Pre and the Android phones are touchscreen devices that let users point, click and basically gesture their way through Web pages and icons to navigate the device. And like mini computers, these devices let users download and run big applications.
Goldman's Jankowski calls it the difference between a new browser-based approach and the old file-based user interface.
And where Apple, Palm and Android welcome users to load up their phones with new applications, RIM has struggled with its own, very limited Apps store.
Reflecting RIM's business user roots and a bit of a tin ear to the consumer market, RIM's co-CEO Jim Balsillie framed the issue quite differently.
The beauty of BlackBerry, said Balsillie on the earnings conference call, is its simplicity.
"These are network appliances. This is not a distributed computing type of thing," Balsillie said on the call. "It's just a small task handler."
To help illustrate the point, Balsillie recalled a PDA company 10 years back that boasted about the 40,000 applications it offered, while RIM offered one: email.
Time and RIM's subsequent market share gains "speaks for itself," said Balsillie.
But if those gains start slipping, RIM may have to heed critics and rethink its approach to mobile computing.
Rumor fans may also want to watch this video for my take on speculation around
Dell
(DELL) - Get Dell Technologies Inc Class C Report
and Apple:
var config = new Array(); config<BRACKET>"videoId"</BRACKET> = 28170787001; config<BRACKET>"playerTag"</BRACKET> = "TSCM Embedded Video Player"; config<BRACKET>"autoStart"</BRACKET> = false; config<BRACKET>"preloadBackColor"</BRACKET> = "#FFFFFF"; config<BRACKET>"useOverlayMenu"</BRACKET> = "false"; config<BRACKET>"width"</BRACKET> = 265; config<BRACKET>"height"</BRACKET> = 255; config<BRACKET>"playerId"</BRACKET> = 1243645856; createExperience(config, 8);