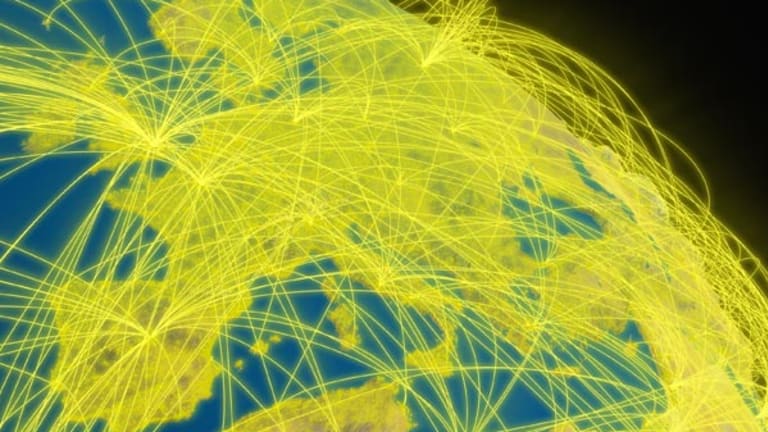 Tech Hitting the M&A Trail
Cisco's $2.9 billion deal for Starent is the latest example of the tech sector's cautious return to the M&A trail.
(Updated to reflect Cisco's bid for Starent)
Cisco's
(CSCO) - Get Cisco Systems, Inc. Report
$2.9 billion deal for
Tuesday is the latest example of the tech sector's cautious return to the M&A trail.
After weathering the recession, tech companies like
,
(DELL) - Get Dell Technologies Inc Class C Report
,
Adobe
(ADBE) - Get Adobe Inc. Report
and
(IBM) - Get International Business Machines Corporation Report
are again hunting strategic opportunities. There were 740 deals in the third quarter, according to analyst firm The451 Group, slightly down on the prior quarter's 767 acquisitions, but higher than the 733 deals clinched in the same period last year.
Storage specialists
Brocade
(BRCD)
and
NetApp
(NTAP) - Get NetApp, Inc. Report
have
most of the recent
M&A chatter
, although at least one analyst thinks that data security could also be fertile ground for acquisitions.
"I would look for
Hewlett-Packard
to be a buyer in security," said Brenon Daly, lead M&A analyst at The451Group, explaining that the computer maker is mirroring arch-rival IBM.
H-P, for example, bought
EDS
to compete with IBM in services, and threw down $4.5 billion on
Mercury Interactive
to boost its management software story.
"But one area where they haven't made a large purchase is security," explains Daly. "H-P sells a lot of storage software and there's an obvious connection between storing data and securing it."
The recent
of companies like
McAfee
(MFE)
proves that security is a top spending priority. McAfee, which was one of
TheStreet
's top tech
for 2009, recently enjoyed an 18% second-quarter sales hike and beat analysts' profit estimate.
With a market cap of more than $7 billion, however, McAfee would not come cheap, and its valuation is likely to soar in an improving economy. A much more likely target for H-P would be security software maker
ArcSight
(ARST)
, according to Daly, who is one of the company's many
fans
.
"There were rumors that H-P wanted to buy them before their
2008 IPO," he said. "Their stock did nothing until this year,
but it's delivering, it's profitable and ArcSight has very strong sales into the Federal Government."
One of
TheStreet
's
stocks, ArcSight has been tipped as a challenger to tech security giants
Symantec
(SYMC) - Get Symantec Corporation Report
and McAfee.
The company has more than tripled in value during the last 12 months, and is currently trading around $23.21.
With a market cap of just over $770 million, Daly says that ArcSight would be easy for H-P to swallow. "I am not suggesting that anything is in play, but does the math make sense? Yes," he said. "Something like ArcSight is digestible and it delivers quality contracts."
ArcSight has not yet responded to a request for comment on this story. H-P declined to comment.
It is not just security, however, where there is plenty of acquisition talk, particularly
after
Cisco's purchase of video conferencing specialist Tandberg.
"There has been speculation about whether
Polycom
(PLCM)
could be in play as a result of Cisco's acquisition of Tandberg," said Ron Gruia, lead telecom analyst at Frost & Sullivan. "There's a rumor that
Avaya
may make a move for Polycom, but they are in a hold pattern until the DoJ approves their
Nortel
(NT)
acquisition
."
The networking space also offers rich pickings, according to the analyst, who highlights switch maker
F5 Networks
, and Wide Area Network (WAN) optimizer
Riverbed
(RVBD)
as particularly attractive. With firms pushing more and more data across global networks, there is a lot of interest in WAN optimization, but Gruia feels that Riverbed's $1.62 billion market cap could be a deterrent to potential suitors.
F5 Networks would be even more expensive, with a valuation of $3.2 billion, although Gruia also likes
Aruba
(ARUN)
and
Starent Networks
(STAR) - Get iStar Inc. Report
.
"Starent are strong competitors in the mobile content space," he said, speculating that they could be a good fit for
Juniper
(JNPR) - Get Juniper Networks, Inc. Report
or Cisco.
Two names, however, are popping up repeatedly in tech M&A discussions.
"Brocade would make sense for H-P because it would give them storage networking and high-end IP networking," said Gruia.
451Group analyst Brenon Daly echoed this sentiment. "What do H-P and Brocade both have in common? They both square off against Cisco," he explained. "Brocade is a key component of networking infrastructure."
Both H-P and Brocade declined to comment on the rumors linking the two firms when recently contacted by
TheStreet
, although storage certainly seems to be a busy space.
NetApp, for example, has also been generating plenty of
after
to
EMC
(EMC)
in the tussle to acquire
Data Domain
(DDUP)
.
One company said to be eyeing a
is Dell. Praveen Asthana, the firm's vice president of enterprise storage, would not rule out M&A in an interview with
TheStreet
earlier this week.
"In the past, we pretty much tried to restrict ourselves to partnerships, but now we're more open to M&A," he said. "We have got a lot more confidence
in that area with our successful acquisition and integration of
EqualLogic
."
Dell will use a combination of acquisition, partnership, and organic growth to boost its storage business, added the executive. While refusing to divulge his firm's acquisition strategy, Asthana's comments indicate plenty more M&A on the tech horizon.
-- Reported by James Rogers in New York