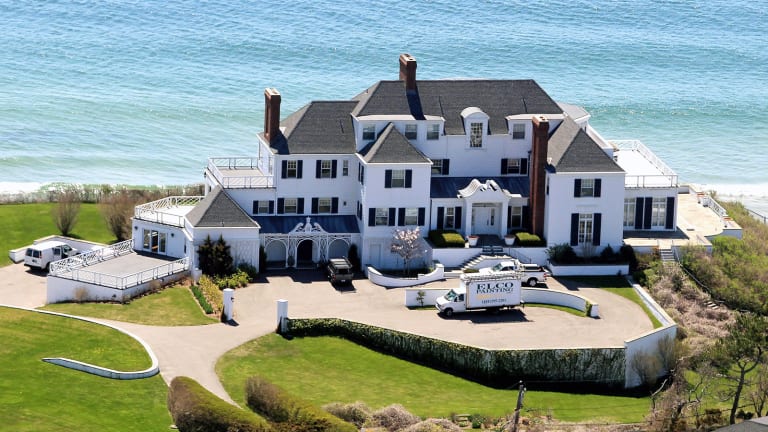 Publish date:
Taylor Swift: Singer, Apple Vanquisher and (Surprise!) Real Estate Mogul
Move over, Donald Trump. The young musical superstar is a serious businesswoman too, and her real estate portfolio is growing steadily.
Move over, Donald Trump. The young musical superstar is a serious businesswoman too, and her real estate portfolio is growing steadily.
NEW YORK (TheStreet) -- Taylor Swift used the power of celebrity to successfully force Apple (AAPL) - Get Apple Inc. (AAPL) Report to pay musicians for the use of their songs during the three-month trial of their new subscription music service. But the multi-platinum singer-songwriter is also savvy when it comes to non-music business ventures.
Swift, 25, has long plowed her earnings into real estate, thanks in part to her father, a certified investment adviser and broker-dealer representative who has worked for Merrill Lynch (BAC) - Get Bank of America Corp Report for almost 35 years. 
In the latest records filed with financial industry regulatory authorities, Scott K. Swift disclosed that his daughter owns a real estate company, a bus business and two private jets. Her real estate holdings, including a seaside mansion in Stonington, R.I., total roughly $86 million.
But that barely scratches the surface of Ms. Swift's net worth, which Forbespeged at $200 million in May. While the singer-songwriter brought Apple to its knees by threatening to yank her latest album from its new subscription music service, she has been consistently reinvesting money outside of the recording industry.
FINRA filings offer a window into the cottage industry surrounding the young pop star. They show that her father continues to have a hand in a variety of businesses related to his daughter.
Mr. Swift is an unpaid consultant at Nashville Strategic Realty, or as he calls it in the filing, "my daughter's real estate business." The real estate company has been on the books since 2012, when it purchased a building in midtown Nashville from Universal Music Publishing Group for $1.9 million.
NYC Strategic Realty, where Mr. Swift retains fiduciary power of attorney, initially filed just months before Taylor Swift purchased an apartment for $19.95 million in Tribeca last year.
That tops the price tag for another conspicuous castle Ms. Swift owns, the Harkness House in Watch Hill, R.I., overlooking the rocky cliffs at Little Narragansett Bay.
Mr. Swift also advises TAS Angel, a bus business owned by Ms. Swift, which started in 2004. The filings indicate additionally that Taylor Swift has "100% ownership" of a company that owns her two jets. The rest of the family transportation portfolio includes three more tour bus companies and an airplane hanger.
Scott Swift started the Swift Group, a global wealth management team at Merrill Lynch, in 1981 in Wyomissing, Pa. He now lives and works in Nashville, Tenn., where the family moved to help Taylor pursue a career in country music.
For her part, Taylor Swift has remarked that her dad saw her future in showbiz coming long before she could.
"My dad always thinks in terms of daydreams -- and, 'How far can we go with this?'" Swift told Rolling Stone in 2012. "I never really went there in my mind that all of this was possible. It's just that my dad always did."
A former colleague of Mr. Swift said he remembered Taylor, no older than 11 or 12 at the time, singing the national anthem for financial industry-types gathered at a luxury resort in Arizona.
The source, who worked in the same office as Mr. Swift, said his children were about the same age as Taylor and had come along for the business trip.
Today he teases his children that "there was a whole kids play area and you guys were probably hanging out" with Ms. Swift, long before she made her millions.