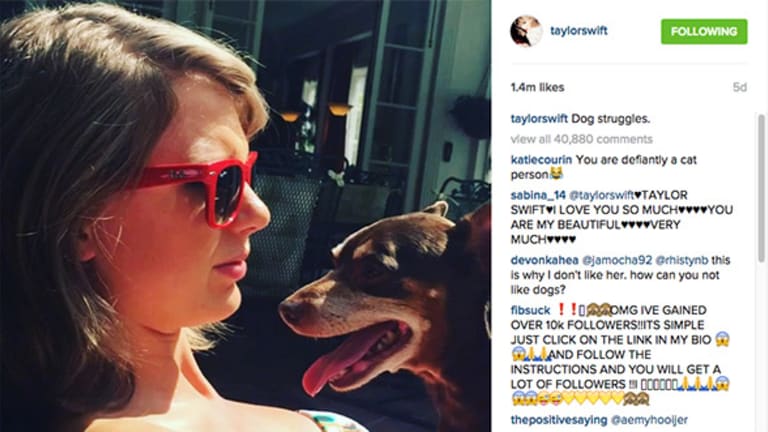 Taylor Swift Makes It Official -- 1989 Is Coming to Apple Music
Be still your hearts, Taylor Swift fans. 1989 is coming to Apple Music.
Be still your hearts, Taylor Swift fans. 1989 is coming to Apple Music.
NEW YORK (TheStreet) -- Be still your hearts, Taylor Swift fans. 1989 is coming to Apple (AAPL) - Get Report Music.
Following a bit of a spat with Apple over not paying royalties during its three-month trial program for its upcoming streaming service (which was later resolved), the pop singer announced that she is putting her latest album -- the fifth album by the 25-year singer -- on Apple's service.
In case you're wondering if this is some exclusive deal like you've seen Apple do with other artists, it's not.
On Sunday, Swift penned a blog post on Tumblr explaining why she was upset with Apple, who originally was not going to pay artists for the three months when users were using the service for free.
After the trial period, Apple Music will cost users $9.99 a month, and there is also a family plan that lets six family members use the plan for $14.99 a month.
"I write this to explain why I'll be holding back my album, 1989, from the new streaming service, Apple Music," Swift wrote. "I feel this deserves an explanation because Apple has been and will continue to be one of my best partners in selling music and creating ways for me to connect with my fans. I respect the company and the truly ingenious minds that have created a legacy based on innovation and pushing the right boundaries."
Swift famously pulled all of her music from streaming service Spotify because she felt the economics were not in favor of artists.
Following the blog post and countless stories and reaction on social media, Apple had a change of heart. Apple's senior vice president of Internet Software and Services Eddy Cue, who reports directly to CEO Tim Cook, tweeted the company listened to Swift and other independent artists and changed its mind about the trial period.
Apple Music will be available as part of the latest release of Apple's mobile operating system, iOS 8.4, starting June 30.