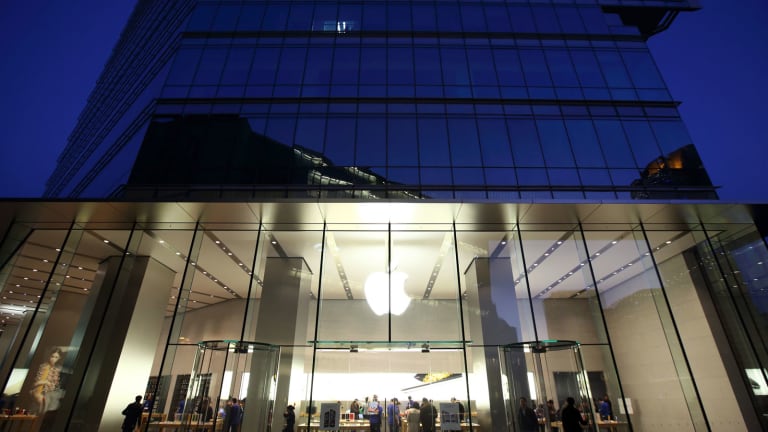 Tax Settlement Takes a Bite Out of Apple -- Tech Roundup
Apple has agreed to a $348 million settlement after it allegedly dodged taxes on sales of nearly $1 billion in Italy between 2008 and 2013.
Apple (AAPL) - Get Report shares took a slight hit on Wednesday after the company agreed to pay over $300 million to settle an alleged tax fraud investigation in Europe. 
According to authorities, Apple only paid $32.7 million in taxes between 2008 and 2013, despite generating revenue of $977.8 million in Italy. In order to settle the investigation, Apple will shell out $348 million. 
Of course, the conversation always loops back to European tax evasion among several big-name U.S. corporations. Apple's settlement could be an indication of what's to come for others, including Amazon (AMZN) - Get Report and Starbucks (SBUX) - Get Report . 
The European Commission has been looking to crack down on companies that use tax-friendly countries to report their sales through, especially Luxembourg, the Netherlands and Ireland, the last of which is Apple's playground. 
Allegedly, Apple booked its sales through Ireland, allowing it to pay a much lower tax rate, 12.5% versus 27.5%, that it would face if the sales were reported in Italy. 
The news comes not long after CEO Tim Cook appeared on CBS's "60 Minutes," and vehemently defended Apple's tax policies, saying, "Apple pays every tax dollar we owe," and defending the company's decision to not bring cash held overseas home, due to the 40% repatriation tax in the U.S.
Shares of Apple finished down 1.3% to $107.32. 
Twitter (TWTR) - Get Report has updated its rules in order clarify what it considers hateful and abusive conduct. There has been mounting concern over terrorists using the social media platform to promote and recruit new members. 
According to the company's blog, the "updated language emphasizes that Twitter will not tolerate behavior intended to harass, intimidate, or use fear to silence another user's voice."
The company's actions follow previous moves this year that allowed users to block or mute other users they found to be offensive. Users can also report content as abusive. Twitter has bolstered its user verification methods, which is helping to curb some of the more obscene actions by users. 
"We believe that protection from abuse and harassment is a vital part of empowering people to freely express themselves on Twitter," said Megan Cristina, director of trust and safety at Twitter.
The company also hired a new head of diversity, as Jeffrey Siminoff is leaving Apple and will begin in January.
Shares of Twitter closed down 1.1% on Wednesday to $22.22.
Although Alphabet's  (GOOGL) - Get Report first attempt at wearable eyewear technology may not have taken the world by storm, that doesn't mean the company is prepared to give up on its ambitions.
Google Glass originally became available to the public via pre-sale in 2013 for $1,500. Although the prototype is no longer being sold by Google, the company is still moving forward, now reportedly taking a stab at the enterprise market. 
The new device is now able to fold up - which was one of the most requested features - making it more workplace friendly. It also lacks a nose-bridge and does not wrap about the user's face, making it less of an obstacle for those wearing the gadget. 
Aside from its foldability, the device is expected to sport an improved battery and wireless connectivity, while a new chip will help with the device's heat management. 
Perhaps not to the surprise of many, Google hasn't announced its plans for the newest Google Glass product, although the company has filed the device's new blueprints with the FCC. 
Alphabet stock closed at $790.30, down less than 1%.  
This article is commentary by an independent contributor. At the time of publication, the author held no positions in the stocks mentioned.